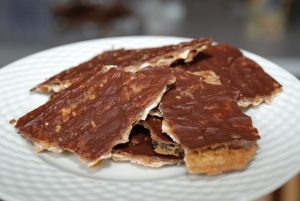 Passover never tasted so good. Here's my adaptation of Marcy Goldman's wonderful signature recipe (found in A Treasury of Jewish Holiday Baking). It might just be the perfect treat—easy, quick, and delightful, and it makes a great gift. The only downside is that it can be addictive. Make lots and, if you can, use butter for the best results.
Just a few ingredients transform matzah into an addictive treat. Use good quality chocolate and make extra to share. Make it your own by adding chopped nuts, sprinkles, white chocolate shavings, or whatever else you like before the melted chocolate hardens. The crunch keeps well and freezes well.
Ingredients
5 to 6 matzahs
½ pound (2 sticks or 1 cup) unsalted butter or margarine
1 cup firmly packed light brown sugar
1½ to 2 cups semisweet chocolate chips or a mix semisweet and bittersweet chips
Instructions
Preheat oven to 350 degrees.
Line 2 cookie sheets completely with foil, then line bottoms with parchment paper (this makes it easier remove the crunch and clean up later). Place the matzahs evenly in a single layer over the parchment, using smaller or broken pieces of matzah to fill any gaps.
Place the butter or margarine and the sugar in a medium saucepan over medium heat. Cook, stirring constantly, until boiling. Boil for 3 minutes, stirring constantly. Pour over the matzahs and spread to cover the matzahs completely.
Bake for 12 to 15 minutes, rotating pans halfway through, checking every few minutes until nicely dark golden brown. If browning too quickly, lower the heat to 325 degrees.
Remove from oven and immediately sprinkle the chocolate chips over top. Let stand for about 5 minutes, then spread the melted chocolate across the top. Place the pans in the freezer; chill until set. Remove, break the matzah crunch into pieces, and bring to room temperature before storing in an airtight container.
http://meatballsandmatzahballs.com/blog/2020/04/01/matzah-crunch/
Copyright Marcia A. Friedman - www.meatballsandmatzahballs.com