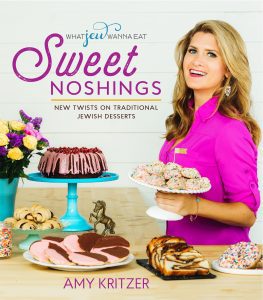 UPDATE: We have a drawing winner—congratulations to Toshia Frank of Alvin, Texas! Thank you to everyone who participated here, on Facebook, and on Instagram—I loved reading the comments. I think chocolate babka was a popular favorite in the Jewish dessert category though apple desserts and rugelach were also mentioned often. Wishing everyone a sweetly delicious season!
Just in time for Hanukkah—I'm thrilled to be hosting a giveaway for a signed copy of Sweet Noshings: New Twists on Traditional Jewish Desserts, by Amy Kritzer, the proflic and fun Jewish food blogger behind What Jew Wanna Eat!
The new book is written in Amy's disarmingly witty style and is full of fun and inventive takes on classic Jewish sweets. Recipes include Tex Mex Chocolate Rugelach, Black and Pink Cookies, Tzimmes Cake, Peanut Butter and Dark Chocolate Babka, Chocolate-Lime Sufganiyot, and Pistachio-Chocolate Krembos—just to name a few!
TO ENTER:
• Leave a comment below about your all-time favorite Jewish or Jewish-inspired dessert.
• Get a bonus entry by subscribing to the Meatballs and Matzah Balls e-newsletter (which is e-mailed about once a month) by using the box on the right side of the home page.
• You can also enter by liking the Meatballs and Matzah Balls Facebook page or following me on Instagram @meatmatzahballs and leaving a comment. Be sure to also tag a friend or two who might be interested in Amy's book.
This book would of course make a great Hanukkah or hostess gift, and you can purchase signed copies exclusively at Amy's store for modern Jewish gifts, Modern Tribe.
The deadline for entries in the giveaway is Friday, December 9, at 11am EST. A winner will be chosen at random and the book will be mailed in time for Hanukkah (USA mailing addresses only). Good luck!
Photo credit: Cover photo of Sweet Noshings above courtesy of Amy Kritzer.