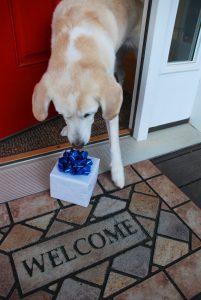 Still looking for some gift ideas for Hanukkah (or Christmas), especially for the people in your life who love food and entertaining? Here are a few:
Seed + Mill's Gourmet Halva, available from Fig Tree & Vine (which also stocks a beautiful variety of sophisticated and often hand-made Judaica gifts). This lovingly crafted sesame confection comes in an incredible array of flavors. I particularly love the white chocolate and lemon.
Makura Olive Oil from Israel. A delicious oil imported by Israeli Harvest and sold at The Cookery (which has lots of other wonderful goods, too).
Soom Foods Tahini & Chocolate Sesame (Tahini) Spread Sampler Pack, from Soom Foods, both are treats; the traditional tahini makes wonderful hummus and dressings and the chocolate tahini makes a less sweet and more nutritious substitute for Nutella.
Shabbat or Hanukkah Safed Candles, made in Safed, Israel, and available from Modern Tribe (lots of additional great gifts here as well); these are colorful and beautiful on holiday tables.
Challah Mixes (kosher) from Leah Hadad's Tribes a Dozen. I haven't tried Leah's mixes yet, but I've heard good things. A selection of mixes would make a nice gift (add in a challah board set to make it even better).
Kosher (and Organic) Roundstone Rye Whiskey from Catoctin Creek Distillery. This northern Virginia distillery will ship (where permissible); the rye whiskey wins accolades. It's great for sipping and I enjoy using it to spike my rye whiskey whipped cream.
Books: Assuming you already have a copy of Meatballs and Matzah Balls ;-), here are a few others—
• Sweet Noshings: New Twists on Traditional Jewish Desserts by Amy Kritzer, for new, fun, and surprising takes on the classics
• A Treasury of Jewish Holiday Baking by Marcy Goldman, an oldie but goodie; anyone who likes to bake should have this
• Rhapsody in Schmaltz: Yiddish Food and Why We Can't Stop Eating It by Michael Wex—this is in my reading queue and it's supposed to be a richly historical and funny read
• Tasting Rome: Fresh Flavors and Forgotten Recipes from an Ancient City by Katie Parla and Kristina Gill; beautifully photographed and interesting perspective on Rome's culinary history, including the contributions of the city's Jewish residents
Kitchen Gift Set: For someone just starting to stock a kitchen and wanting to make latkes for the first time, a good cast iron skillet, spatula, kitchen candle, and apron would make a lovely gift set.
Arbonne Seasource Detox Spa Lotion and FC5 Skin Conditioning Oil: For the cook's hands, which tend to take an extra beating during the winter months. My friend Josie gave me these a couple of years ago, and they are soothing and healing, with a fresh, spa-like fragrance.
All-Purpose: Consider a digital gift subscription to a major newspaper (such as the Los Angeles Times, the Wall Street Journal, the Washington Post, or the New York Times)—not only giving your loved ones the gift of fact-based journalism but also unlimited access to great recipe archives and insightful food writing. I particularly love the food sections of the Washington Post and the New York Times. Read a little more about the Washington Post food section in this article by "Serving Up Jewish Food at the WaPo" by Susan Barocas.