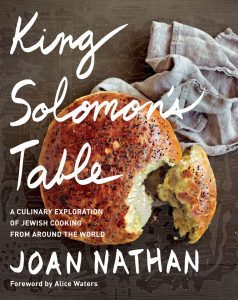 Quick Update: Congratulations to drawing winner Carol Ezovski from San Jose, California! Thank you to everyone who participated! 
Just in time for Mother's Day and the holiday of Shavuot, I'm thrilled to be hosting a giveaway (see the end of this post for details) of a signed copy of Joan Nathan's newest book, King Solomon's Table: A Culinary Exploration of Jewish Cooking From Around the World. This 382-page cookbook features more than 170 recipes, beautiful photographs, and the insightful anecdotes and stories that have made Joan known as the Queen of American Jewish cooking.
She certainly inspired me. When I first wanted to explore Jewish food after converting to Judaism, I found a book called Jewish Cooking in America. It seemed like a good place to start—and it was. At the time, I didn't really appreciate that the book's author, Joan Nathan, was already well-known for her culinary and cultural curiosity, research, and insights into Jewish food. No, at the time, I was simply drawn in by the stories of Jewish cooks and entrepreneurs.
Within those pages, I found the story of a German-Jewish immigrant who created Old Bay Seasoning. That inspired me to use the seasoning to create a kosher version of a beloved seafood dish, which became my recipe Baked Sea Bass with Artichokes, Mozzarella, and Old Bay Seasoning. Reading Joan's anecdotes about the Jewish history of cream cheese and Lindy's cheesecake motivated me to revisit cheesecake recipes as part of a Jewish holiday repertoire. I smiled over and over again at tales of intrepid Jewish immigrants from all over the world and how they cooked for themselves and changed food culture in America, giving us everything from bialys, bagels and lox to matzah balls and brisket.
And of course, Joan Nathan hasn't stopped telling the stories of Jewish food and life, and her latest book is a substantial volume full of all the things we love her books for—anecdotes, personal stories, insights, and intriguing recipes. Some of the many recipes that caught my eye include Chickpea Pancakes with Fennel, Onion, and Rosemary; Syrian-Mexican Chicken with Apricot, Tamarind, and Chipotle Sauce; and Rugelach with Spicy Chocolate-Nut Filling. And there are so many more.
Joan Nathan's work was a big influence on me (and many others), and I love that she continues her culinary adventures and explorations. Thank you, Joan!
To enter for a chance to win a signed copy of King Solomon's Table:
• Leave a comment on this post with your all-time favorite Jewish food (to eat or make).
For extra entries:
• Comment on the Facebook giveaway post here, and tag a friend (or friends) who might be interested in entering.
• Comment on the Instagram giveaway photo, and tag a friend (or friends) who might be interested in entering.
• Subscribe to my Meatballs and Matzah Balls newsletter by using the sign-up box at the top right of the home page.
Rules: The deadline for entry is midnight, EDT, Wednesday, May 3. No purchase necessary; United States addresses only. All the entries will be compiled and a winner pulled out at random on Thursday, May 4.
Good luck!