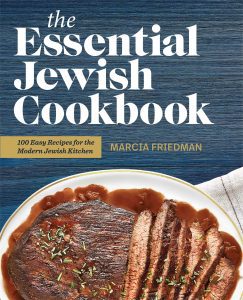 It's my great pleasure to introduce you to my latest book, The Essential Jewish Cookbook. The book's 100 recipes take a broad view of the world of Jewish food, and that world is diverse, delicious, and fascinating. I loved developing classic but modern recipes for everything from dishes popular in the United States (such as latkes, brisket, babka, and challah) to favorites from Jewish traditions of the Mediterranean and Middle East (think baba ghanoush, chicken sofrito, sambousak, and sufganiyot or jelly donuts). The recipes were created to be easy and approachable introductions to a wide range of wonderful dishes, but they were also crafted to become favorites regardless of your background.
A few features:
• Historical background on the evolution of various Jewish culinary traditions.
• 100 recipes with vegetarian, kosher, and gluten-free options.
• Menu suggestions for Shabbat and holiday meals.
• Frequent tips and tricks for getting the most from the recipes.
I hope you'll find this book to be your one-stop shop for easy, essential Jewish recipes steeped in tradition but reflecting modern tastes. And I hope it can be your tour guide for a delicious and fascinating culinary journey. I loved creating this collection and wish you many wonderful meals from it.
Now available on Amazon!