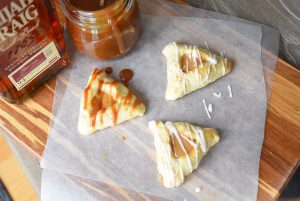 Bourbon and especially bourbon salted caramel create quite a decadent hamantashen. But besides great flavor, bourbon has a Jewish connection—something I discovered while visiting the Kentucky Bourbon Trail. Find the full story along with the brand-new recipe at Jewish Food Experience.
I loved creating and eating this recipe, and here are few notes about making it. First, I will be the first to admit that I've had some epic fails making caramel sauce in the past. If that applies to you, too, you might want to give the technique I've included in the recipe a try. It worked beautifully every time and the flavor is truly wonderful. It changed my whole feeling about making caramel sauce. Also, you can omit the bourbon if you want a more all-purpose caramel sauce for drizzling over any dessert you like. If you still don't want to face making the sauce, I tested the recipe using store-bought King's Cupboard Bourbon Caramel Sauce, and it works fine but is much less flavorful.
For making the hamantashen, be sure to brush the dough rounds with the egg wash and pinch (and even almost fold) the three points together. You must do it very firmly. And don't skip putting the formed pastries in the freezer to help them set. These steps should prevent your hamantashen from coming apart during baking.
I tried two glaze options, and I couldn't decide which I liked better—so I included both for you to choose. If you want more of a bourbon scent, go with the bourbon glaze. If you want to emphasize the caramel, use the caramel sauce, but keep in mind that the caramel sauce will remain sticky, making those a little messier to eat—a challenge most of us eating them can easily overcome!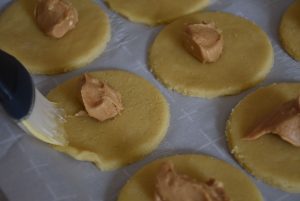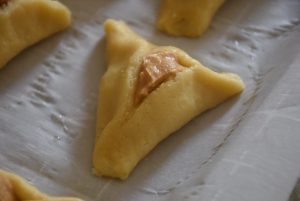 Salted Bourbon Caramel Hamantashen
Tender bourbon-scented pastry dough gives way to a creamy caramel center in this grown-up hamantaschen. Homemade caramel sauce (recipe below) tastes best but store-bought works in a pinch. Plan to make the dough and caramel sauce the night before baking. For drizzle topping, use the bourbon glaze or caramel sauce.
Ingredients
8 tablespoons (1 stick) unsalted butter, softened
½ cup sugar
1 egg plus 1 egg yolk (egg white reserved and refrigerated for forming pastries)
1 tablespoon bourbon
1 teaspoon vanilla extract
2 cups all-purpose flour, plus additional as needed
1 teaspoon baking powder
¼ teaspoon salt
½ cup cream cheese
½ cup salted caramel bourbon sauce
2 tablespoons cornstarch
4 teaspoons confectioners' sugar
½ cup confectioners' sugar
Pinch of salt
1 to 1½ tablespoons bourbon
Instructions
Use an electric mixer to cream the butter and sugar until smooth (about 30 seconds). Add the egg, egg yolk, bourbon, and vanilla and beat to combine. Fold in flour, baking powder, and salt, adding more flour as needed to form a ball. Roll out dough to ¼-inch thick between two sheets of wax paper. Wrap tightly and chill 4 hours or overnight.
To bake, preheat oven to 350 degrees and line a baking sheet with parchment paper. Let dough rest at room temperature about 10 minutes. Meanwhile, lightly beat the reserved egg white with a pinch of salt and prepare the filling by combining cream cheese, caramel sauce, cornstarch, and confectioners' sugar.
Use a 3-inch glass or cutter to cut rounds of dough. Place 1 heaping teaspoon of caramel filling in center and apply a thin film of beaten egg white around outside edge. Fold in 3 edges and firmly pinch together to form a triangle. Freeze for 20 minutes. Remove and brush the pastries with beaten egg white.
Bake for 12 to 15 minutes, until tops and edges are just starting to brown.
When hamantaschen are cool, make the glaze by adding bourbon to the sugar until smooth enough to drizzle in a loose pattern over top. Or, if you prefer, drizzle on room-temperature caramel sauce.
Serve within a few hours. Promptly freeze leftovers.
http://meatballsandmatzahballs.com/blog/2018/02/21/salted-bourbon-caramel-hamantashen/
Copyright Marcia A. Friedman - www.meatballsandmatzahballs.com