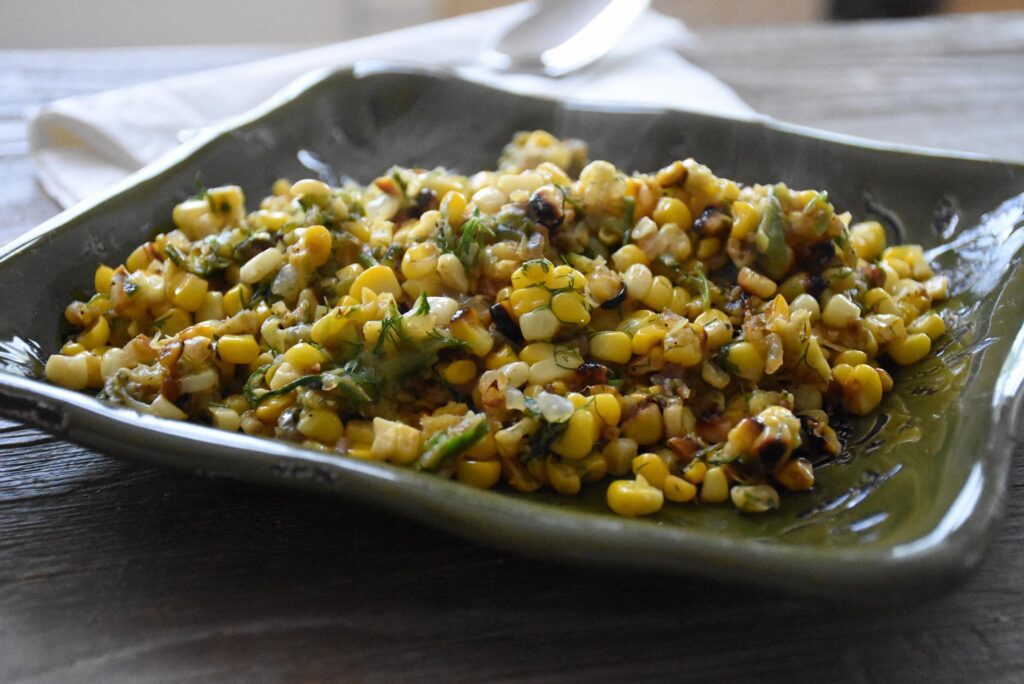 Zucchini, corn, and dill form a summer all-star team in this easy saute, a recipe adapted from the Meatballs and Matzah Balls cookbook. While the recipe is most enticing during peak corn and zucchini season, it really works year-round (you can always get zucchini and use frozen corn) as a side dish with surprisingly delightful textures and flavors. It also brings in lovely Italian and Jewish connections. Zucchini shows up in many Italian dishes—marinated, stuffed, fried, baked, and grilled—and one Roman-Jewish recipe features fried and marinated zucchini (as many Roman-Jewish dishes deliciously highlight frying). And although corn arrived from the new world, it was adopted and later grown in Italy, and of course its flour forms the basis of the beloved polenta (or mamaliga and similar dishes of Jewish communities from eastern Europe). And that dill? Its bright, grassy flavor provides just the right accent—plus a bonus reminiscence of your favorite Jewish chicken soup.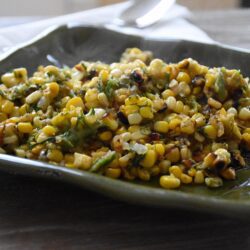 Zucchini and Corn with Dill
Silky shredded zucchini, chewy corn kernels, and grassy fresh dill play together beautifully in this saute. Beautiful as is, or combine it with pasta, serve it atop polenta—the possibilities! Adjust the amounts to taste, but a good ratio to shoot for is 1 cup corn to 1 zucchini to 1 tablespoon dill. Omit the butter to make it vegan, or go all in and add cheese (feta wins my vote). Grilled corn adds great flavor, but frozen fire-roasted corn (thawed) makes a good substitute.
Ingredients
2

medium zucchini, grated

(using the large holes of a box grater)

Extra virgin oil

1

medium sweet onion finely chopped

Kosher salt

Freshly ground pepper to taste

2

cups

grilled corn or frozen fire-roasted corn (thawed)

1 to 2

tablespoons

salted butter, to taste, optional

Squeeze of fresh lemon juice

2

tablespoons

chopped fresh dill
Instructions
Place grated zucchini in a large colander set over a medium bowl or in the sink. Press with paper towels or a kitchen towel to remove as much liquid as possible.

In a large nonstick skillet over medium-high heat, warm a layer of olive oil, then add onion and cook, stirring frequently for 3 to 4 minutes, until the onion begins to soften. Add the zucchini and corn and stir to combine.

Cook, turning the mixture every couple of minutes, until the zucchini is just turning golden at edges, 5 to 8 minutes. Add butter if using and squeeze lemon over top. Turn off heat and stir in dill. Add seasonings to taste.

Serve warm or room temperature.