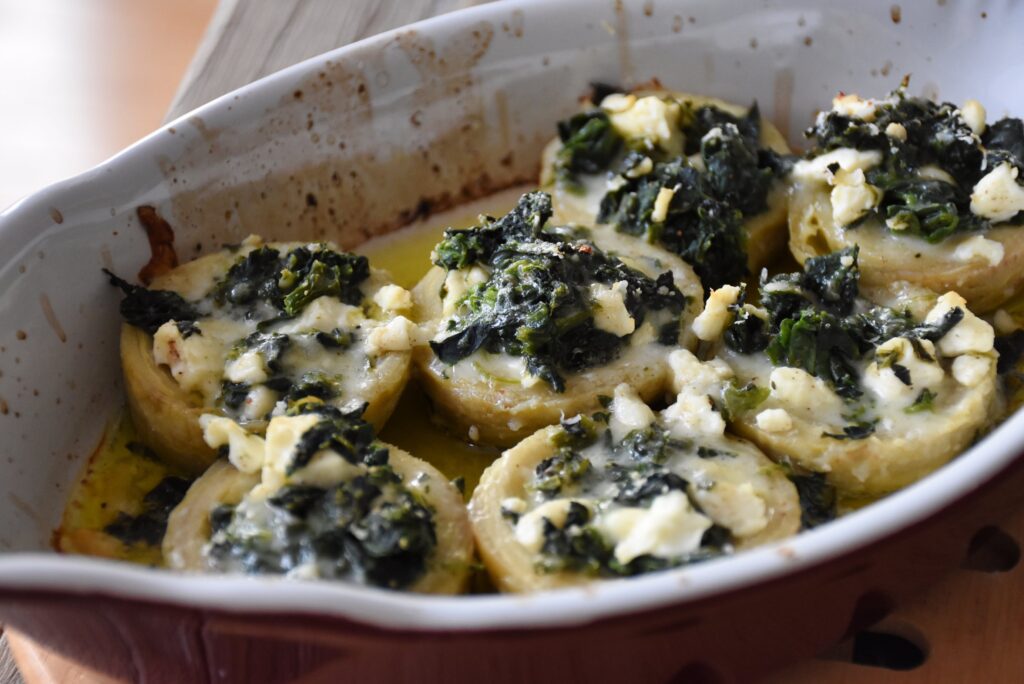 Artichokes were beloved by Italy's Jewish community, and stuffing them was one of many ways to prepare the thistles, which were labor intensive to work with but delicious every way, from fried to added to soups and risottos. Spinach was also a favored ingredient of Italy's Jews. This recipe aims to celebrate those two ingredients in easy but crowd-pleasing way. A filling of spinach, feta, mozzarella creates a tangy, cheesy bite, a little like spinach-artichoke dip with canned artichoke bottoms offering wonderful artichoke flavor as well as serving as the delivery vehicle for all the goodness. Although decadent with the cheese, the little package also delivers fiber and vitamins as well as nutrients like iron and magnesium from the spinach and folate and potassium from the artichokes. This versatile recipe makes a great appetizer or side dish, easy enough for everyday and festive enough for holidays.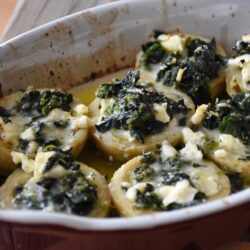 Artichoke bottoms, the tender, fleshy base of the artichoke, offer delicious artichoke flavor in a form ideal for topping or stuffing—here with spinach and cheese. Although fresh artichokes are worth the labor most of the time, here I recommend using both canned bottoms and frozen spinach. That way the dish comes together easily but still feels special, all the while paying tribute to two ingredients beloved by Italy's Jewish community. Canned artichoke bottoms are available in some grocery stores and also online. Make sure there is a good layer of liquid in the bottom of your baking dish for cooking the artichokes.
Ingredients
Extra-virgin olive oil

½

lemon

2

14-ounce cans medium or large artichoke bottoms, drained

Kosher salt, to taste

Freshly ground black pepper, to taste

1

8-ounce bag frozen chopped spinach, heated and firmly squeezed of excess liquid

1

cup

crumbled feta

1

cup

shredded mozzarella

¼ to ½

teaspoon

garlic powder, to taste

¼

teaspoon

ground nutmeg
Instructions
Preheat the oven to 350°F.

Coat the bottom of a 9-by-9-inch or similar-sized baking dish with a generous layer of olive oil (about 3 tablespoons). Squeeze the juice from the lemon into the dish.

Toss the artichoke bottoms with olive oil to coat and place open-side-up in a single layer in the prepared baking dish. Season with salt and pepper to taste.

In a medium bowl, combine the garlic, spinach, feta, mozzarella, nutmeg, and black pepper to taste.

Mound filling in each artichoke.

Bake covered for 15 minutes, then uncover and bake 15 more minutes until melty and lightly browned. Cool 5 minutes before serving.