Jump to recipe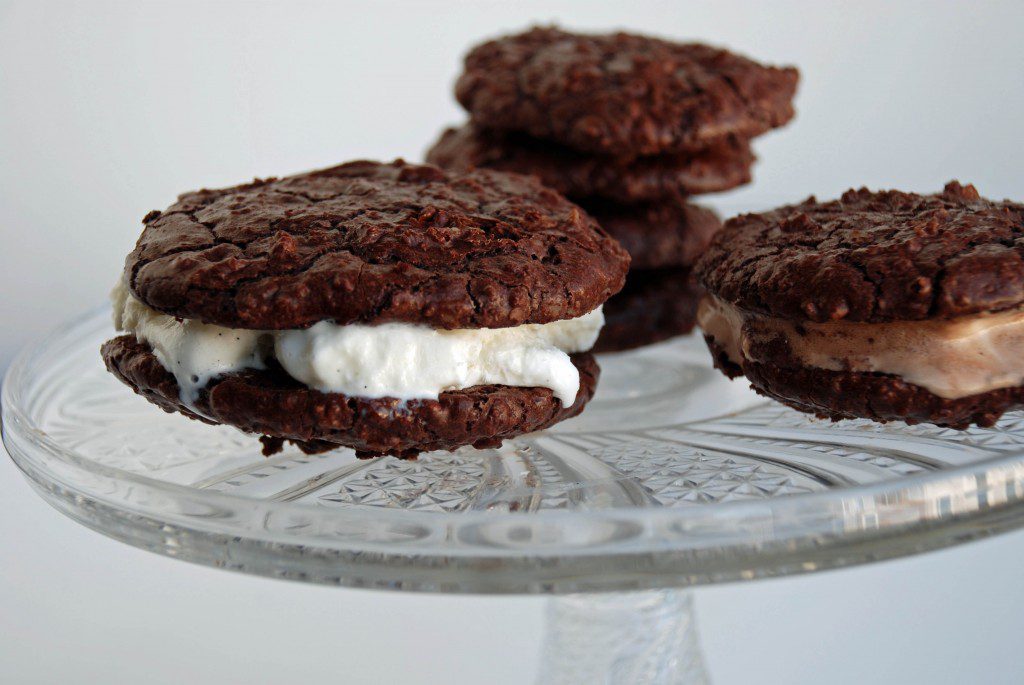 Ah, cookies. Oh, Passover. I'm ever in search of ways to get you two to get along. But the holiday's prohibition on wheat leaves me without the main body builder of many cookies—white or any other kind of grain flour. Many bakers turn to almond or coconut macaroons or even cookies made with matzah cake meal for the holiday. Those can be very good, but they never fully satisfy my need for a cookie fix.
But then I met these babies, chocolate pecan cookies. No flour (or any gluten), no dairy, but still real cookies. They sport a crackled shiny top. The chocolate flavor gets depth from cinnamon and toasted pecans. Their slightly crisp exterior gives way to a chewy interior. I could have stopped there with this recipe but as I was testing and tasting, something got me thinking—ice cream sandwiches.
After spending an afternoon spreading softened ice cream on the cookies and making little sandwiches, I can say that these might have found their true calling as bookends to ice cream. Each bite offers the flavor, chewiness, and creaminess reminiscent of a brownie sundae. I tried both vanilla and chocolate—all in the name of research!—and both were equally good.
A couple of bonuses: Maybe it was the throwback to a childhood treat, but standing in the kitchen making sandwiches out of ice cream and homemade cookies was a surprisingly happy little endeavor. It's also easy to do.
This is not a Jewish or Italian recipe in origin, but I love it. These cookie sandwiches are a versatile treat I can serve to folks on gluten-free diets, and a playful, comfort-food option for Passover. And happily, a marriage of Passover and cookies that seems made in heaven.
Chocolate-Pecan Cookie Ice Cream Sandwiches

With their light, chewy, and chocolatey goodness, these just might be the perfect cookies for making ice cream sandwiches. They taste great by themselves, too, and are gluten-free, nondairy, and kosher for Passover. The recipe suggests about 2 tablespoons of ice cream per sandwich, but you can fill them as thick as you like. Enjoy right after assembling (while the ice cream is extra smooth and squishy) or freeze for serving later. For best flavor, toast the pecans, just until fragrant, about 8 to 10 minutes in a 350-degree oven. The cookie recipe is adapted from one in Nancy Baggett's "The All-American Cookie Book."

Ingredients
2¼ cups confectioner's sugar
6 tablespoons unsweetened cocoa powder, preferably Dutch-processed
2 tablespoons almond flour
2½ teaspoons potato starch
¼ teaspoon cinnamon
¼ teaspoon salt
3 large egg whites
1 teaspoon vanilla extract or vanilla powder
2 cups pecans, toasted and finely chopped
2 ounces bittersweet chocolate, grated
3 cups (approximate) vanilla and/or chocolate ice cream
Instructions
Preheat oven to 325 degrees. Line two baking sheets with parchment paper. In a large bowl, whisk together sugar, cocoa powder, almond flour, potato starch, cinnamon, and salt. Using a hand-held mixer at medium speed, mix in the egg whites one at time. Add the vanilla, increase speed to high, and beat for 3 minutes, scraping down the sides of the bowl a couple of times. Stir in the pecans and chocolate.
Drop tablespoonfuls of batter on the prepared baking sheets at 1½- to 2-inch intervals. Bake 15 to 17 minutes, rotating the pans halfway through, until the cookies look shiny and slightly crackled and the edges seem dry. Remove from oven and let cookies rest on the pans for 2 to 3 minutes before sliding the parchment sheets onto wire racks. Let the cookies cool completely before peeling them from the paper. Store between sheets of wax paper in an airtight container (the cookies will stick together if stacked directly on top of each other).
To make the sandwiches, soften the ice cream by putting it in the refrigerator about 20 to 30 minutes or by heating it for 5 seconds at a time in the microwave. It will need to be soft enough to spread on the cookies without breaking them. Gently spread about 2 to 3 tablespoons of ice cream on the bottom of one cookie and top with another cookie, squeezing the sandwich lightly together. If not eating right away, place the sandwiches on a wax-paper-lined tray and freeze until solid, then wrap them individually in wax paper and place in a sealed bag. Allow them to soften slightly (about 5 minutes) at room temperature before serving.
© 2023 Copyright Marcia A. Friedman - www.meatballsandmatzahballs.com