Jump to recipe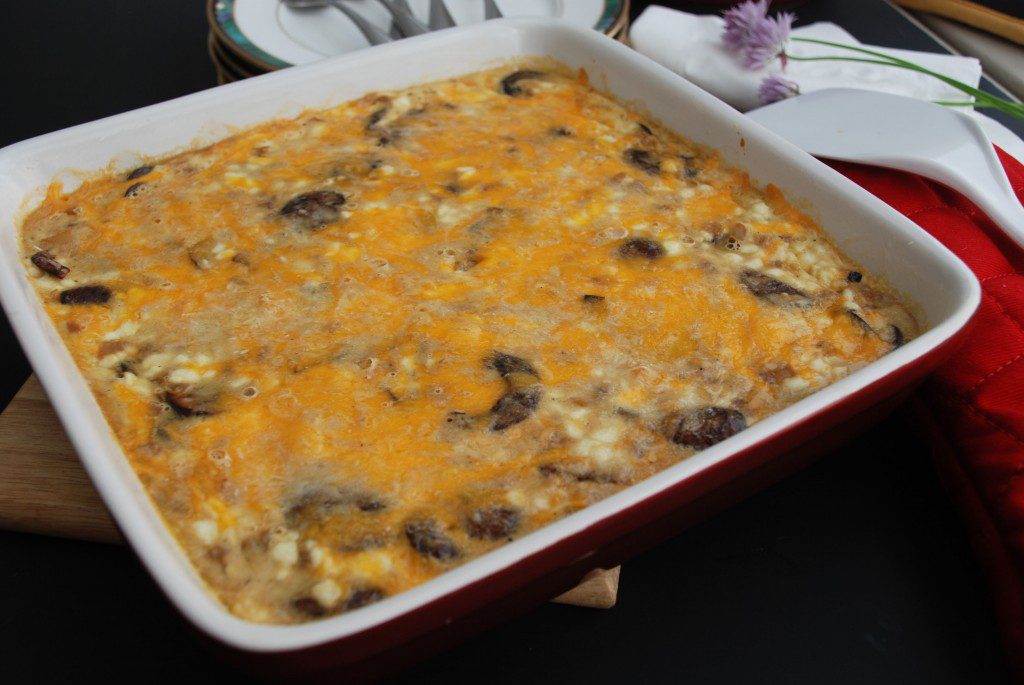 In honor of holidays in Israel last week (Memorial Day and Independence Day), I wanted to feature a recipe that represents Israel in a more personal way. This one comes from a Jewish woman I met who grew up in Russia. As you might know, life for Jews even in modern Russia was not ideal—besides difficult economic conditions, they also faced anti-Semitism. Yet for many years, Russia officially barred Jews from leaving the country. Finally, the gates opened in the 1990s, and Israel welcomed a majority of emigrating Russian Jews.
Despite loving her Russian homeland, this woman left and joined family members already living in Israel. About five years later, she moved to the United States. And ever since she's been living the American dream—buying a home, babysitting grandchildren, and starting her own successful small business. Israel was a key link in her finding a better life.
This recipe has been one of her comforts. She learned it from her family in Israel; it became a favorite dish that she still makes today. She translated the recipe to me, and I rewrote it in a more familiar recipe style and U.S. measurements. I only made two significant changes. One, I reduced the amount of sour cream by half. Two, I added just a bit of Parmesan cheese. It not only nods to my Italian traditions but also adds some nutty flavor to this mild dish.
Keep in mind as you are assembling the casserole that you don't want excess liquid in the ingredients. Be sure to cook the mushrooms until their liquid evaporates, and when you add the sour cream to the pan, cook until the mixture is thick. It should look like this: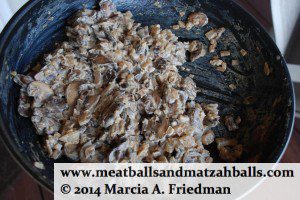 The end result is simple and pure comfort: cheese, cream, mushrooms, and, well, more cheese. All that cheese and cream also makes this a recipe to keep handy for the festival of Shavuot, coming up from sunset June 3 to sunset June 5, 2014 (a holiday traditionally celebrated with dairy foods). But really, at its simple best, this mushroom casserole works any time of the year. And you can enjoy it knowing that the recipe has accompanied someone on a journey to a free and fulfilling life.
Cheesy Mushroom Casserole

Mushrooms and cheese go together so well, sometimes you need little else—and this comforting casserole from Israel proves it. You'll need a 2-quart baking dish (such as 8 x 11.5 or 9 x 9 that is at least 2 inches deep). For the recipe, I used Osem brand dry mushroom soup mix (it's kosher pareve; look for it in the kosher section of the supermarket).

Ingredients
1/2 tablespoon unsalted butter for greasing the pan
Extra-virgin olive oil
16 ounces thinly sliced cremini or baby portabella mushrooms
Kosher salt and freshly ground black pepper to taste
1 large onion, chopped
8 ounces sour cream
3 large eggs
1 pound small-curd cottage cheese
2 tablespoons dry mushroom soup mix (such as Osem brand)
11/2 cups shredded extra-sharp cheddar cheese
1/4 cup grated Parmesan cheese
Instructions
Preheat the oven to 350 degrees. Coat a 2-quart baking dish with butter and set aside.
Heat a layer of olive oil in a large nonstick skillet over medium-high heat. Add mushrooms, season lightly with salt and pepper, and cook stirring frequently until browned and liquid has evaporated, about 10 minutes Add the onions, season with a little more salt and pepper, and cook stirring frequently until the onions are softened, about 5 more minutes. Reduce heat slightly, add the sour cream, and let the mixture bubble away about 5 to 10 more minutes, stirring frequently, until it is very thick. Remove from heat.
In a large bowl, lightly beat the eggs. Stir in the cottage cheese, mushroom soup mix, 1 cup of the cheddar cheese, and 1 tablespoon of the Parmesan. Fold in the mushroom mixture. Transfer to the prepared baking dish, smooth the top, and sprinkle with the remaining cheddar and Parmesan cheeses. Transfer to the oven and bake about 30 minutes, until hot and bubbly and just starting to brown at the edges.
Remove from oven and let rest about 10 minutes before cutting into squares and serving.
© 2023 Copyright Marcia A. Friedman - www.meatballsandmatzahballs.com