Jump to recipe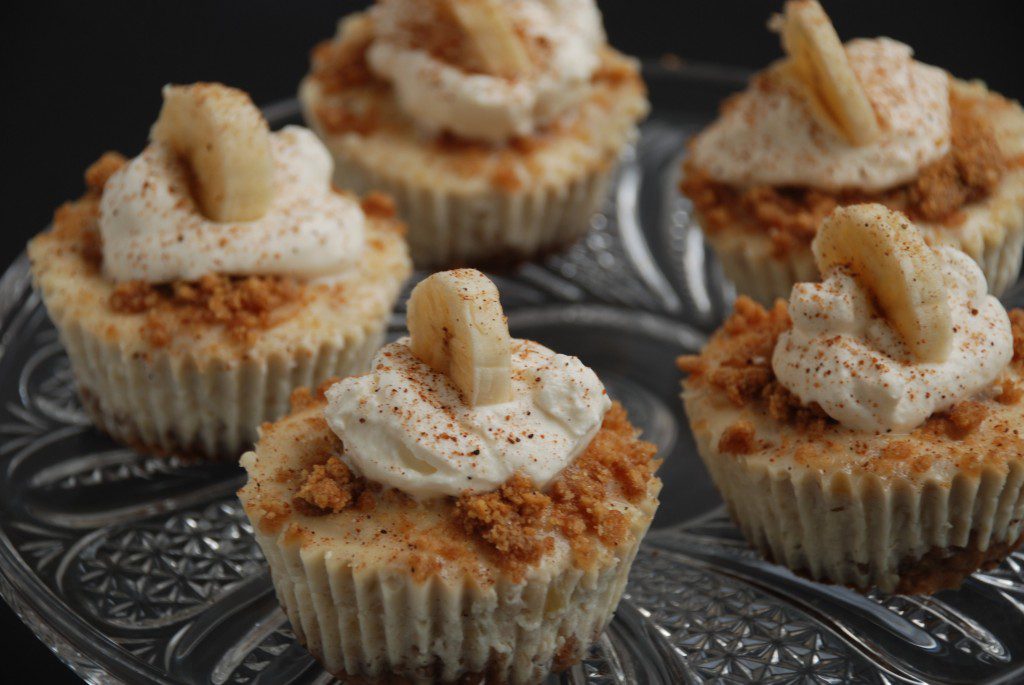 Although I never need an excuse to enjoy cheesecake, now the time's especially ripe for it. If you're minding the Jewish calendar, you know the holiday of Shavuot (commemorating the spring harvest and the giving of the Torah) is coming up June 3-5. And for this holiday, we typically roll out our cheesiest, creamiest recipes, because celebrations traditionally feature dairy foods. On the savory side, I favor a cheesy fish dish, but on the sweet side, you can't really get any more luscious than cheesecake.
I have several cheesecake recipes I love, but this time around, I wanted to create something that honors several aspects of the holiday. So I started with size. Given that the Jews were on their historical journey after leaving Egypt during the biblical time commemorated by Shavuot, I went with a miniature, or travel-sized, version. Then, on to flavor. I sought a light-colored fruit because white is also traditional for the holiday. There's always lemon, but I was leaning toward banana…and then came a surprise by way of a sidebar in Joan Nathan's Jewish Cooking in America (a book I highly recommend).
That now ubiquitous tropical fruit? Americans actually have a Jewish banana grower named Solomon Marks to thank for shipping the first bananas to the United States from the West Indies. And I had to smile reading how new Jewish immigrants to America reacted to this exotic, never-seen-before-specimen—they were perplexed (eating the skin) and smitten (integrating it into creative new recipes). So I had my fruit, one that not only sports the right color but also comes with a little Jewish storyline complementing Shavuot, a holiday of new beginnings.
In a nod to my own Jewish and Italian journey, I opted to make my mini banana cakes with ricotta, like Italians often do for their cheesecakes. Ricotta also appeals here because it is lighter-bodied than cream cheese (it's also lower in fat, cholesterol, and sodium for those of you counting) and produces a less-dense cheesecake—which seems just right for a cupcake-sized portion.
I love every part of this recipe. The graham cracker crust spiked with banana creates a flavorful, slightly chewy foundation for the delicate, fruit-laced filling, topped with a smattering of crust crumbs. A final topping of fresh whipped cream, a banana slice, and a sprinkle of nutmeg completes the cakes and makes them festive (but you can eat them without it). One more thing to make me happy, especially in the warmer months when I might not want to spend so much time baking—these come together more easily and much faster than does a traditional cheesecake.
Whether for Shavuot or summer entertaining indoors or out, I hope you enjoy this little sweet something for celebrating.
Mini Banana Ricotta Cheesecakes

Here, creamy banana flavor, warm spices, and graham cracker goodness come together in a festive little cheesecake package. The ricotta produces a light creamy cake and sour cream lends tanginess. You will need 3 medium bananas (2 very ripe and 1 ripe but firm enough to slice easily) for the whole recipe. Note that the banana makes the crust mixture lumpy (in a delicious way); don't overwork it or it will become a ball. These cheesecakes are best served chilled the same day you make them. Use good-quality ricotta, such as BelGioioso brand, which is also certified kosher.

Serving Size
1 cheesecake
Ingredients
Crust
1 cup graham cracker crumbs (about 61/2 graham crackers, crushed)
1 1/2 tablespoons all-purpose flour
1/2 tablespoon sugar
1/8 teaspoon ground cinnamon
2 tablespoons unsalted butter, melted
3/4 teaspoon vanilla extract
2 tablespoons mashed ripe banana
Filling
16 ounces whole milk ricotta, drained of any excess liquid
3 tablespoons sour cream
11/2 teaspoons vanilla extract
¼ cup sugar
1 large egg, room temperature
¾ cup mashed ripe banana
Topping
1 cup heavy whipping cream
1 teaspoon vanilla extract
1 teaspoon sugar
Ground nutmeg for sprinkling
12 slices of banana
Instructions
Preheat the oven to 350 degrees. Line a 12-cup muffin pan with foil liners and lightly spray with cooking spray.
For the crust, combine the graham cracker crumbs, flour, sugar, and cinnamon in a medium bowl. In another bowl, mix the melted butter, vanilla, and mashed banana. Add the butter mixture to the graham cracker mixture, and stir with a fork to moisten most crumbs. Press about 1 scant tablespoon of crumb mixture into the bottom of each muffin cup; use the chunkier crumb pieces here and reserve the leftovers to sprinkle on top later. Bake at 350 degrees for 12 minutes. Remove to a wire rack.
For the filling, use an electric mixer on high speed to beat the ricotta, sour cream, vanilla, and sugar in a large bowl until very smooth, about 2 minutes, scraping down the sides of the bowl a couple of times. Beat in the egg. Fold in the mashed banana until just incorporated. Fill each muffin cup with ricotta mixture. Sprinkle a little of the reserved crumb mixture on top of each cheesecake.
Bake 25–30 minutes (the cakes should reach 160 degrees). Transfer to a wire rack and let cool about 30 minutes, then transfer to refrigerator to chill for at least one hour before serving (the texture is ideal when they are chilled all the way through).
To serve, make the topping by combining the heavy cream and vanilla in a large bowl. Beat on high speed with an electric mixer. As the cream gains a little volume, sprinkle in the sugar and continue beating until the cream holds soft peaks (the whole process should take about 2 minutes).
Remove the foil liners from the cheesecakes and place the cakes on a serving platter or on individual plates. Place a dollop of whipped cream on each cheesecake, insert a banana slice, and sprinkle lightly with nutmeg. Pass leftover whipped cream at the table in case anyone wants extra.
© 2023 Copyright Marcia A. Friedman - www.meatballsandmatzahballs.com