Jump to recipe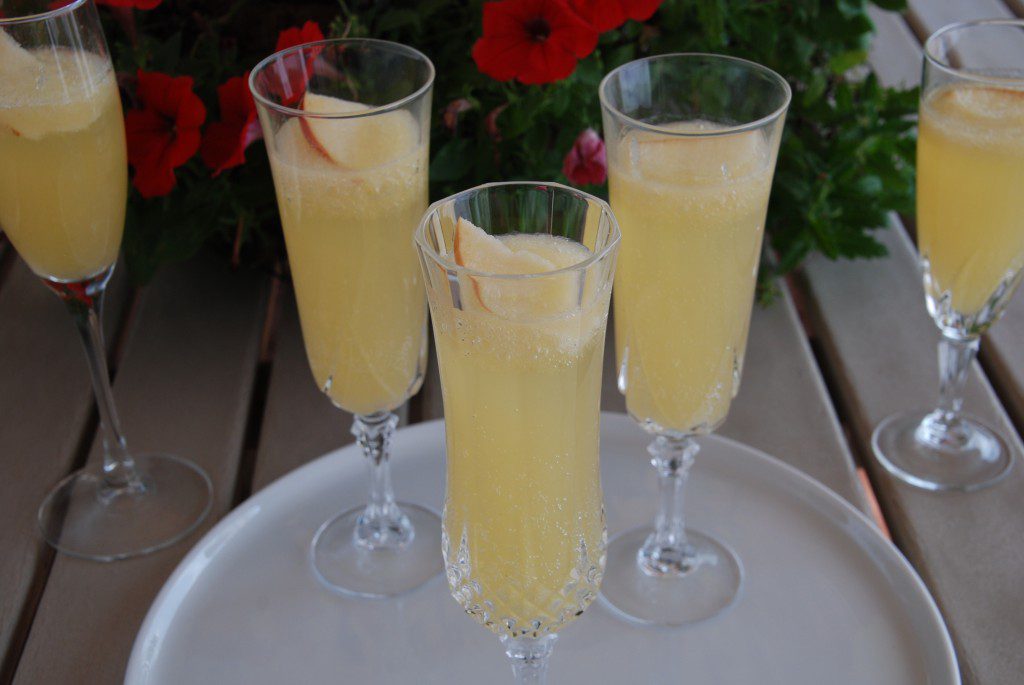 Hello, apples! To me, nothing quite says "fall" like crates and crates of apples in the stores, markets, and farm stands. And of course the fruit in its prime of sweetness and flavor plays a symbolic role for Rosh Hashanah celebrations, eaten dipped in honey to represent the hope for a sweet new year.
Although the holiday marks a serious time on the Jewish calendar, it is also full of hope and promise—for a better year, a better world, peace within and all around, plus sweetness and the good sense to seek it, make it, and appreciate it. The holiday meal in particular is festive and full of comfort foods like brisket and roasted chicken, kugels and soups.
But I always feel like a special meal should kick off with something both festive and representative. And especially for Rosh Hashanah, I've been seeking a delicious, symbolic apéritif that also draws on my Italian background. After some experimenting (and I did not drink all the batches, I promise), I hereby present what I've dubbed my applelinis.
Not to be confused with the appletini (an apple martini), these take inspiration from the Italian bellini. That beloved beverage features puréed peaches and Prosecco in a bubbly marriage of luscious fruit and wine. I wanted that same simple freshness but with apples, and also a little honey in tribute to the holiday. Now fresh apples don't purée very nicely, but lightly cooked apples certainly do. A little time on the stove with some water and the honey gives not only the right texture but also a melded flavor. It's actually temping to stop right there and just eat the purée.
Nonetheless, for a drink, the apples are not quite the flavor powerhouses that ripe peaches are, so to give the apple flavor more dimension, I add a little apple brandy. Once this mixture is chilled, simply combine it with Prosecco in champagne flutes. But there's one finishing touch that elevates the flavors and fragrance even more—a couple of drops of chilled Italian Limoncello, a liqueur made with lemon peels. The scent alone of the finished cocktail is heavenly. And that's how I want to toast the meal and the year.
Warm wishes for the new year and all your fall entertaining!
L'chaim and salute!
Applelinis

Toast the season with the best of it right in your glass—apples touched by a kiss of honey. This recipe takes inspiration from Italian bellinis by combining fruit and bubbly Prosecco. The apple brandy and Limoncello make the flavor beautifully complex and bright. Make sure all the ingredients are icy cold before you assemble the drinks.

Ingredients
3 cups peeled chopped apple (about 2 Honeycrisp or other flavorful apples)
3/4 cup water
11/2 tablespoons honey
1/3 cup apple brandy
1 750 milliliter bottle chilled Prosecco
Chilled Limoncello (optional)
8 thin apple slices for garnish (optional)
Instructions
Combine the apples, water, and honey in a small saucepan. Bring to a gentle boil; cover and cook 10–12 minutes, until apples are tender. Remove from heat, uncover, and let cool slightly. Purée using an immersion blender (or transfer to a blender and purée). Cool completely. Cover and refrigerate.
At least an hour before serving, stir in the brandy and refrigerate.
To make an applelini, add ¼ cup (2 ounces) apple mixture to a champagne flute. Top with Prosecco (about 2 ounces) and a couple of drops of Limoncello. Stir gently once or twice. Garnish with a sliver of apple if desired. Repeat with remaining ingredients.
© 2023 Copyright Marcia A. Friedman - www.meatballsandmatzahballs.com