Jump to recipe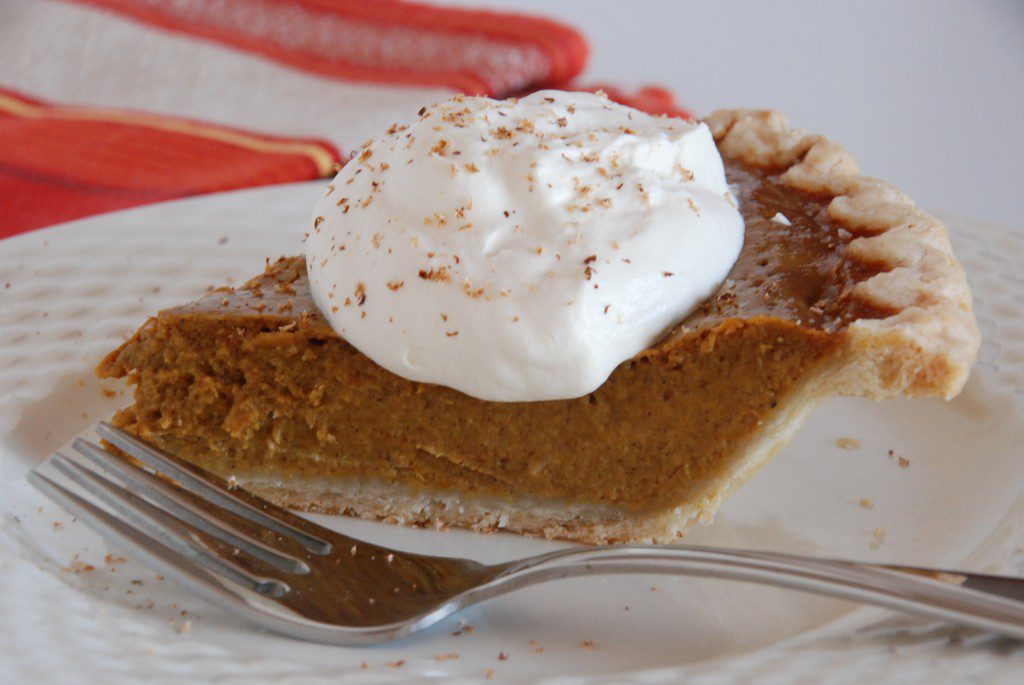 If you're lucky enough to be bringing dessert (my favorite assignment) to Thanksgiving or another holiday gathering this season, you'll likely be making or buying a pumpkin pie. And that's one pie that truly benefits from a dollop of homemade whipped cream (if dairy will be permissible).
This year I put together what I think is the perfect match for the strongly flavored pie—a mascarpone and kosher rye whiskey whipped cream. The mascarpone not only sweetens and enhances the flavor of the cream but also stabilizes it. That means you can make the cream up to a couple of hours ahead and it will hold its volume, a nice bit of flexibility for freshly whipped cream.
As for the whiskey, just 1 tablespoon per cup of cream gives the right hint of butter and toffee without making the topping boozy. I was pleasantly surprised to find certified kosher rye whisky (as they spell it) being made locally and organically at Catoctin Creek Distillery in Purcellville, Virginia (well worth a visit if you are in the area). Their Roundstone Rye's nuanced flavor really shines in the cream, but you can of course substitute any whiskey or bourbon (or even rum) that you have on hand.
This luscious and richly flavored whipped cream truly makes the pie—and it takes just a couple of minutes to literally whip up. Here's to a sweet holiday season!
Mascarpone and Kosher Rye Whiskey Whipped Cream

If you are having pumpkin pie, you need a great whipped cream. Here mascarpone both sweetens and helps stabilize the cream (a huge help if you want to make it a little in advance). Kosher rye whiskey adds just the right butter and toffee notes to complement the pumpkin flavors. And it's all even better sprinkled with nutmeg.

Notes
I used Catoctin Creek Roundstone Rye Whisky from Catoctin Creek Distillery in Purcellville, Virginia. They distribute in a few states outside Virginia and their spirits can be purchased online, but of course you can substitute bourbon or your preferred whiskey (or even rum).

Ingredients
1 cup very cold heavy cream
1 tablespoon sugar or more to taste
1 tablespoon mascarpone
1 tablespoon rye whiskey (see note)
1 reaspoon vanilla extract
ground nutmeg for garnish (optional)
Instructions
Place the heavy cream in a mixing bowl and use an electric mixer on high speed to beat. Once it gains a little volume (after about 30 seconds), add the sugar, mascarpone, whiskey, and vanilla. Continue beating just until the mixture holds soft peaks. If needed, cover and refrigerate for a couple of hours before serving.
© 2023 Copyright Marcia A. Friedman - www.meatballsandmatzahballs.com