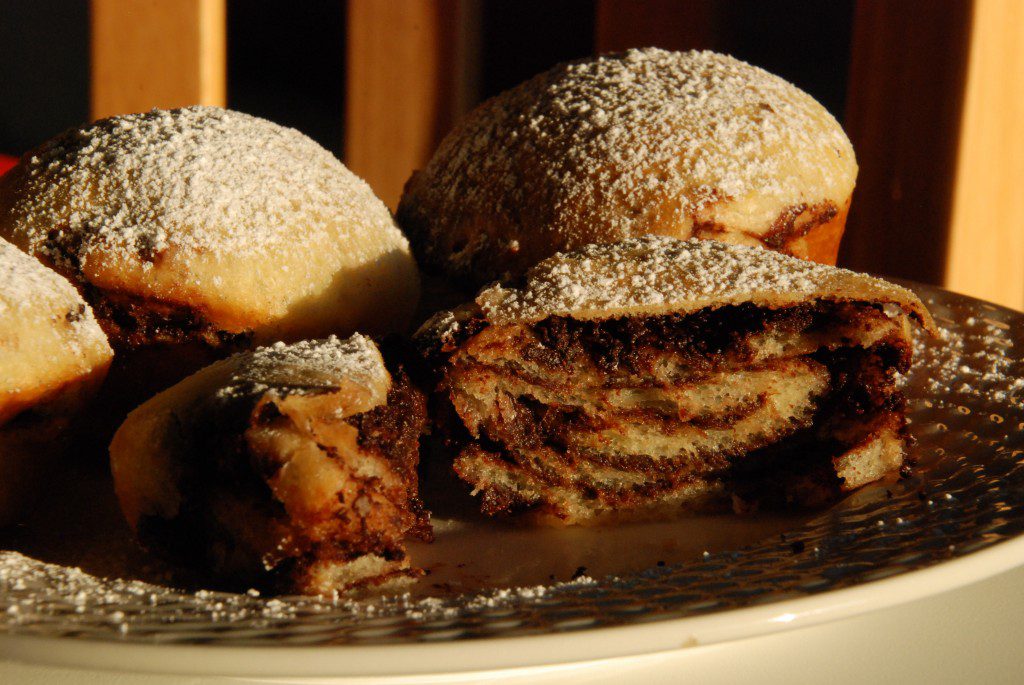 Chocolate babka caught my eye, well, first because of the chocolate, of course. But it also intrigued me because it keeps company this time of year with other sweet yeast breads stuffed with more sweets—the German stollen and especially the Italian panettone usually scented with citrus and filled with dried fruit (and sometimes pine nuts and anise). Always interested in how Jewish and Italian foods come to share characteristics, and a little surprised at how the Jewish entry in this field ended being the most deliciously decadent, I wanted to explore these further.
Panettone is a centuries old Italian holiday bread traditionally served at Christmas and Easter. It's a light, egg-rich tall cake filled with candied fruit. Babka (which mean's "grandmother's cake") comes from Poland and Ukraine. Originally, babka was also made as a tall cake baked in a special pan with fluted sides. Some theorize that the concept was introduced to Russia and Eastern Europe by travelers carrying panettones. But it might simply be a resemblance to other tall cakes traditional in various communities across Europe. One version of Polish babka is a spongy cake similar to an Alsatian kugelhopf.
Most likely, Jewish babka that we know today evolved from Polish Jews who used their challah dough, spread it with cinnamon or jam, rolled it up and baked it for a sweet snack, according to Jewish food historian Gil Marks. Since they didn't have the special tall loaf pan to make a traditional babka, they baked it in regular pans.
Brought to America by Polish immigrants, babka wasn't that well known until the 1950s despite all its deliciousness. Then it gradually began appearing in more and more Jewish and non-Jewish bakeries in areas with large populations of Jews. Perhaps babka officially "made it" on the scene of American food culture when it was featured on a 1994 episode of "Seinfeld"—with the chocolate babka being much preferred over the cinnamon one!
So, about that chocolate version. The textures can vary from coffee-cake like to doughy (all good) and the chocolate filling can be made with chips, melted chocolate, and maybe even some apricot, almond, or other flavors mixed in. Sometimes you see babkas topped with streusel as well, though I think that's unnecessary because it's so good already.
In theory, because I love blending traditions, I approached chocolate babka–making thinking I would try to combine traditions of panettones and babka. But to be honest, I'm not a fan of dried fruit and citrusy breads like panettone, as lovely as they can be to nibble every once in awhile. So it's babka, baby. But there was one thing—speaking of baby—I particularly wanted to do, which was make the babkas individual-sized, trading the loaf pan for muffin pans.
There are so many great recipes out there, but one that's on fire right now is a version called Chocolate Krantz Cakes from the hot, hot, hot, cookbook Jerusalem by Jerusalem-born chefs Yotem Ottolenghi and Sami Tamimi. I love their approach to the filling, so I borrowed elements of that, and started with my challah dough recipe but adding more egg yolks, butter, and some vanilla extract—this is about richness, you know. A loaf-pan babka is usually two long rolls twisted, but a delight about working small-scale is that there's less twisting and it doesn't matter if you mess it up. The smaller size also gives versatility in the making—bake some now, freeze the rest for later, one of my favorite strategies. And like most homemade breads, these are best served the day they're made—another reason to bake them just as you need them.
Now, if you are someone intimidated by bread making, don't worry, this one is very accessible. The dough comes together mostly with a mixer (hand-held is fine). Just make it the day before you want to bake the babkas and refrigerate it overnight for a long, slow rise. Then deal with it whenever you are ready the next day.
The dough is very moist, so it almost can be simply pressed out with your hands (with a few assisting rolls of the rolling pin) before spreading on the chocolate filling. And because we're simply putting chunks in muffin cups, it doesn't matter if your roll isn't neat.
What does matter is using good-quality chocolate and natural (rather than Dutch or alkalized) unsweetened cocoa. I usually turn to Scharffen-Berger or Ghirardelli brands but there are many other good ones.
These are especially fun for brunches, afternoon tea, or dessert. But they are equally nice savored on your own, sitting down with a cup of tea and a good book.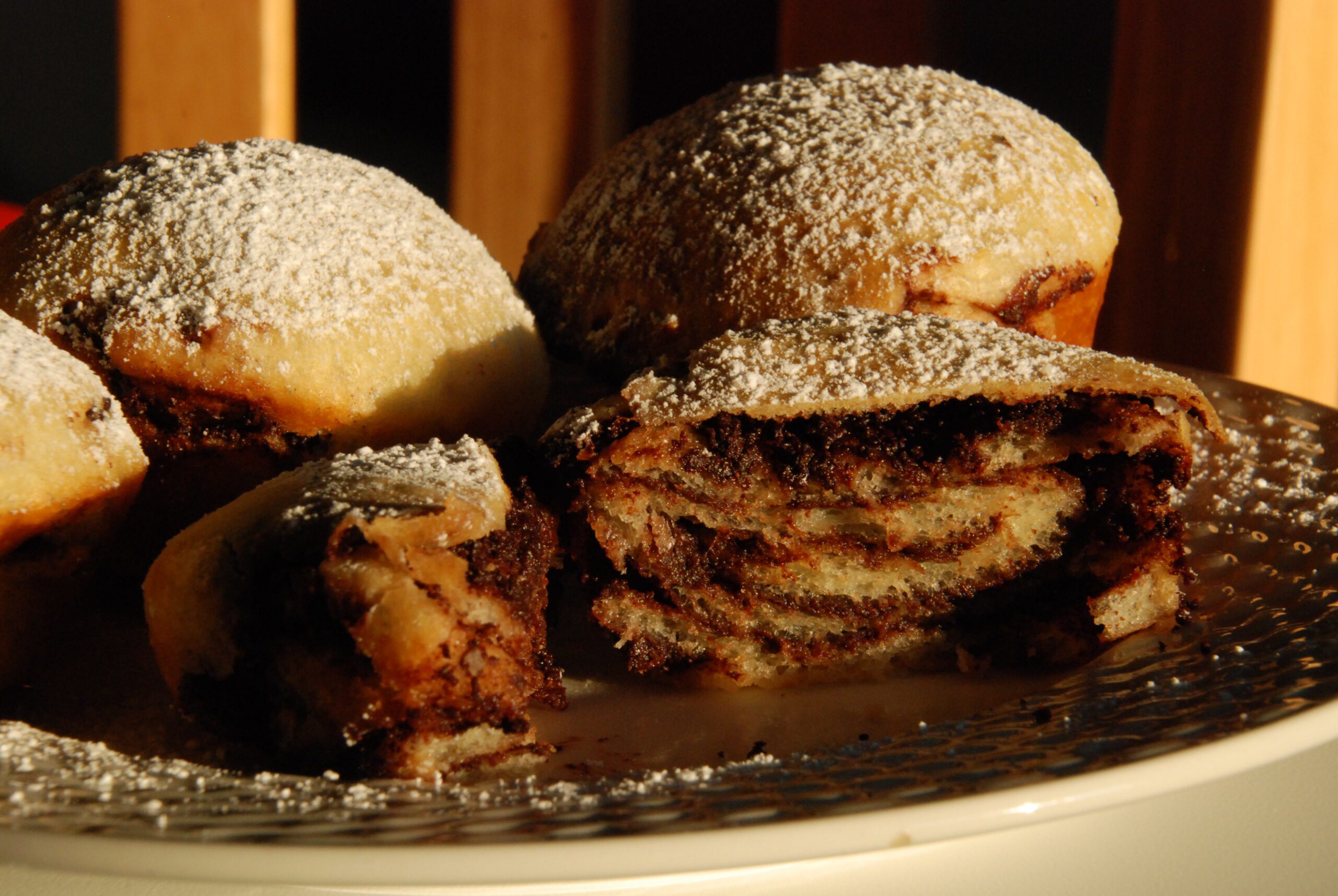 Baby Chocolate Babkas
Chocolate and challah dough come together in sweet little packages with these muffin-size babkas. Plan to make the dough the night before to rise overnight in the refrigerator. Serve the same day or freeze.
Ingredients
Dough
Oil or butter for coating the bowl

1

envelope active dry yeast, about 2¼ teaspoons

1

cup

very warm water, 105 to 110 degrees

¼

cup

sugar

2

teaspoons

vanilla extract

1/2

teaspoon

salt

4

large egg yolks

4

ounces

1 stick unsalted butter, room temperature

3

cups

bread flour, plus additional for rolling
Filling
4

ounces

bittersweet chocolate, coarsely chopped

4

ounces

1 stick unsalted butter

½

teaspoon

vanilla extract

1/3

cup

light brown sugar

¼

teaspoon

ground cinnamon

1/3

cup

unsweetened natural cocoa powder

2

tablespoons

melted unsalted butter for muffin pans

Confectioners' sugar for dusting
Instructions
Coat a large bowl with oil or butter and set aside.

Dissolve the yeast and warm water in a large bowl, about 5 minutes. Add the sugar, vanilla, salt, eggs, and butter. Use an electric mixer to blend in 2 cups of the flour and mix on low speed for 3 minutes until smooth and shiny. Stir in the last 1 cup of flour by hand until well incorporated. Transfer to greased bowl, cover with plastic wrap, and refrigerate overnight.

To make the filling, melt chocolate and butter together. Stir in vanilla, brown sugar, cinnamon, and cocoa powder. The filling will thicken some as it cools slightly.

Brush cups of muffin tins liberally with melted butter and set aside.

Remove dough from refrigerator and divide in half. Return half to fridge and transfer other half to a floured piece of parchment paper. Spread or roll it out to an approximate 10 x 14 rectangle. Spread half the filling over top. Beginning with one long side, roll up dough. Cut into 12 pieces and transfer each to a muffin cup. Repeat with other half of dough.

Cover muffin pans loosely with greased plastic wrap and let rise in a warm place in your kitchen for 45 minutes. Meanwhile, preheat oven to 375 degrees.

Bake 10 to 12 minutes until golden brown (check after a few minutes; if browning too quickly, reduce heat to 350 degrees). Let rest in pans about 20 minutes, then transfer to a baking rack to cool. Dust with confectioners' sugar. Serve the same day or freeze.