Jump to recipe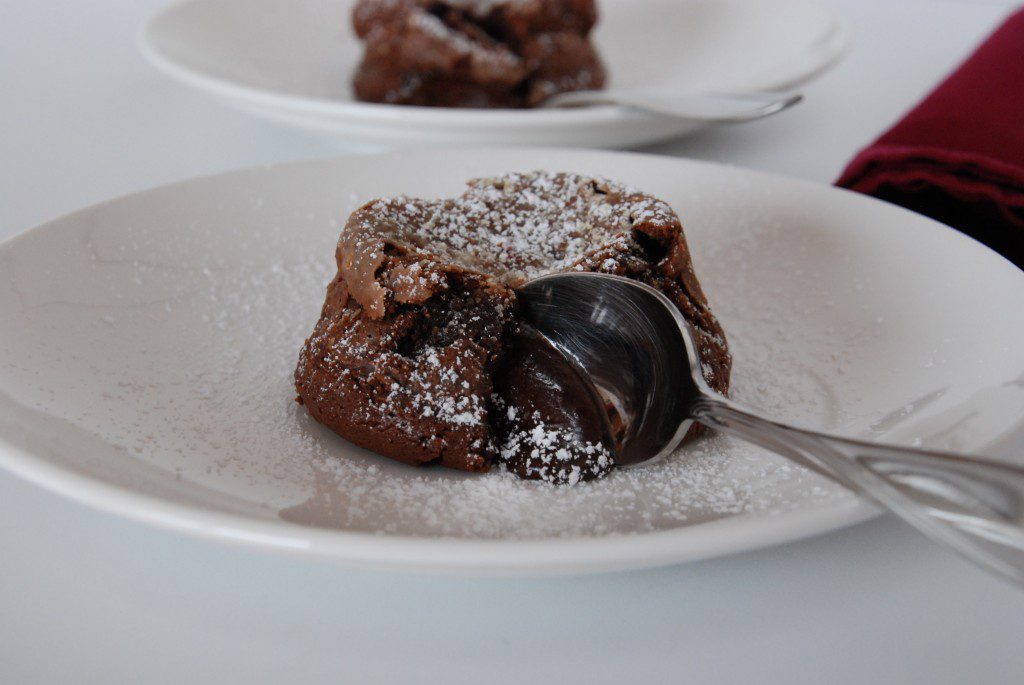 Passover, let me introduce you to my newest sweet friend, the chocolate lava cake…wait, what? You know chocolate lava cake's Italian grandmother? Seriously?
Yes, that's right. Lava, molten, or pudding cakes with that luscious liquid chocolate center might seem like a hot, hot, hot contemporary fad, but the concept has a connection to Italy.
In researching Cucina Ebraica, a collection of recipes from Italy's Jewish communities, author and chef Joyce Goldstein found a recipe from Livorno for a chocolate budino (pudding) made without flour. Though it contains a significant portion of chopped almonds, it comes out of the oven much like today's lava cakes.
Make no mistake, I was first drawn to this recipe for its chocolate-y simplicity and its minimal use of flour, which often means that a recipe can easily transition to being gluten-free (something I look for more often these days) and, of course, Passover-friendly. After all, an easy and spectacular flourless dessert is like hitting the jackpot for this culinarily challenging holiday. The Italian connection was just another beautiful reason to master this recipe for myself.
I began with a version by Mark Bittman. His recipe called for a little flour; I substituted almond flour and potato starch and made a few other modifications. Although I had a little trouble with the cakes sticking the first time (I didn't take the "greasing the ramekins" step as seriously as I should have), they were otherwise fabulous.
The recipe relies on just a few ingredients—essentially chocolate, eggs, and butter. Making the cakes with butter produces superior results. The cakes puff up handsomely during baking, and the outer edges are tender and moist while the liquid center really does resemble a thick luscious lava, gently flowing out when you break open the cake. The flavor is all chocolate with no unusual notes. Need I say it? Use butter if you can.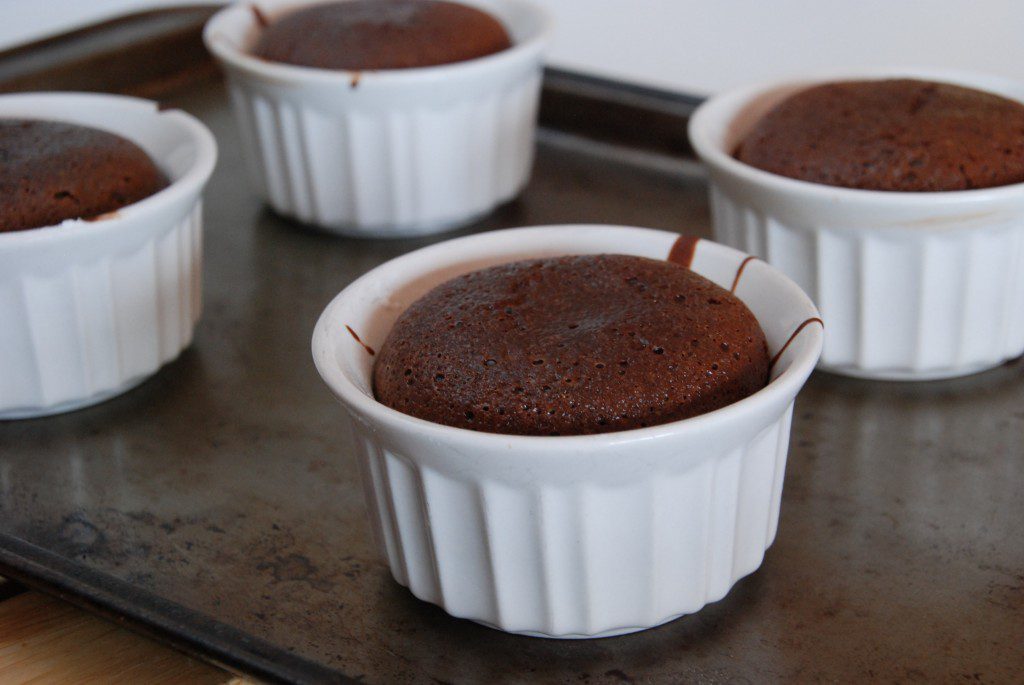 However, sometimes you need a nondairy option. I tested the recipe using margarine and coconut oil. As you might guess, compared with the cakes made with butter, these were not quite as rich and smooth. The margarine cakes had a very slight off-note of flavor. And no surprise, the coconut version tasted a little of coconut, which was actually nice as long as you like coconut.
In all three versions, though, it's a five-star dessert that bakes in about 10 minutes and does not taste one bit like Passover. And if you are part of a family honoring both Passover and Easter traditions, this dessert suits all. Actually, it would be a lovely afternoon pick-me-up after a leisurely holiday brunch. If it seems like too much chocolate at once, serve it with some whipped cream.
It's a recipe that charms as much for its flavor and presentation as for the simplicity in pulling it off. And that it can work so beautifully as a gluten-free and Passover dessert? Well, that's just the icing on the cakes.
Chocolate Lava Cakes

Not only do these gluten-free chocolate cakes with molten centers make a stunning and rich dessert, they bake in less than 10 minutes. I recommend a mix of semisweet and bittersweet chocolate but go with what you like in the best quality you can get. I tested this recipe with butter, margarine, and coconut oil, and it tastes and bakes best with—you guessed it—butter. A dusting of confectioners' sugar covers any rough spots from unmolding the cakes, but you can skip it if you prefer. You'll need four 4-ounce ramekins. Adapted from Mark Bittman's Molten Chocolate Cake recipe. Please see the important safety note below.

Notes
In my testing, the centers of the cakes did not reach 160 degrees, the FoodSafety.gov recommended temperature for safely cooking eggs to kill off any potential harmful bacteria. To avoid any risk, I suggest making this recipe with eggs that have been pasteurized in shell. I tested the cakes with Davidson's Safest Choice Pasteurized Eggs—certified kosher, by the way—and they came out just fine. For retailers near you, see the company's Web site, www.safeeggs.com/store-locator.

Ingredients
4 ounces unsalted butter or margarine (1 stick) or 4 ounces coconut oil, plus more for greasing the ramekins
Potato starch for coating the ramekins plus ½ teaspoon potato starch for the cakes
2 ounces bittersweet chocolate, chopped or broken into pieces
2 ounces semisweet chocolate, chopped or broken into pieces
4 large eggs (2 whole eggs and 2 egg yolks), preferably pasteurized (see note)
¼ cup sugar
½ teaspoon vanilla extract or flavoring
2 teaspoons almond flour
Confectioners' sugar for garnish (optional)
Instructions
Preheat the oven to 450 degrees. Grease the insides of the ramekins completely, then dust with potato starch; shake out the excess (this step is important for preventing the cakes from sticking). Place the ramekins on a rimmed baking sheet.
Cut the butter into 4 or 5 pieces and combine with the chocolate. Melt in a double boiler or microwave. Mix well and set aside.
In a separate bowl, whisk together the 2 whole eggs and 2 egg yolks with the ¼ cup of sugar until lightened in color, about a minute. Whisk in vanilla, almond flour, and ½ teaspoon potato starch, and then the chocolate mixture to combine well.
Divide the batter evenly among the ramekins. Transfer the pan of ramekins to the oven and bake until the cakes are slightly puffed and the sides are set but the centers still jiggle a bit, 7 to 9 minutes.
Remove the pan from the oven and let sit for 2 minutes. Run a knife between each cake and the inside of the ramekin to loosen. Using a towel or oven mitt to handle the hot ramekins, place an individual serving plate over each ramekin and invert. After 10 to 15 seconds, carefully remove the ramekins (it's okay if some chocolate is oozing out). Dust with confectioners' sugar (if using) and serve immediately.
To make this a few hours in advance, prepare the recipe up to the baking step. Cover the filled ramekins and refrigerate. To bake, uncover and set them out at room temperature for about 35 minutes before transferring to oven and allow 1 to 2 minutes longer to bake.
© 2023 Copyright Marcia A. Friedman - www.meatballsandmatzahballs.com