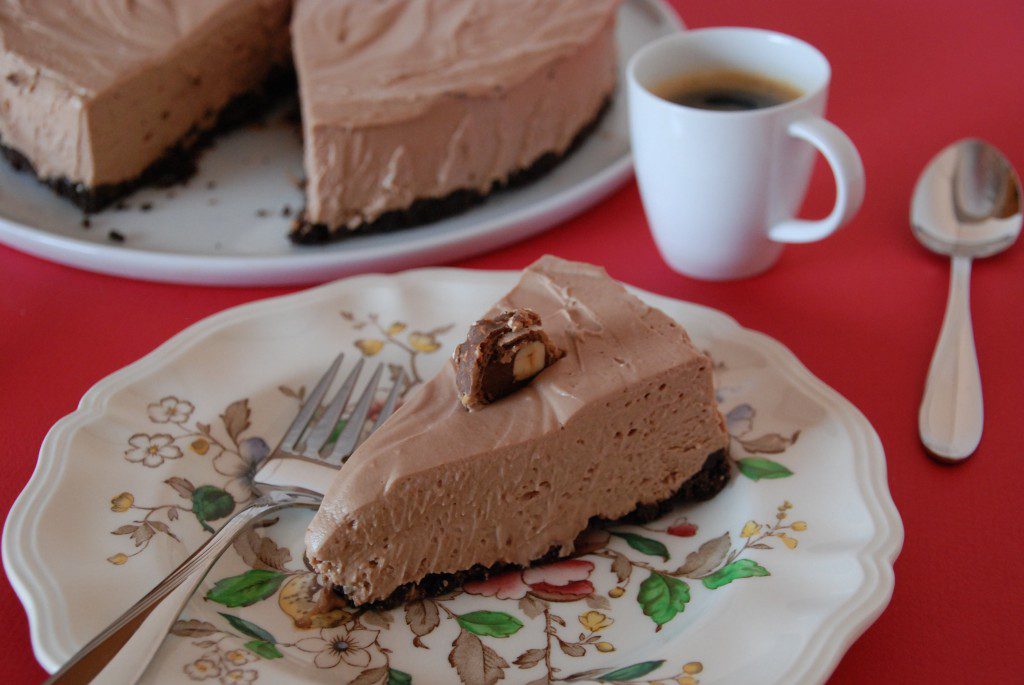 This cheesecake really is as luscious as it looks here. It's just the right balance between sweetness, creaminess, and hazelnut-chocolatey goodness.  It's so creamy that I added "mousse" to the title. And even better? This is a no-bake cheesecake, making it especially friendly to the warm weather season when you might want to avoid turning on the oven. Start with small servings since this is delightfully rich. Below is the article about this recipe that I shared with The Jewish Food Experience.
***
Adding Italian Flavor to Shavuot with Nutella Cheesecake
After converting to Judaism many years ago, I sought to feel more connected by building a recipe repertoire that combined my new Jewish heritage with my inherited Italian one. Learning more about cheesecakes was one of many great pleasures in this journey.
First, cheesecake is savored during Shavuot, the spring holiday festival I find especially meaningful because it features a reading about Judaism's first convert, Ruth. Furthermore, to me cheesecake represents the Jewish experience of starting over (also fitting for this holiday commemorating the Israelites' acceptance of the Torah at Mount Sinai). The dense creamy versions we know and love today evolved in the New York delis of Jewish immigrants rebuilding their lives. Their cheesecakes first took inspiration from the likes of German kasekuchen (cheesecake) and Italian ricotta cheesecakes, but came into their own decadent iterations by the 1930s when Jewish bakers began using a relatively new product, cream cheese. Cheesecake soon spread far and wide to restaurants and home kitchens.
Cheesecake also means family connections. I first fell in love with cheesecake growing up, when my mom made a pumpkin swirl version with a ginger snap crust—so it will always be a special family dessert. But after I converted and got married, cheesecake became a connection to my new Jewish family as well. My husband's cousin Nita (who was born Jewish but learned Italian cooking from her husband's family—she's my Jewish-Italian "mirror image") was a master cheesecake baker thanks to her Italian in-laws. Her embrace of the two cultures inspired me—as did her skills with cream cheese and springform pans!
So when Shavuot comes along and cheesecake madness sets it, I have go-to recipes to accompany my other favorite savory Shavuot recipes. But it's been awhile since I've ventured beyond my usual cheesecake favorites, so seeing Nutella cheesecake on a restaurant menu recently piqued my interest as a possible playful addition to my Jewish-Italian repertoire. Nutella, a chocolate hazelnut paste created by an Italian confectioner in 1964, is not gourmet or classic Italian cuisine by any means (think of it as an Italian equivalent to peanut butter)—but nonetheless, it is fun and delicious.
For my new cake, I revisited one of Nita's recipes for a light and airy no-bake cheesecake, which seemed like a good match for the quite dense Nutella. Plus, I liked the idea of a quicker, simpler recipe (as much as I adore the baked, water-bath version, it's a production that I don't always have time for).
Her recipe called for whipped cream and I added some Italian mascarpone as well for structure, sweetness, and some subtle depth of flavor. The Nutella folds in nicely, and the resulting filling is so smooth and creamy that I renamed this "mousse cheesecake." A crushed chocolate cookie crust proves just the right foil for the chocolaty nutty cream.
Though the cake really needs no further adornment, I enjoy garnishing each slice with half a Ferrero Rocher chocolate hazelnut candy, which accents the main flavor and gives a little light crunch as well. It's an Italian kiss on top of a deliciously decadent cake—a recipe that unites heritages, honors holidays, and nods to the connections we build among cultures, cuisines, and families.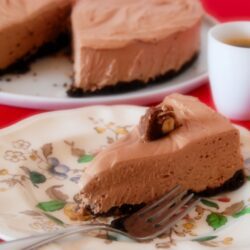 Nutella Mousse Cheesecake
The decadence knows no bounds here as the chocolate and hazelnut Nutella blends spectacularly with cheesecake flavors and a chocolate cookie crust. This gets such luscious creaminess and dimension from a little mascarpone and a good helping of fresh whipped cream that I call it a mousse cheesecake. The cake comes together easily but the results suggest that you slaved all day over it. A Ferrero Rocher chocolate hazelnut candy makes a fun garnish, but you can omit if you like. Serve the cake cold from the fridge as it softens quickly at room temperature.
Ingredients
Crust
1½

cups

crushed chocolate wafer cookies

⅛

teaspoon

ground cinnamon

½

teaspoon

vanilla extract

3

tablespoons

unsalted butter, melted
Filling
2

packages (8-ounces each) cream cheese, room temperature

½

cup

confectioners' sugar

1

teaspoon

vanilla extract

½

teaspoon

(scant) salt

1

pint

(2 cups) heavy whipping cream

2

tablespoons

mascarpone

1

cup

Nutella or other chocolate hazelnut paste

6

Ferrero Rocher chocolate hazelnut candies, halved
Instructions
Combine the crumbs and cinnamon. In a separate bowl, add the vanilla to the melted butter, then pour over crumbs and stir to coat well. Firmly press moistened crumbs in an even layer on the bottom of a 9-inch springform pan and transfer to refrigerator to chill.

Add the cream cheese, sugar, vanilla, and salt to a large bowl and set aside. In another large bowl, beat the whipping cream on high speed. After it starts to gain volume (about 1 minute), add the mascarpone. Continue beating just until the mixture holds soft peaks (another 1 to 2 minutes). Use a spatula to fold in the Nutella in three additions. Set aside.

With the same electric mixer (no need to clean the beaters), beat the cream cheese mixture until smooth (1 to 2 minutes). Then use the spatula to fold the Nutella-cream mixture into the cream cheese mixture. When mostly incorporated except for a few lumps, beat with the electric mixer on low-medium speed for 45 to 60 seconds until smooth.

Transfer to prepared pan and smooth the top. Cover and refrigerate for at least 6 hours or overnight. To serve, run a knife between cake and edge of pan, then loosen and remove the side of the pan. It's easiest to serve the cake right from the pan bottom; the filling is very soft and leftovers should be promptly returned to the refrigerator. Garnish slices with a chocolate hazelnut candy half, if desired.