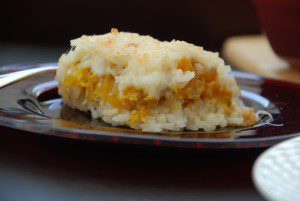 Every year I seem to find a new way to love butternut squash, and this year it's as part of my new recipe, Butternut Squash Bomba di Riso. It's an Italian-style risotto rice casserole that I originally developed for Sukkot but that would warm up any cool night. Read my post over at the Jewish Food Experience.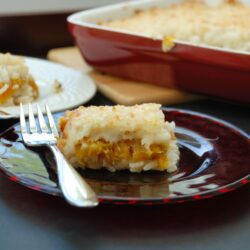 Butternut Squash Bomba di Riso (Rice Casserole)
There's not much better than risotto—except turning it into a baked casserole with a golden crust and a fall-inspired filling of melting cheeses and roasted squash and shallots. Although the Italian bomba di riso is traditionally a molded rice dish, these layers work beautifully in a regular dish. Pre-cut butternut squash cubes work well and save prep time. This recipe is gluten-free and you can substitute water or stock for the wine if you prefer.
Ingredients
5

cups

pre-cut peeled, seeded, and cubed butternut squash (approximately ½- to ¾-inch cubes)

1

cup

peeled and coarsely chopped shallots

Extra-virgin olive oil

Kosher salt

Freshly ground black pepper

½

teaspoon

ground nutmeg

1

tablespoon

unsalted butter

3

cloves

garlic, finely chopped

2

cups

Arborio (short-grained) rice

3

cups

water or stock

1

cup

dry white wine, such as Pinot Grigio

¾

cup

finely grated Parmesan cheese, divided

¾

cup

shredded part-skim mozzarella

¾

cup

shredded fontina cheese
Instructions
Preheat the oven to 425°F. Toss the squash and shallots with olive oil to coat. Spread on a rimmed baking sheet in a single layer and season with salt, pepper, and nutmeg. Roast 20 to 30 minutes (stirring once or twice) until the squash is tender and lightly browned.

Remove the pan from the oven and reduce heat to 400°F. Use the back of a fork to lightly mash the squash mixture (it should still be somewhat lumpy). Set aside.

While the squash roasts, heat 1 tablespoon olive oil and the 1 tablespoon butter in a medium saucepan over medium-high heat. Add the rice and cook, stirring frequently, for about 1½ minutes, then add the garlic and continue stirring until edges of rice turn slightly translucent and garlic is fragrant, another minute or so. Stir in 1½ teaspoons kosher salt, black pepper to taste, and the water or stock and wine.

Bring to a boil, reduce heat to low, cover, and simmer without stirring for about 15 minutes, until rice is swollen but still very firm in the middle—just slightly chewier than if you were serving it as risotto.

Remove from heat, pour off any excess liquid, and stir in ½ cup of the Parmesan. Taste and add salt and pepper if needed.

Oil a 2-quart 9-by-9-inch or similar-sized casserole dish. Spoon half the rice mixture into the dish and smooth the top. Evenly cover with the squash mixture then mozzarella and fontina cheeses. Top with remaining rice. Smooth the top and sprinkle evenly with remaining ¼ cup Parmesan.

Bake until hot and starting to brown, about 20 minutes. Turn broiler on high and broil another 2 to 4 minutes to lightly brown the top.

Remove from oven and let stand 10 minutes before cutting and serving.