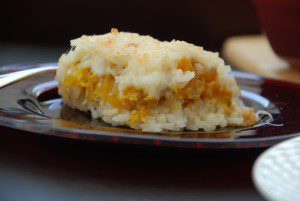 Every year I seem to find a new way to love butternut squash, and this year it's as part of my new recipe, Butternut Squash Bomba di Riso. It's an Italian-style risotto rice casserole that I originally developed for Sukkot but that would warm up any cool night. Below is the article I wrote for The Jewish Food Experience.
***
Celebrating Sukkot's Connections with a Risotto & Butternut Squash Dish
[Post]
It's easy to overlook Sukkot, which falls in the shadow of Rosh Hashanah and Yom Kippur. And I think that's a shame. This fall festival acknowledges the hard journeys by Jews through history. It also asks us to be carpenters—to build a sukkah or "booth," our own Jewish structure that is at once fragile yet powerfully connected with tradition. 
This holiday resonates with me, first because I feel like I'm a carpenter every day. Not with tree branches, wood, and nails, but with my own building block—food. This construction project launched after I converted to Judaism. I thought understanding, making, and sharing Jewish foods would better connect me to this new culture. But part of the foundation turned out to be learning more about the Italian food of my Dad's side. Thus my Jewish-Italian culinary building project truly began.
But that's not all I love about Sukkot. The holiday asks simple, important, and beautiful things: to be thankful for the season's bounty, to appreciate and respect the temporary nature of life, and to eat and be joyful together with others, outside, even leaving gaps in the roof. How can this commandment to pause, be open, and look up not be considered a gift?
The holiday is also known as z'man simchateinu (the season of our rejoicing). More than any other Jewish holiday, Sukkot emphasizes joy. Even after many years, I always feel a little bit new to Judaism, so I find the theme reassuring—that whatever I cobble together, there is joy in it as well as the sharing of it.
And for someone who loves cooking and eating, Sukkot offers me even more pleasure in that the food traditions involve neither fasting nor matzah. In fact, the traditions are quite relaxed. The fall harvest fruits and vegetables fit naturally as do foods easy to carry and keep warm outside, like casseroles and stews. Another tradition calls for filled or stuffed foods, symbolizing plenty.
For a new Jewish-Italian-inspired Sukkot dish this year, risotto seemed ideal. Not only because it's so warm and satisfying, but also because rice has been on a culinary journey itself. Starting in India and China, rice spread to Persia and then Israel, and then later on, with the Arab empire's expansion, to Spain and Sicily among other places. The preparation for risotto most likely was inspired by rice dishes brought to Italy by exiled Spanish and Sicilian Jews. Like Jews through history and on Sukkot, rice made a home wherever it was.
Even better, a simple quick risotto can be "built" into something truly special for Sukkot—a Jewish-Italian bomba di riso, a baked casserole with a cheese filling. Though traditionally made in a ring mold, the layers work beautifully in a regular dish (nice for taking it outside). For my new recipe, I wanted the filling to have a more robust fall flavor, so I included roasted and lightly mashed shallots and butternut squash, the latter reminiscent of the favored fall squash of Italy's Jews, the zucca barucca. Luscious Italian fontina cheese added buttery creaminess, and a top dusting of Parmesan created a golden thin crust. Simple yet spectacular.
From the ingredients to the shape to the flavors, this represents so much about what I love about Sukkot—the building of connections and the honoring of journeys, both physical and spiritual. And it doesn't ask a lot of you. If you don't have a Sukkah, just take it outside with some spoons and look up at the stars.
***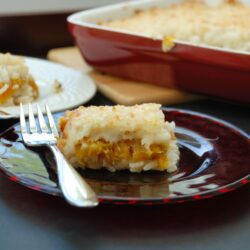 Butternut Squash Bomba di Riso (Rice Casserole)
There's not much better than risotto—except turning it into a baked casserole with a golden crust and a fall-inspired filling of melting cheeses and roasted squash and shallots. Although the Italian bomba di riso is traditionally a molded rice dish, these layers work beautifully in a regular dish. Pre-cut butternut squash cubes work well and save prep time. This recipe is gluten-free and you can substitute water or stock for the wine if you prefer.
Ingredients
5

cups

pre-cut peeled, seeded, and cubed butternut squash (approximately ½- to ¾-inch cubes)

1

cup

peeled and coarsely chopped shallots

Extra-virgin olive oil

Kosher salt

Freshly ground black pepper

½

teaspoon

ground nutmeg

1

tablespoon

unsalted butter

3

cloves

garlic, finely chopped

2

cups

Arborio (short-grained) rice

3

cups

water or stock

1

cup

dry white wine, such as Pinot Grigio

¾

cup

finely grated Parmesan cheese, divided

¾

cup

shredded part-skim mozzarella

¾

cup

shredded fontina cheese
Instructions
Preheat the oven to 425°F. Toss the squash and shallots with olive oil to coat. Spread on a rimmed baking sheet in a single layer and season with salt, pepper, and nutmeg. Roast 20 to 30 minutes (stirring once or twice) until the squash is tender and lightly browned.

Remove the pan from the oven and reduce heat to 400°F. Use the back of a fork to lightly mash the squash mixture (it should still be somewhat lumpy). Set aside.

While the squash roasts, heat 1 tablespoon olive oil and the 1 tablespoon butter in a medium saucepan over medium-high heat. Add the rice and cook, stirring frequently, for about 1½ minutes, then add the garlic and continue stirring until edges of rice turn slightly translucent and garlic is fragrant, another minute or so. Stir in 1½ teaspoons kosher salt, black pepper to taste, and the water or stock and wine.

Bring to a boil, reduce heat to low, cover, and simmer without stirring for about 15 minutes, until rice is swollen but still very firm in the middle—just slightly chewier than if you were serving it as risotto.

Remove from heat, pour off any excess liquid, and stir in ½ cup of the Parmesan. Taste and add salt and pepper if needed.

Oil a 2-quart 9-by-9-inch or similar-sized casserole dish. Spoon half the rice mixture into the dish and smooth the top. Evenly cover with the squash mixture then mozzarella and fontina cheeses. Top with remaining rice. Smooth the top and sprinkle evenly with remaining ¼ cup Parmesan.

Bake until hot and starting to brown, about 20 minutes. Turn broiler on high and broil another 2 to 4 minutes to lightly brown the top.

Remove from oven and let stand 10 minutes before cutting and serving.