Jump to recipe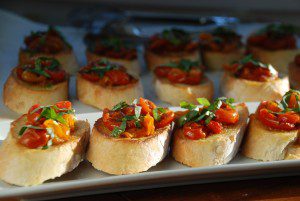 The Italians excel at making simple ingredients delicious, something I've admired over and over again on my Jewish-Italian culinary exploration. Take bruschetta. This appetizer that you find in both Italian and Jewish-Italian recipe collections is simply toasted or grilled bread, garlic, and good extra-virgin olive oil—ridiculously basic and ridiculously irresistible.
Although the traditional topping is chopped fresh tomatoes and herbs, I wanted to take that irresistible bruschetta with me around the calendar. For fall and winter, though, it seemed to need a more robust flavor (and less reliance on being able to get fresh and delicious tomatoes).
Roasting those ubiquitous grape tomatoes and some garlic cloves seemed the ideal way to transition this appetizer to the new season. And indeed, the flavors were full-bodied—but the acidity of the tomatoes still needed a little tempering. I was thinking about sugar and vinegar, but then in the back of my head I must have heard my Italian grandmother (yes, the Italian one) exclaiming "Manischewitz!"—which she inexplicably said when something delighted her, usually in the kitchen.
Well, why not Manischewitz? The super-sweet, slightly syrupy wine could tip the flavor scales in just the right direction. And after trying it, I can echo Grandma Mary's "Manischewitz!" The wine added before roasting and a little more added afterward rounds out the flavor so you can really enjoy each tomato-y, garlicky bite of bruschetta. Notice I didn't say sweet-wine flavored bite. The wine here is a flavor enhancer but should not be the flavor of the tomato mixture. If it tastes like Manischewitz, use less next time.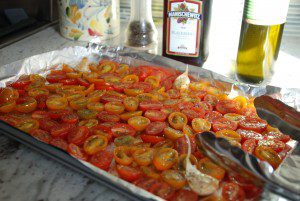 Best of all, this bruschetta is still easy to make. After halving the tomatoes and tossing them (along with some garlic cloves) with oil and wine, roast them about 35 minutes. For brushing the toast, I like to take that now sweet roasted garlic and create a richly flavored garlic-oil spread. I press the garlic through my garlic press but you could also mash it into the oil and thoroughly combine. Brush the mixture on your toast, being sure each piece gets some little chunks of garlic.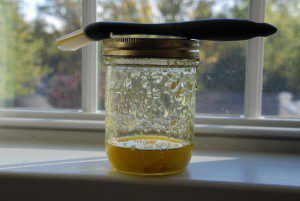 Gently stir about ½ teaspoon or so more of Manischewitz into the tomatoes and taste to make sure the flavor is smooth but not too sweet. Then spoon the tomatoes and any extra juices on the pieces of bread. Top with basil or oregano.
It's been one of many pleasures when a flavor or ingredient from one tradition can enhance a recipe from the other (like adding Parmigiano-Reggiano cheese to my matzah brei). And this bruschetta is another combination of ingredients and techniques that results in a whole better than the sum of its parts.
Manischewitz Roasted Tomato & Garlic Bruschetta

Bruschetta takes on more robust flavor for fall with roasted tomatoes and a luscious smear of roasted garlic olive oil. Although grape tomatoes are naturally sweet, they do need a little something to soften their acidic edge and bring forth the true tomato flavor. Man-O-Manischewitz! Yes, really—it turns out that kosher sweet wine (preferably blackberry) is perfect for this job. Topping the bruschetta with fresh herbs adds contrasting color and rounds out the flavor—basil is sweetly fragrant whereas oregano is more subtle and earthy. Go with your preference and what's available. Be sure to cut the bread slices at least 3/4 inch thick and toast them just enough to crisp the outside but keep the inside a bit tender. This is a wonderfully full-flavored vegan appetizer.

Ingredients
2 pints grape tomatoes, washed and cut in half (a mixture of red and yellow tomatoes works especially well)
4 cloves garlic, skins on
Extra-virgin olive oil
4 tablespoons, plus about 1 teaspoon Manischewitz sweet wine, preferably blackberry
Kosher salt
Freshly ground black pepper to taste
1 baguette or similar sized loaf, sliced into ¾- to 1-inch slices
2 tablespoons chopped fresh basil or oregano for garnish (optional)
Instructions
Preheat the oven to 425 degrees. Meanwhile, combine the tomatoes, garlic cloves, 4 tablespoons of oil, and 4 tablespoons Manischewitz in a resealable bag and gently toss to combine. Let sit at room temperature until oven is ready.
Line a small rimmed baking sheet with foil. Spread the tomatoes, cut side up, along with the garlic pieces in a single layer. Pour any juices from the bag over the tomatoes. Sprinkle with kosher salt and freshly ground black pepper.
Transfer to the oven and roast for 30 to 40 minutes, until tomatoes are somewhat shriveled but not dry and a few are just starting to brown. Remove and let sit in the pan about 10 minutes.
Place ¼ cup of olive oil in a small jar. Remove the paper and tough stem ends from the roasted garlic cloves and press cloves through a garlic press or thoroughly mash them into the jar of oil. Add ¼ teaspoon kosher salt. Secure the lid and shake to break up the garlic and thoroughly combine (it will still be chunky).
Gently toss the tomatoes with ½ teaspoon to 1 teaspoon Manischewitz. Taste, and add a few more drops of wine if needed to reduce the acidic bite of the tomatoes. Don't overdo this—they should not taste like wine.
Heat the broiler or a grill on high and toast the bread slices. Remove. Brush a layer of garlic oil on each bread slice (making sure each slice has a few bits of garlic). Spoon on a couple of tablespoons of tomatoes in a mostly single layer. Sprinkle with basil or oregano and serve immediately.
© 2023 Copyright Marcia A. Friedman - www.meatballsandmatzahballs.com