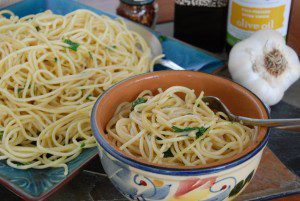 At Hanukkah, what comes before the frying? The oil, the very precious olive oil. I set out to learn more about olive oil and its connection to holiday, history, and heritage—and celebrate the flavor of the oil in a delicious Italian recipe, Spaghetti Aglio e Olio. Besides sporting simply beautiful flavors of oil and garlic, this dish comes together in less than 30 minutes—making it both holiday- and everyday-worthy. Below is the article I wrote for The Jewish Food Experience.
***
Celebrating Hanukkah with Olive Oil (and Pasta)
For an item so essential, oil has received little of my attention. I just automatically reach for my trusty extra-virgin olive oil for most of my Jewish and Italian cooking—frying meatballs, dressing salads, garnishing hummus, blending pesto, and even flavoring my matzah balls. And at Hanukkah, generous amounts of oil are just something my latkes and other fried delicacies pass through on the way to deliciousness. 
However, oil, particularly olive oil, is fundamental not only to the flavor of my cooking but also to Mediterranean cuisine, Israel's diet and economy, and Jewish history. It's an ingredient that ties together the Jewish heritage I adopted when I converted and the Italian heritage I was born with. Appreciating such connections always make my food endeavors more rewarding. And what better time of year to take a closer look at oil than the approach of Hanukkah, during which we celebrate a story of a small vial of oil creating light for eight miraculous nights?
And, of course, that first oil was olive oil. Archeological evidence suggests people in Israel were processing olive oil more than 6500 years ago. The Mediterranean climate of Israel, Italy, and Greece suits olive trees well, and they have thrived there. Furthermore, olive oil is one of the seven species for which the land of Israel is praised. Interestingly, although used for everything from cosmetics to medicine, olive oil didn't become truly popular for cooking among Israeli Jews until the late 1980s, when it resurged along with a passion for Italian cooking.
Today, of course, extra-virgin olive oil is used all over the world. It is a healthful fat in moderation and can be surprisingly delicious and nuanced if we seek out good-quality products. But there's the rub. To learn more about this, I met with Cary Kelly, owner of and visionary behind the now closed Ah Love Oil & Vinegar stores in Virginia and Washington, D.C. She fell in love with olive oil after traveling through Europe after college and seeing and tasting how it could transform food. 
Cary scared me at first by pointing out that as much as 90 percent of the olive oil Americans buy in our supermarkets features chemicals, impurities, or rancid flavors. So, most of us don't know what true extra-virgin olive oil—which should be from the first pressing, low in acidity, and absent any solvents—tastes like. You get even farther away from good flavor with oils labeled "pure" and "light," which are lower quality and can feature chemicals and other ingredients besides olive oil.
Good olive oil is like wine in that its flavor varies by climate, soil, type of olive, and when and how the olives are processed, noted Cary. The earlier in the season the olives are harvested and pressed, the greener and more bitter the oil. Cary also said something that made me want to add a different type of dish to my Jewish-Italian Hanukkah repertoire. "We need to think differently about olive oil. Rather than a cooking utility, consider using it to enhance dishes the same way you would use herbs and spices."
So. On to a dish that celebrates the richness, taste, and elegance of the oil itself. I turned to an Italian classic in which oil shares top billing—Spaghetti Aglio e Olio (pronounced AH-l'yoh eh OH-l'yoh). Unlike many Hanukkah recipes that will keep you busy in the kitchen for hours, this flavorful preparation of pasta, garlic, and oil, plus chili pepper and parsley, comes together in less than 30 minutes. 
A smooth, well-balanced extra-virgin olive oil makes an ideal base for the garlic and pepper. I particularly liked using the organic and kosher Makura brand, made from Souri olives indigenous to Israel (the current bottling is nicely smooth). But the other ingredients make the recipe a good fit as well. Garlic has been key in much of both Italian and Jewish cuisine (and some Jews historically believed garlic protected against the evil eye). The hot red pepper gives just a little fire, reminiscent of the flame that lights the festival.
Remembering Cary's advice to think of olive oil more as an herb or spice, for a final (albeit nontraditional) touch, I drizzle a finishing extra-virgin olive oil—one with exquisite flavor meant just to be used for dressings or drizzling over food—over the tossed pasta. Along with a sprinkle of sea salt, it gives the final dish a beautiful, sophisticated flavor. Both robust fruity oils as well as a roasted chili oil worked beautifully.
Moreover, using a few drops of my most precious oil nicely symbolizes that little bit of oil that lasted eight nights. And that's what I love—when elements of recipes unite and enhance the celebration of holiday, history, and heritage. That meaningfulness makes the food taste even better.
***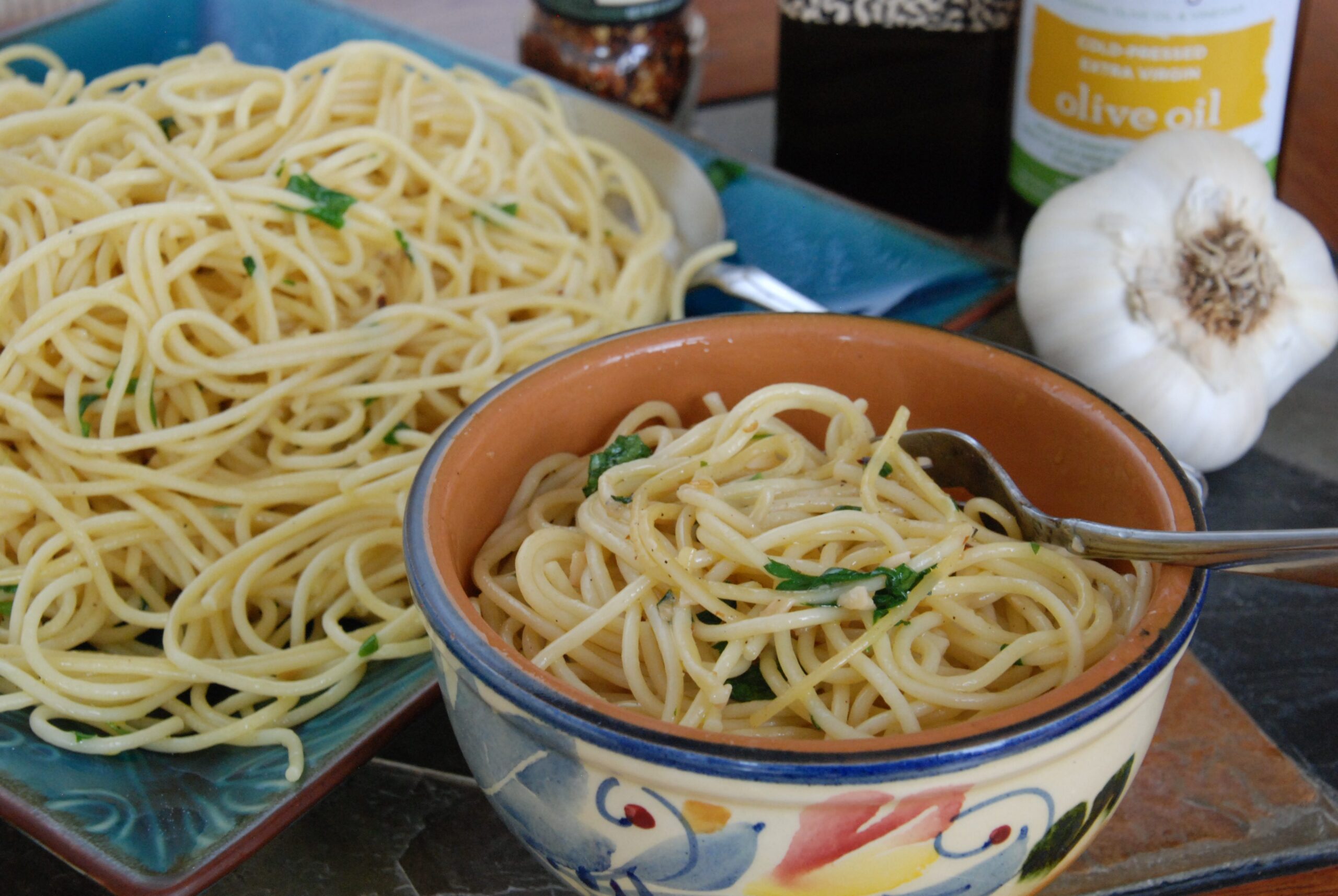 Spaghetti Aglio e Olio
Garlic and oil compete to star in the show here, and the dish is all the better for it. There are a few keys to success with this simple, nondairy recipe. One, save some pasta cooking water to add to the cooked pasta and oil mixture for a smoother sauce. Two, monitor the garlic vigilantly after adding it to the hot oil (it goes from golden delicious to burnt bitterness in seconds). And last but certainly not least—use good extra-virgin olive oil for the sauce, and, if possible, finish each serving with a drizzle of your favorite robust olive oil—either bold and fruity or flavored, like roasted chili.
Ingredients
Kosher salt

1

pound

dried spaghetti

1/3

cup

good-quality extra-virgin olive oil that is smooth and well-balanced

4

cloves

garlic, minced (about 2 teaspoons)

½

teaspoon

crushed red pepper flakes

¼

cup

packed coarsely chopped fresh Italian flat-leaf parsley

Freshly ground black pepper

Top-quality extra-virgin olive oil for garnish, optional

Sea salt for garnish, optional
Instructions
Bring a large pot of 4 quarts of water to boil. Add 1½ tablespoons kosher salt. Add the pasta and cook according to the package directions for al dente pasta. Reserve 1 cup of pasta cooking water, and drain pasta.

Heat olive oil over medium heat in a large deep skillet or Dutch oven. Add the garlic and red pepper and cook for 1-2 minutes, stirring constantly, just until the garlic just starts to turn golden. Immediately stir in the spaghetti and parsley, and then pour in the reserved pasta cooking water. Add black pepper to taste. Toss over low heat for 1-2 minutes to evenly distribute the sauce. Remove pan from heat.

Serve hot in individual bowls, and, if desired, drizzle each portion with a little more extra-virgin olive oil and a light sprinkle of sea salt or kosher salt.
Notes
For the sauce, I liked using Makura brand kosher organic extra-virgin olive oil from Israel.