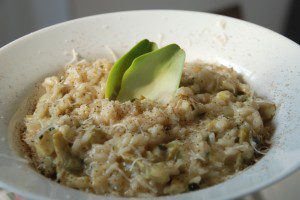 The Venetian Jewish ghetto turned out to be a surprising cultural crossroads and culinary mixing bowl—and one of the many dishes adapted and enjoyed by Venice's Jews was artichoke risotto. As Venice marks 500 years since the creation of the ghetto and and as the new spring crop of artichokes hits the markets, it's an especially fitting time to savor this mild, creamy dish. Read my article about the Venice ghetto and find my recipe for Baby Artichoke Risotto at the Jewish Food Experience Web site.
Just a couple of quick tips to reiterate here:
• Look for brightly colored and tight-leaved baby artichokes and use them within a couple of days of purchase.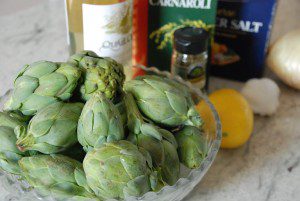 • Be sure to trim the artichokes well. Remove the outer leaves until you reach the lighter-colored, thinner ones. Remove the bottom stem and cut off the top half of the artichoke. Then cut the remaining heart into 1/2-inch or smaller pieces—these are what go into your dish. Thorough trimming ensures the artichoke hearts become nicely tender as you cook your risotto.