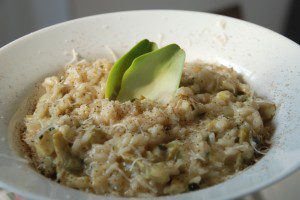 The Venetian Jewish ghetto turned out to be a surprising cultural crossroads and culinary mixing bowl—and one of the many dishes adapted and enjoyed by Venice's Jews was artichoke risotto. 2016 marked 500 years since the creation of the ghetto, and this mild, creamy dish seemed a fitting tribute. Below is the article I wrote about the ghetto for the Jewish Food Experience.
***
Marking 500 Years of Venice's Jewish Ghetto
When you visit Venice's Jewish ghetto today, it's hard to imagine this calm place as a dirty industrial-zone-turned-walled-neighborhood. Bustling with Jews from all backgrounds. So crowded that the only place to build was up—by adding layers on top of existing buildings, and creating perhaps the first "vertical" city.
I certainly found it hard to picture when I visited this spot in 2004. The central square was eerily quiet and the small Jewish museum there a little worse for the wear. One idea from the tour struck me and I noted it in my travel log: "well-assimilated." That seems odd when you think they were in a ghetto.
But that's actually one of the many fascinating things about the Venice ghetto, getting a thorough look this year as the community commemorates the 500th anniversary since its establishment on March 29, 1516. Events will be held through the year, including exhibitions, concerts, galas, and a performance of Shakespeare's The Merchant of Venice for the first time inside the ghetto.
Given what we know about ghettos from World War II, it may seem surprising to learn that after the Venice ghetto was created and city-dwelling Jews required to live within it, Jews from other places chose to move there. Some had previously been working within the city and living outside it and were relatively integrated within society. The new segregated area, undesirable as it was, gave them a foothold within the city, as long as they wore badges or hats when they left its confines and remained locked behind the gates between midnight and sunrise. They were relatively free to conduct their businesses as moneylenders, traders, doctors, artisans, and artists. 
At the time, no word existed to describe such an area of religious segregation and surveillance, one of the first of its kind. But, as the community was located next to a "geto," the Venetian term for foundry, the Jews began calling it "ghetto"—and that name, of course, stuck.
As the ghetto became more established, Jews moved there from all over Europe and even North Africa and the Ottoman Empire—making it a cosmopolitan center of cultural exchange. Jews from different backgrounds built their own synagogues, five of which still stand today. Artistic and intellectual life flourished. And Jewish cooks combined food traditions they brought with them with foods favored in Venice, including seafood and a rich variety of fresh vegetables from nearby Treviso and fruits from Verona.
Among traditional foods of Venetian Jews are impade (almond-stuffed S-shaped cookies), sarde in saor(sweet and sour sardines), and pasta e fagioli alla Veneta (white bean and pasta soup Venetian style). They adopted pine nuts and raisins from Arab influences and salt cod dishes from Iberian Jews. Another popular dish was risotto, often made with whatever fresh vegetables were on hand, from artichoke to pumpkin. As food historian Claudia Roden notes, "The coexistence in the ghetto bore fruit in the kitchen."
The ghetto's population peaked at 5000 residents in the 17th century. The walls were torn down when Napoleon's armies occupied the city in 1797, and after that the population began to disperse. World War II also took a toll. Today, Venice's Jewish community numbers about 450 people.
For me, of course, one good way to visit and commemorate this rich culture is to taste it. I gravitated to risotto with artichokes because these beautiful green orbs are coming in season now. I also liked that Italian Sephardic Jews enjoy artichoke risotto for Passover (during which they eat rice), the next big holiday on our horizon. But most of all, I felt a special connection to the dish. Both artichokes and indeed rice likely came to Venice along with the Jews exiled from Sicily—the home of my non-Jewish great-grandparents.
Baby artichoke risotto is mild like the early days of spring but immensely satisfying. With its green vegetable notes, comforting creamy heft, and tender bites of artichoke hearts, one can imagine it being especially savored by Venice's Jews, surrounded by crisp sea breezes. If the dish needs another selling point, artichokes harbor within their tight flower buds antioxidants, fiber, and compounds believed to positively affect the liver and also help with digestive problems.
But for commemorating a city at an important crossroads of Jewish history, it is simply delicious with both flavor and memory. Memories of a thriving Jewish life and culture despite hardships. Memories of how Jews adapted and built anew, from their own tiny city within a city to new foods for everyday and holidays. Memories I can picture and taste, right from my own stovetop.
***
Here are a couple of quick tips about the recipe:
• Look for brightly colored and tight-leaved baby artichokes and use them within a couple of days of purchase.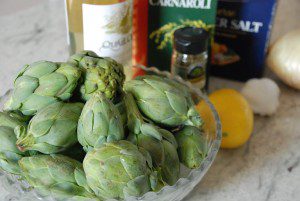 • Be sure to trim the artichokes well. Remove the outer leaves until you reach the lighter-colored, thinner ones. Remove the bottom stem and cut off the top half of the artichoke. Then cut the remaining heart into 1/2-inch or smaller pieces—these are what go into your dish. Thorough trimming ensures the artichoke hearts become nicely tender as you cook your risotto.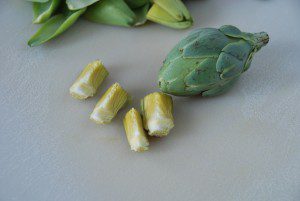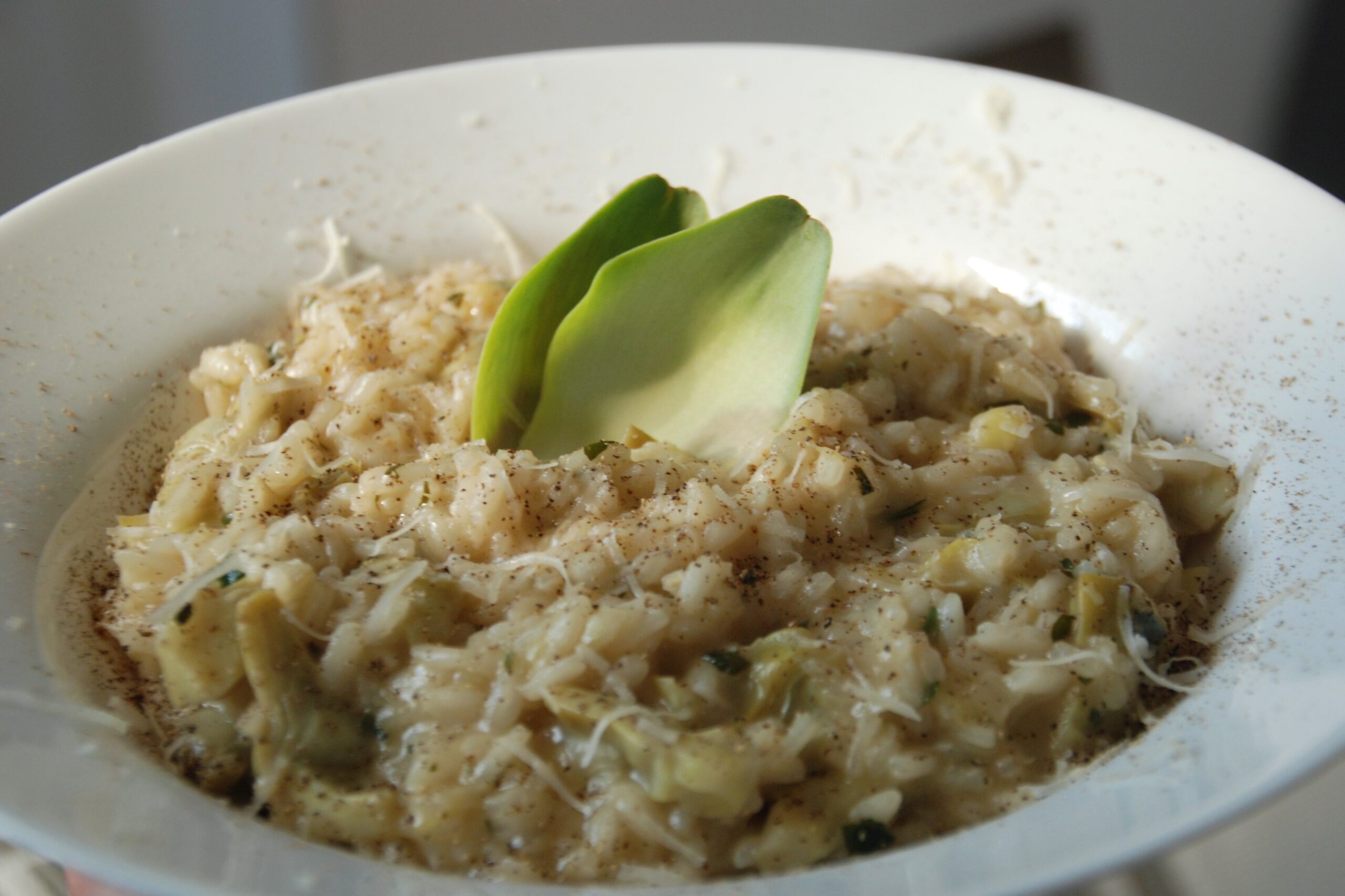 Baby Artichoke Risotto
When spring comes, Italians and Italian Jews savor using the fresh crop of artichokes in a variety of dishes. Artichoke risotto (risotto coi carciofi) was one favored by Venice's Jews (and it will be clear why once you taste it). The creamy dish yields a mild artichoke flavor with nice little bites of artichoke hearts and herby freshness from the parsley. I prefer baby artichokes, which lack the sharp "choke" in the center and are easier to work with than the big globe artichokes. Look for artichokes with smooth green color and compact center leaves, and use them within a couple of days of purchase. Be sure to use only the tender part (remove the tough outer leaves and top half—be brutal!) or the artichokes will be a bit too chewy in the risotto. Adding a splash of lemon juice at the end brightens the flavor.
Ingredients
4

cups

32 ounces broth, preferably reduced sodium

1

bay leaf

12

baby artichokes

1

large lemon, with ½ teaspoon of juice reserved

Extra-virgin olive oil

1

finely chopped medium sweet onion, about 1 cup

Kosher salt

Freshly ground black pepper

4

large garlic cloves, minced (about 1 heaping tablespoon)

1½

cups

risotto rice, such as Carnaroli or Arborio

1

cup

light-bodied white wine, such as Pinot Grigio

2

tablespoons

finely chopped Italian parsley

½

cup

freshly grated Parmigiano-Reggiano cheese plus extra for topping
Instructions
Heat the broth and bay leaf in a covered medium-sized pot over medium-low heat until it is steaming hot (do not boil).

Meanwhile, prepare the artichokes. Squeeze the juice of the lemon (reserving ½ teaspoon juice for later) into a medium bowl. Fill with cool water. Working with one artichoke at a time, completely remove the stem, pull off the tough outer leaves until you get to the tender and lighter-colored inner layer, and then cut off the top half. Cut the artichoke into 1/2-inch or smaller wedges and immediately plunge the pieces into the lemon water to prevent browning. Repeat with the rest of the artichokes. Reserve a handful of the best-looking firm outer leaves for garnish. Discard the rest of the scraps.

Heat a thin layer of olive oil in a medium saucepan over medium heat. Add the onion, season with a scant ½ teaspoon kosher salt (use less if your broth or stock is salty) and black pepper to taste, and cook stirring frequently 3 to 5 minutes, until just softened. Meanwhile, drain the artichoke hearts and pat them dry. When the onions are soft, add the artichokes. Cook stirring frequently 4 minutes on medium-low heat, adding more oil if the mixture starts to dry out. Add the garlic and cook stirring constantly about 45 seconds.

Add the rice and stir constantly 1 to 2 minutes until the rice grains just start to turn translucent on the edges. Add wine, stirring until liquid is almost absorbed.

Remove and discard the bay leaf from the stock. Keeping the rice mixture at a low boil, stir in ½ cup (about 2 ladlefuls) of stock, stirring every minute or so, until the liquid is almost all absorbed. Repeat until the rice is tender with resistance in the middle and the mixture is creamy (this should take about 20 to 25 minutes). Add the parsley with one of the last couple additions of stock. You will likely have a small amount of stock leftover.

Remove risotto from heat. Stir in the reserved ½ teaspoon of lemon juice. Stir in the cheese and taste and adjust seasoning if needed. Spoon risotto into individual wide bowls and sprinkle with freshly ground black pepper and a pinch of cheese. Garnish each serving with an artichoke leaf if desired, and serve immediately.