Jump to recipe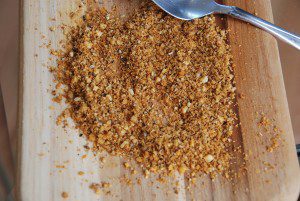 Early on, one of the most intriguing aspects of DGS Delicatessen Chef Brian Robinson's menu of dishes inspired by Meatballs and Matzah Balls for the April 3 Jewish Food Experience special event was his plan to garnish my pasta with hazelnut dukka (pronounced DOO-kah). It sounded good, but I'll confess I didn't really know what it was.
And I'm rather sorry about that because I've now discovered I've been missing out.
Dukka (also spelled "dukkah" or "duqqa") is a spice, seed, and nut mixture that originated in Egypt. The name comes from the Arabic word "to pound," which is what happens to the ingredients after you toast them to bring out their best flavors. They are then grinded with a mortar and pestle or, of course, in modern kitchens, a spice grinder or food processor.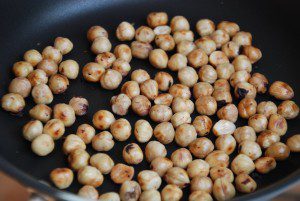 Traditionally, people would eat dukka as a dip for bread that has been first dunked in olive oil, and street vendors sell it in little paper cups ready for this task. Historically, Egyptian Jews enjoyed it, too, but preferred making it themselves to ensure everything was kosher, according to food historian Gil Marks.
Dukkas vary by cook, but the traditional building blocks are hazelnuts (or sometimes chickpeas or other nuts), sesame seeds, coriander seeds, cumin seeds, and salt. Chef Brian has his own blend, which lately he's been using to season his pan-roasted salmon entrée at the restaurant. But he also thought it would make a fine accompaniment to my butternut squash ravioli with sage and butter sauce.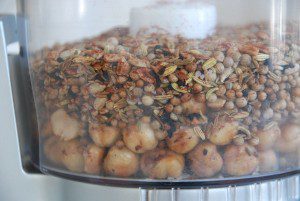 Ravioli with squash or pumpkin is a classic Jewish-Italian dish, but it's actually quite in keeping with Jewish life in Italy to blend in a little North African influence. Sicilian Jews under Muslim rule from 831-1061 adopted some Arab tastes in their cooking that endure to this day, like the garnish of raisins and pine nuts. Venice, which relied heavily on international trade, had Jewish residents hailing from all over Europe as well as merchants from Turkey, Syria, and Egypt—and these latter groups introduced a variety of items they traded, such as spices, dried fruits, and nuts.
So there was always a cross-pollination and Chef Brian's vision for the DGS dinner reflects that spirit of culinary exchange. Kindly he shared his special version of dukka with me and gave me permission to share it with you.
If you can get your hands on blanched hazelnuts (ordering them online is probably easiest unless you live near a specialty store), this recipe comes together quickly—and your kitchen will smell like an exotic spice market when you're done. You will end up with a mason jar's worth of this seasoning that adds unique warm flavor and crunch to anything from pasta to meat. Since Chef Brian is adding it to my ravioli. I made a quick dish of buttered pasta to try it on—and it made the simple pasta complex and irresistible. I can't wait to taste it on the squash ravioli.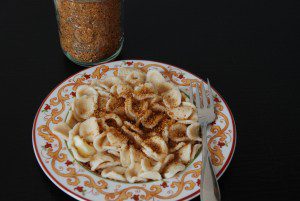 For now, my jar sits on my counter, and when I pass through my kitchen, I can't stop myself from loosening the lid and just enjoying the aromas—dreaming of what I'm going to try it on next.
Chef Brian Robinson's Hazelnut Dukka

It's hard to appreciate how beguiling hazelnut dukka is until you have some on hand, allowing you to try it on any savory dish you are eating. A toasted spice, seed, and nut mixture of Egyptian origin, a dukka will vary from cook to cook. This is DGS Delicatessen Chef Brian Robinson's go-to version, which I've tested and written for the home kitchen. You might need to order some of the ingredients online, so plan ahead. Note that the white peppercorns give it a good kick; if you'd like a little less heat, start with 1 to 1½ tablespoons.

Ingredients
1 cup blanched (skinless) hazelnuts
4 tablespoons unsalted sunflower seeds
6 tablespoons coriander seeds
2 tablespoons cumin seeds
2 tablespoons white peppercorns
1 teaspoon nigella seeds (also known as charnushka or black onion seeds)
2 teaspoons fennel seeds
2 teaspoons paprika
1 teaspoon kosher or sea salt
Instructions
In a dry skillet over medium heat, toast the hazelnuts stirring frequently until lightly browned and fragrant, 3 to 5 minutes, watching carefully to avoid burning. Remove and set aside. Repeat with sunflower seeds. Individually toast the coriander seeds, cumin seeds, peppercorns, nigella seeds, and fennel seeds for 1½ to 2 minutes—stir each of these constantly. Toast the paprika for 30 seconds, stirring constantly. Allow everything to cool completely. Add the toasted ingredients along with the salt to a spice grinder or small food processor and pulse until coarse consistency; do not overwork or the mixture will become a paste.
Store in an airtight container in a cool place.
© 2023 Copyright Marcia A. Friedman - www.meatballsandmatzahballs.com