Jump to recipe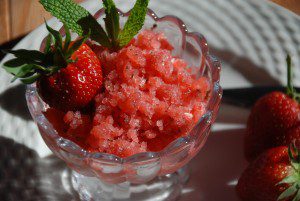 There's not much that's truly simple about Passover cooking. I think that's why a granita seemed like such an appealing addition to my playbook. This Sicilian frozen sweet is not only easy but also fresh and refreshing plus it requires just a few ingredients, looks beautiful, and is a versatile nondairy and pareve dish. It can be dessert, but I'm particularly excited to use it as an intermezzo, a quick palate refresher between early courses of soups, salads, or gefilte fish and the main event.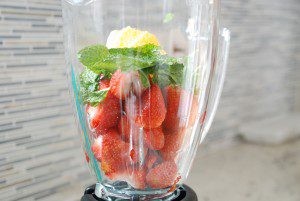 The fresh strawberries at the markets called out to be my base flavor, but you can use other berries here if you prefer. Orange is a traditional ingredient in many Mediterranean Jewish almond cakes for Passover, so it keeps the spirit of regional holiday fare but more importantly brightens the flavor of the berries nicely. I threw in just enough fresh mint for a hint of clean herbal freshness—making it even better for the intermezzo role.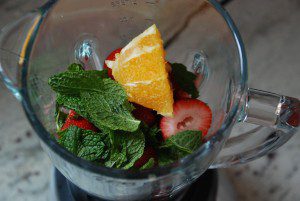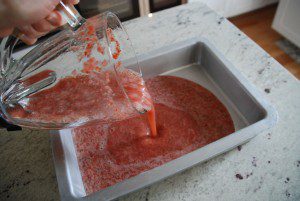 All you need is a blender or processor, a 9 x 13 nonstick metal pan, a minute or two to stir your mixture every 20-30 minutes until all the liquid turns to ice crystals (this usually takes about 3 stirs). You can make this up to a day ahead—another bonus if you are serving it during a complicated holiday meal. Extra berries and mint leaves make festive garnishes for serving, but really you can let this be a delightfully no-fuss and incredibly flavorful addition to your menu.
Strawberry and Mint Granita

Fresh and not too sweet with crystals that melt in your mouth, this Italian dessert ice makes a simple, light last course or a wonderful intermezzo in a big meal. Granitas are easy to make; the only trick is to spend about a minute scraping the mixture every 25-minutes or so to create the characteristic ice crystals until it is frozen (it usually takes about 3 scraping sessions total). Then you tuck it away until ready to serve. I think it tastes best made at least 4 hours ahead, and is best enjoyed within about 24 hours. Note that if you use a different-size pan, it will affect the time it takes for the mixture to freeze.

Ingredients
1 cup hot water
½ cup sugar
1 large orange
3 cups washed and hulled strawberries, plus additional for garnish
¼ cup loosely packed fresh mint leaves, plus additional for garnish
Instructions
Place a 9-by-13-inch nonstick metal pan in the freezer.
Stir together the water and sugar until the sugar dissolves. Cut the orange in half. Juice one half and add the juice to the sugar mixture. Peel the other half, being sure to remove all the white pith. Add the orange half to a blender. Add the strawberries and mint to the blender and blend until smooth. Stir in the sugar mixture and pulse one or two more times to combine.
Remove the pan from the freezer and pour in the strawberry mixture. Place it in the freezer. After about 25 minutes, remove the pan and use a fork to scrape the ice crystals from the edges of the pan toward the center. Roughly spread the mixture out and return the pan to the freezer. Repeat 2 or 3 more times, until mixture is all flaky bits of ice crystals. Cover tightly and freeze.
To serve, place in bowls or dessert cups. Garnish with a berry and small mint leaves if desired.
© 2023 Copyright Marcia A. Friedman - www.meatballsandmatzahballs.com