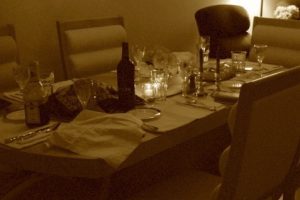 Even though I have some favorite recipes for Rosh Hashanah (hard to tear myself away from the brisket with cranberries and mushrooms from Meatballs and Matzah Balls served with mashed potatoes and roasted vegetables), the coming of the new year often finds me looking through books, blogs, and Web sites and considering adding some new dishes to the holiday or fall repertoire. So I thought I'd share here some of the recipes that have caught my eye recently, just in case you are in the mulling mode, too!
Main Dishes
Skillet Roasted Chicken with Parsnips and Fennel, by Chef Dimitri Moshovitis for Jewish Food Experience. Love the one-pot meal and incorporating fennel, a plant eagerly adopted by Italian Jews in their cooking.
Salmon with Apple Fig Chutney and Jeweled Rice by Amy Kritzer who blogs at What Jew Wanna Eat. This looks delicious and festive.
Brisket in Sweet-and-Sour Sauce by Jewish food historian and cookbook author Joan Nathan (featured in The New York Times). I'm intrigued by the secret ingredient here: Coca Cola!
Soup
Pureed Tomato and Red Pepper Soup by Martha Rose Shulman at The New York Times. Seeing this one reminded me that I was developing a similar recipe that didn't make it into Meatballs and Matzah Balls. Might be time to dust it off. I love the idea of robust color and a healthy vegetable soup to start (though giving up my favorite roasted butternut squash soup would be tough).
Side Dishes
Roasted Cauliflower, Hazelnut, and Pomegranate Salad by Yotam Ottolenghi and Sami Tamimi, featured at the beautiful site Fig Tree & Vine. These flavors together sound wonderful, and I recently found peeled and roasted hazelnuts at Trader Joe's, making hazelnut recipes even more appealing.
Spinach with Raisins and Pine Nuts, a recipe we featured at the recent event, "A Celebration of Italy's Jews." I like its simple elegance and hint of natural sweetness as well as its connection to Jewish-Italian culinary heritage.
Quinoa with Dried Fruit and Honey-Lime Dressing by Susan Barocas and featured in The Washington Post. It's always nice to offer a gluten-free grain salad.
Desserts
Plum Torte by Marian Burros for The New York Times, one of the paper's most-requested recipes. It looks easy and versatile as well as very pretty with the plums, though I might be tempted to try it with apples.
Apples and Honey-Bourbon Caramel Crumb Cake by Lauren Katz and featured at Jewish Food Experience. I like all those elements!