Jump to recipe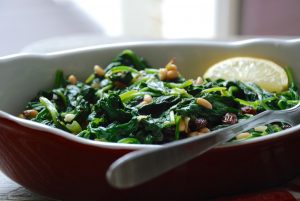 At my recent talk about the rich culinary history of Italy's Jews, I discussed how Sicilian Jews had adopted the combination of raisins and pine nuts (often with spinach) from Arab conquerors. This beloved pairing stuck and became a common dish among Italy's Jewish communities.
We offered samples of this dish at the event, and I wanted to share the recipe here. The touch of sweetness from the raisins makes it a fitting Rosh Hashanah side dish, though it would be good anytime.
For this version, I adapted Joyce Goldstein's recipe from Cucina Ebraica by adding some garlic and lemon. It will look like you have way to much spinach, but it cooks down dramatically.
Spinach with Raisins and Pine Nuts

A Jewish-Italian classic, this dish is a festive and delicious way to add greens to the holiday table. The raisins give a hint of sweetness but do not overpower the dish. Just a little lemon juice counteracts any bitter flavor from the greens without making the dish lemony. Adapted from a recipe by Joyce Goldstein in Cucina Ebraica.

Ingredients
¼ cup pine nuts
¼ cup raisins
2½ pounds spinach
Extra-virgin olive oil
1 bunch scallions or green onions, finely chopped (about ½ cup)
3 garlic cloves, peeled and slivered
Salt and freshly ground black pepper to taste
¼ lemon, plus additional as needed
Instructions
In a large skillet over low heat, toast the pine nuts, stirring frequently until lightly browned. Remove the pine nuts and set aside. Wipe out the skillet.
Meanwhile, pour about ½ cup of hot water over the raisins and let them plump about 10 minutes. Drain and set aside.
Rinse the spinach thoroughly (do not dry it) and remove the tough stems. Increase the heat to medium and add the spinach, still wet from being rinsed, to the dry skillet. Turn as needed until all the spinach is wilted, 2 to 3 minutes. Transfer the spinach to a colander and let drain.
Remove any remaining water from the skillet and put the pan back on the heat. Add a thin layer of olive oil and when hot, add the onions and garlic. Cook stirring frequently until just starting to brown, 1 to 3 minutes. Add the spinach, raisins, and pine nuts and stir 1 to 2 minutes to warm through. Turn off the heat. Squeeze the juice from the ¼ lemon over the spinach mixture and stir in salt and pepper. Adjust seasoning as needed and add a little more lemon juice if the spinach tastes bitter.
Serve warm or room temperature.
© 2023 Copyright Marcia A. Friedman - www.meatballsandmatzahballs.com