Jump to recipe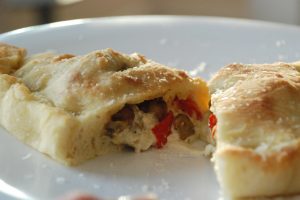 Calzones, like other turnovers, are comfort food that can be eaten on the run. But I've always found them to be too delicious not to sit and savor. And although they are often considered folded-over pizzas, they do pizza one better in giving you more of the tender crust, browned all the way around, that also serves as insulation to keep your filling hot and melty. I developed this particular Jewish-Italian themed recipe in honor of the holiday of Purim, and you can read my full post (along with the recipe) on the Jewish Food Experience site—where you can also find lots of great ideas for Purim—hamantashen galore!—among many other things—so do check it out.
Here a few highlights of these calzones in progress.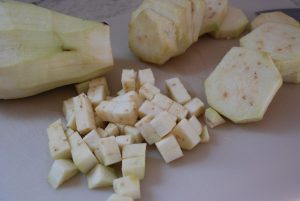 Slice the eggplant into about 1/2-inch cubes.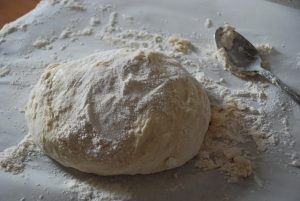 The dough for calzones is a little denser than that for pizza. To get the right texture, knead it for about 10 minutes.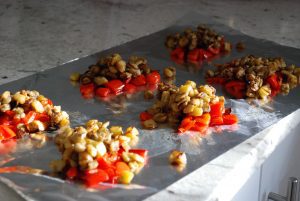 Sorting the two vegetables into six piles makes it easy to evenly distribute them within the calzones.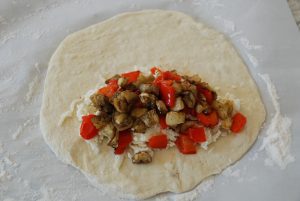 Place the fillings on the bottom half and leave a border.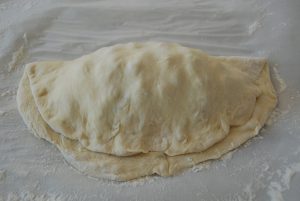 Fold the top down, and leave part of the lower edge exposed.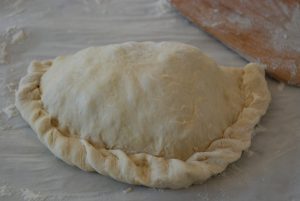 Fold the lower edge up, crimp, and then gently twist it inward all the way around. Two purposes—it helps keep your calzones closed during baking and looks pretty when finished. Don't worry if they don't look pretty, though—they will taste great.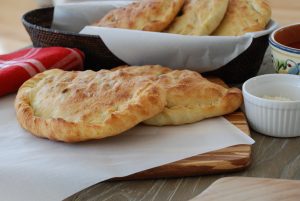 Let your calzones cool off just a bit. Serve them with grated Parmigiano-Reggiano cheese and marinara sauce for dipping if desired.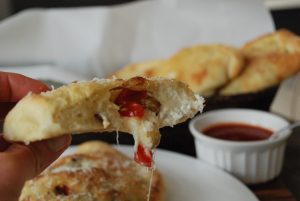 Buon appetito!
Calzones with Roasted Eggplant and Red Pepper

The eggplant and red pepper, which Italy's Jews helped popularize in Italian cuisine, make this a fine Jewish-Italian themed calzone. For great results, use a pizza stone (put it in the oven to while you roast the vegetables to make sure it's hot). You can also bake the calzones on a parchment-lined baking sheet; watch carefully as the timing may differ.

Ingredients
Dough
1 envelope active dry yeast (about 2¼ teaspoons)
1½ cups very warm water (105 to 110 degrees)
1½ teaspoons salt
2 tablespoons extra-virgin olive oil, plus additional for coating the bowl and plastic wrap
4½ cups bread flour, plus additional as needed
Filling
2 small eggplants, peeled and cut into ½-inch cubes
2 large red bell peppers, seeded and chopped into 1/2-inch pieces
Extra-virgin olive oil
Kosher salt and freshly ground black pepper
2 cups shredded low-moisture mozzarella cheese
¾ cup shredded Parmigiano-Reggiano cheese, plus additional for garnish
¾ cup whole-milk ricotta cheese
¼ teaspoon crushed red pepper flakes
Marinara sauce for dipping (optional)
Instructions
To make the dough, dissolve the yeast in the warm water in a large bowl, about 5 minutes. Stir in salt and olive oil, and then stir in 3 ½ cups of the flour. Gradually mix in additional flour as needed to form a workable dough. Transfer the mixture to a floured board and knead for about 10 minutes (the dough should be smooth and elastic). Form into a large ball.
Lightly coat a large bowl with olive oil. Place the dough in the bowl, and then turn the dough over so the oiled side is up. Cover and let rise until doubled, 1½ to 2 hours.
While the dough rises, prepare the vegetables. Place your pizza stone in the oven and preheat to 450 degrees. Place eggplant cubes and red pepper in single layers on separate rimmed baking sheets, and toss with olive oil to coat. Season salt and pepper. Roast, rotating the pans and stirring once or twice, until eggplant is shrunken and lightly browned and peppers are very tender, 30 to 40 minutes (the peppers will likely be done before the eggplant). Remove and set aside to cool slightly.
Turn the oven to 500 degrees. Cut a piece of parchment paper roughly the size of your pizza stone and set aside on a large plate or baking sheet.
Press down on the dough to deflate it. Using lightly floured hands, divide and roll the dough into six balls. Place the balls on an oiled surface and cover loosely with oiled plastic wrap. Let stand 15 to 20 minutes.
Combine the mozzarella, Parmigiano, ricotta, red pepper flakes, and black pepper to taste in a medium bowl to form a lumpy mixture. On a separate large plate or sheet of wax paper, divide the eggplant and red peppers into 6 relatively equal portions of vegetables.
Remove one dough ball from under the plastic wrap and place it on a floured surface. Gently roll or press to form an 8-inch wide circle. Spread 1/2 cup of cheese filling on the bottom half of the circle, leaving a 1-inch border, and spread 1/6 of the vegetables (roughly ½ cup) over the cheese.
Pull the top of dough down to enclose the filling, leaving about ½-inch of the bottom layer uncovered; fold that bottom lip up around the edge, twisting and crimping firmly to seal. Make several slits in the top to allow steam to escape. Brush top with olive oil and sprinkle with kosher salt. Transfer to prepared parchment sheet.
Repeat with remaining dough. When parchment sheet is full, transfer the sheet and calzones to the baking stone in oven. Bake until golden brown (in batches as necessary), 8 to 12 minutes, and transfer to a wire rack. Serve warm or room temperature, with a sprinkle of Parmigiano-Reggiano and your favorite marinara sauce for dipping, if desired.
Refrigerate or freeze leftovers.
© 2022 Copyright Marcia A. Friedman - www.meatballsandmatzahballs.com