Jump to recipe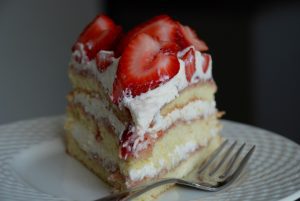 A rustic but still decadent strawberry dessert for Mother's Day? Shavuot? Just because? Yes, yes, and yes, please. Ever since seeing a photo last year of a strawberry cassata, a Sicilian-style ricotta cake, it's been on my list to try. This year's arrival of spring's best strawberries motivated me to do it—to create my own recipe for this festive and creamy cake that would celebrate the season, be lovely for Mother's Day, and represent the dairy food tradition of Shavuot coming up at the end of May.
A traditional Sicilian cassata is quite elegant and special, often made for Easter and Christmas. It features sponge cake layers, a liqueur-spiked syrup, ricotta filling, a marzipan coating, and elaborate decorations of chocolate or candied fruit. Because the ricotta filling resembles that used to fill cannoli, you'll sometimes see these called "cannoli cakes."
Although originating in Sicily, the recipe migrated. Edda Servi Machlin, who lived in central Italy and chronicled Jewish-Italian cuisine, made a version of Sicilian cassata with lady fingers (essentially, sponge cake cookies), cherry liqueur, and ricotta filling. And the recipe also traveled to the United States, of course. Interestingly, in Cleveland, Ohio, there's a version that features a custard filling, strawberries, and a whipped cream topping. Luckily, as all the adaptations show, home-style or more rustic versions still create a luscious knockout of a cake. That's what I was going for.
Sponge cake forms the foundation. The light texture soaks up the flavored syrup and pairs nicely with mild ricotta filling. Making a sponge cake requires attention to a few extra details—room temperature eggs, a light touch when folding ingredients together to not deflate the airy batter, a clean dry bowl and beaters for beating the egg whites, and avoiding overbaking (because a dry sponge cake is pretty unappealing and tastes a little off, speaking from experience). I like adding a little cinnamon and vanilla powder to the cake to give it a hint of spice.
To enhance the strawberry flavor, I use preserves in the syrup, spiked with spiced rum (you can omit or use another liqueur). I added mascarpone to the filling for added creaminess and flavor. Note that by design, this is not an overly sweet dessert. If you prefer it sweeter, you can add more sugar to the filling and the berry topping (which you might want to do anyway if your berries aren't very sweet on their own).
Finally, you know I love make-ahead desserts, right? Happy to add another recipe to that repertoire. You can bake the sponge cake up to two days in advance (I think the flavor benefits from letting the cooled and wrapped cake rest overnight before proceeding with the recipe). Make the filling and assemble the cake except for the berry topping at least 5 and up to 24 hours in advance and cover and chill. This lets the flavors mellow and meld. Before serving, slice the berries, lightly macerate them, and arrange them on top. Then … admire, share, and enjoy.
Happy strawberry season, happy Mother's Day, and happy Shavuot (chag sameach)!
P.S. Below are a few tips on the process followed by the full recipe.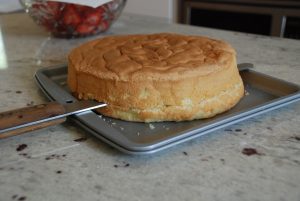 If, like me, you have trouble cutting in straight lines, you can try this—place the cake on a low-rimmed baking sheet, and align your knife with the edges as you cut.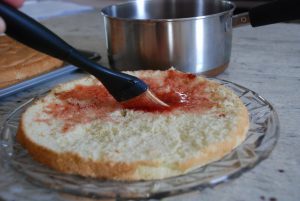 Brush a generous amount of strawberry syrup on each layer.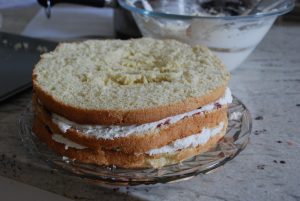 So that your top layer will be more even and able to absorb the syrup, place it cut side up.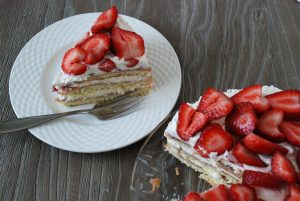 You can halve your berries or slice them. Arrange them in a pattern or mound them up in a pile. Whatever you like.
Rustic Sicilian-Style Strawberry Cassata

Even rustic renditions of the beautiful Sicilian cassata capture all the creaminess and flavor—especially this special springtime version featuring strawberries. Layers of delicate, lightly spiced sponge cake soaked with liqueur and filled with ricotta cream wear a crown of ruby red macerated berries. Best of all, this dessert can—and should—be made a day ahead. The sponge cake recipe below is adapted from Richard Sax's version in
Great Italian Desserts
. I like adding vanilla powder for a nice subtle fragrance and dimension to the cake, but you can omit it. The 50 milliliter-size bottles of rum and Grand Marnier work well for this recipe.
Notes
The texture of mascarpone can vary significantly by brand. For recipes like this, I prefer the thicker texture of a brand like BelGioioso. The texture is closer to that of tub cream cheese than that of crème fraiche or sour cream. Creamier versions will make the filling a little softer, but it should firm up upon chilling.

Ingredients
Sponge Cake
Butter for coating the pan
1/2 cup all-purpose flour
1/2 cup cornstarch
1/8 teaspoon ground cinnamon
1/8 teaspoon vanilla powder (optional)
4 large eggs, room temperature
1 teaspoon vanilla extract
3/4 cup sugar
1/8 teaspoon salt
Strawberry Syrup
1 cup strawberry preserves
1/2 cup water
2½ tablespoons spiced rum
Ricotta Filling
1 pound whole milk ricotta cheese, drained if runny
8 ounces mascarpone cheese, preferably a thicker brand like BelGioioso (see note below)
5 tablespoons confectioners' sugar
2 teaspoons vanilla extract
Topping
1 pound fresh strawberries, hulled and sliced
1 tablespoon sugar, or more to taste
1 tablespoon Grand Marnier or orange juice
Instructions
For the cake:
Preheat oven to 350 degrees.
Coat a 9-inch springform pan with butter. Line the bottom with parchment paper and coat the paper as well.
In a bowl or on a sheet of wax paper, lightly whisk together the flour, cornstarch, cinnnamon, and vanilla powder (if using) and set aside.
Separate the eggs, placing the egg whites in a large mixing bowl and the yolks in a medium to large bowl.
Whisk the egg yolks with the vanilla. Whisk in half the sugar and continue to beat by hand until lightened in color and creamy, about 5 minutes.
Using an electric mixer on medium-high speed, beat the egg whites with the salt until they hold soft peaks, about 45 to 60 seconds. Increase speed to high and add the remaining sugar in a slow stream, beating until the egg whites hold firm peaks, another 1 to 2 minutes.
Fold the yolk mixture into the whites with a spatula. Sprinkle 1/3 of the flour mixture over the egg mixture, folding in gradually until just combined. Repeat two more times until all the flour is just incorporated. Be careful not to overmix.
Pour the batter into the prepared pan and smooth the top. Bake at 350 degrees about 20 minutes, until golden brown and a skewer or toothpick inserted in the center comes out dry.
Remove from oven and let rest about 5 minutes. Using pot holders, loosen the sides of the pan. Gently invert the cake on a plate, remove the parchment paper, and place the cake right side up on a cooling rack.
If not using the same day, wrap tightly when completely cool. Freeze if not using within a day or two.
For the syrup and filling:
Bring strawberry preserves and water to a gentle boil, and cook stirring occasionally, 10 mintues. Remove from heat. Let cool slightly and stir in the rum.
In a large bowl, use an electric mixer on high speed to combine all the filling ingredients until light and mostly smooth, 2 to 3 minutes. Cover and refrigerate if not using right away.
To assemble the cake:
Slice the sponge cake into 3 horizontal layers. Place one layer on a serving plate and brush the top with about 1/3 of the strawberry-rum syrup. Spread with 1/3 of the ricotta filling. Continue with the remaining layers (place the top layer cut side up to make it more even and better able to absorb the syrup). Cover and chill for at least 5 hours or up to 24 hours.
About 15 minutes before serving, set the cake out at room temperature. Combine the sliced berries with sugar and liqueur or juice and let stand for about 10 minutes. Mound or arrange the slices in a pattern on top of the cake, reserving any berries that won't fit to garnish each serving.
Cover and refrigerate any leftovers.
© 2023 Copyright Marcia A. Friedman - www.meatballsandmatzahballs.com