Jump to recipe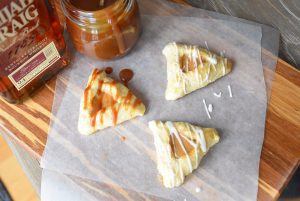 Bourbon and especially bourbon salted caramel create quite a decadent hamantashen. But besides great flavor, bourbon has a Jewish connection—something I discovered while visiting the Kentucky Bourbon Trail. Here is the story I wrote about it for The Jewish Food Experience:
If the notion that Jews have a rich heritage in America's bourbon industry surprises you, you're not alone. Bourbon, the whiskey created and made only in the United States (primarily in Kentucky), has a rugged American frontier aura about it; any signs of Jewish presence are subtle and easily missed. I had overlooked them entirely until I simply glanced up while in the tasting room at Heaven Hill Distillery's campus in Bardstown, Kentucky, last summer. Visiting bourbon country to learn more about this popular American spirit, one thing I didn't expect to see was right over my head. Nestled among the high rafters and skylight were two large Stars of David.
It turns out the ceiling sculpture honors the Jewish heritage of the distillery's founders, the Shapira family. Their involvement in bourbon started back in 1934 following the end of Prohibition, when five Shapira brothers invested in a distillery. Decades later, the business remains in the family, holds the second largest inventory of aging Kentucky whiskey in the world, and produces popular bourbon labels including Elijah Craig (named for a Baptist minister sometimes credited with creating bourbon), Evan Williams, and Larceny. They recently added a new brand—Bernheim Original Wheat Whiskey. And that name took me to another layer of Jewish involvement going way back even further.
Isaac Wolfe Bernheim, a Jewish immigrant, arrived from Germany in 1867. After working as a bookkeeper for a liquor wholesaler, he partnered with his brother on Bernheim Distillery in Louisville, Kentucky. The company produced what would become a massively successful and globally popular brand of bourbon that uses Isaac's first initials in the name, I.W. Harper (a brand recently reintroduced by Diageo). By the way, the Bernheims also had good Jewish company in their liquor business success. According to Jews and Booze by Marni Davis, although Jews made up about 3 percent of the population of Louisville in 1900, they made up 25 percent of local whiskey distillers.
Prohibition shook up the industry, and although Bernheim continued to produce bourbon with a medicinal license through the period, in 1937 he sold his business to Scheneley Distillers Corporation. And this led me to still another significant Jewish piece of bourbon history you don't usually hear about.
By all accounts, Scheneley's Jewish founder Lewis Rosenstiel was not a model figure (his past included bootlegging charges and links to gangster Meyer Lansky) but he "was at one time the most powerful figure in the distilled spirits business," according to his New York Times obituary. Most significantly, Rosenstiel formed the Bourbon Institute, through which he lobbied Congress to lengthen the time distillers could age their bourbon before paying taxes on it (which gave producers more flexibility to create longer-aged and prized brands) and convinced Congress to pass a resolution in 1964 declaring bourbon a "distinctive product of the United States," which protected it from foreign competition and led for it later to be declared "America's Native Spirit." Standards were also established, such as requiring bourbon be made from at least 51 percent corn and aged in new charred oak barrels.
What I thought was a trip along Kentucky's bourbon trail to learn about (and of course taste) bourbon ended up revealing a surprising Jewish thread to bourbon's great American story. The contributions of Jewish entrepreneurs helped pave the way for bourbon to become what it is today—an $8.5 billion industry and the largest export category among distilled spirits.
Now, bourbon aficionados will tell you that just about any time is a good time to enjoy this spirit. But I wanted to incorporate bourbon into Purim—and not just because the holiday welcomes some celebratory imbibing. The Purim story, in which Esther foils Persian minister Haman's plot to kill Persia's Jews around the 4th century BCE, is full of secrets, mysteries, and surprises. Accordingly, foods for the holiday often have hidden fillings. Perhaps none of these foods are more beloved in the United States than hamantaschen, the filled pastries shaped like triangles for Haman's hat. Using an iconic American ingredient with its own somewhat hidden aspects of Jewish heritage seemed a natural fit.
For my sweet pastry featuring bourbon, I turned to complementary flavors of vanilla, butter, and caramel and aimed to incorporate bourbon into each component of the hamantaschen. A little in the dough gives more of an aroma than anything else, and I was surprised at how it reminded me of the sweet corn mash fragrance you notice on distillery tours. For the filling and focal point, I created a bourbon salted caramel sauce and blended in cream cheese to achieve just the right body and lusciousness. For the topping, I loved both a bourbon glaze, which enhanced the cookie's whole bourbon flavor, and a salted caramel drizzle that emphasized more of the caramel notes.
Either way, the result is a sophisticated, grownup hamantaschen that fits the spirit (and spirits aspect) of Purim. It serves not only as dessert, but also as a memento to Jewish contributions to the success of a famed American industry.
A Few Notes About the Recipe
I will be the first to admit that I've had some epic fails making caramel sauce in the past. If that applies to you, too, you might want to give the technique I've included in the recipe a try. It worked beautifully every time and the flavor is truly wonderful. It changed my whole feeling about making caramel sauce. Also, you can omit the bourbon if you want a more all-purpose caramel sauce for drizzling over any dessert you like. If you still don't want to face making the sauce, I tested the recipe using store-bought King's Cupboard Bourbon Caramel Sauce, and it works fine but is much less flavorful.
For making the hamantashen, be sure to brush the dough rounds with the egg wash and pinch (and even almost fold) the three points together. You must do it very firmly. And don't skip putting the formed pastries in the freezer to help them set. These steps should prevent your hamantashen from coming apart during baking.
I tried two glaze options, and I couldn't decide which I liked better—so I included both for you to choose. If you want more of a bourbon scent, go with the bourbon glaze. If you want to emphasize the caramel, use the caramel sauce, but keep in mind that the caramel sauce will remain sticky, making those a little messier to eat—a challenge most of us eating them can easily overcome!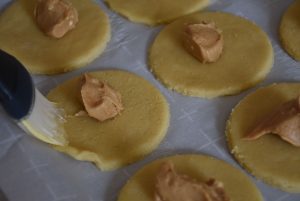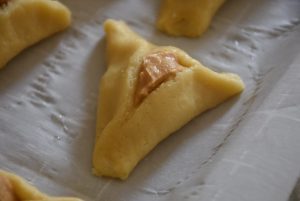 Salted Bourbon Caramel Hamantashen

Tender bourbon-scented pastry dough gives way to a creamy caramel center in this grown-up hamantaschen. Homemade caramel sauce (recipe below) tastes best but store-bought works in a pinch. Plan to make the dough and caramel sauce the night before baking. For drizzle topping, use the bourbon glaze or caramel sauce. The caramel sauce is adapted from a recipe by Samin Nosrat in Salt, Fat, Acid, Heat.

Ingredients
Caramel Bourbon Sauce
8 tablespoons (1 stick) unsalted butter
1 cup sugar
2/3 cup heavy cream
½ teaspoon vanilla extract
1 to 2 tablespoons bourbon
1/8 to ¼ teaspoon salt, to taste
Hamantashen
8 tablespoons (1 stick) unsalted butter, softened
½ cup sugar
1 egg plus 1 egg yolk (egg white reserved and refrigerated for forming pastries)
1 tablespoon bourbon
1 teaspoon vanilla extract
2 cups all-purpose flour, plus additional as needed
1 teaspoon baking powder
¼ teaspoon salt
½ cup cream cheese
½ cup salted caramel bourbon sauce
2 tablespoons cornstarch
4 teaspoons confectioners' sugar
Glaze
½ cup confectioners' sugar
Pinch of salt
1 to 1½ tablespoons bourbon
Instructions
Make the Caramel Sauce: In a large heavy saucepan over medium heat, melt the butter. Stir in the sugar and increase heat slightly. Stir until the mixture boils, then let the mixture bubble, without stirring but gently swirling the pan every 30 seconds or so, until the mixture turns a deep brown color, 5 to 8 minutes. Remove from heat and gradually and carefully whisk in cream (the mixture will bubble up). Let cool 10 minutes, then stir in the vanilla, bourbon, and salt. Cool completely and cover and refrigerate overnight to thicken.
Make the Hamantashen: Use an electric mixer to cream the butter and sugar until smooth (about 30 seconds). Add the egg, egg yolk, bourbon, and vanilla and beat to combine. Fold in flour, baking powder, and salt, adding more flour as needed to form a ball. Roll out dough to ¼-inch thick between two sheets of wax paper. Wrap tightly and chill 4 hours or overnight.
To bake, preheat oven to 350 degrees and line a baking sheet with parchment paper. Let dough rest at room temperature about 10 minutes. Meanwhile, lightly beat the reserved egg white with a pinch of salt and prepare the filling by combining cream cheese, caramel sauce, cornstarch, and confectioners' sugar.
Use a 3-inch glass or cutter to cut rounds of dough. Place 1 heaping teaspoon of caramel filling in center and apply a thin film of beaten egg white around outside edge. Fold in 3 edges and firmly pinch together to form a triangle. Freeze for 20 minutes. Remove and brush the pastries with beaten egg white.
Bake for 12 to 15 minutes, until tops and edges are just starting to brown.
When hamantaschen are cool, make the glaze by adding bourbon to the sugar until smooth enough to drizzle in a loose pattern over top. Or, if you prefer, drizzle on room-temperature caramel sauce.
Serve within a few hours. Promptly freeze leftovers.
© 2023 Copyright Marcia A. Friedman - www.meatballsandmatzahballs.com