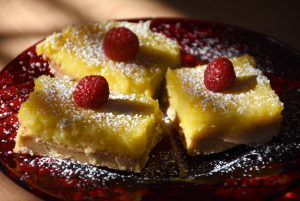 These lemon bars do so many things right. Most important, they balance all the delightful contrasts in a good bar—soft, creamy filling and dense crust, sweetness and tartness, fruitiness and nuttiness. But they are also gluten-free and Passover-friendly, and sport a nutritious whole grain base. Thanks to quinoa flour, the crust holds nice structure and offers just a little nutty flavor. The lemon topping here resembles a luscious lemon curd and remains quite soft. Although the raspberry garnish is optional, its flavor goes amazingly well with the bar.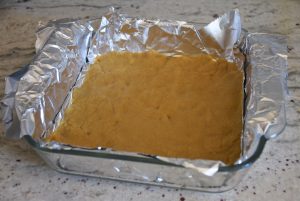 Here are a couple of photos of recipe steps.
Lining your pan with overhanging foil will make it easy to remove the finished bars. Before adding the filling, bake the crust until nicely golden brown.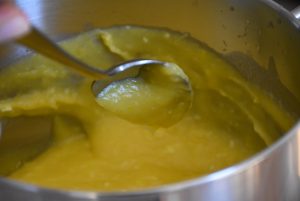 Briefly cooking the filling helps it thicken and reduces the time in the oven. As you stir, the filling should come to a boil and thicken. After that, keep stirring vigorously another 30 seconds or so to make sure it fully thickens (a layer of it it should cling to your spoon). As you can see here, there will be some small lumps. Press the mixture through fine-mesh strainer to remove them if you like. But I found that they are not noticeable in the finished bars topped with confectioners' sugar.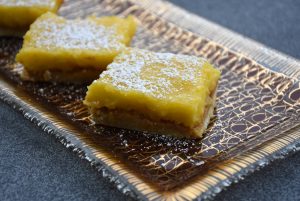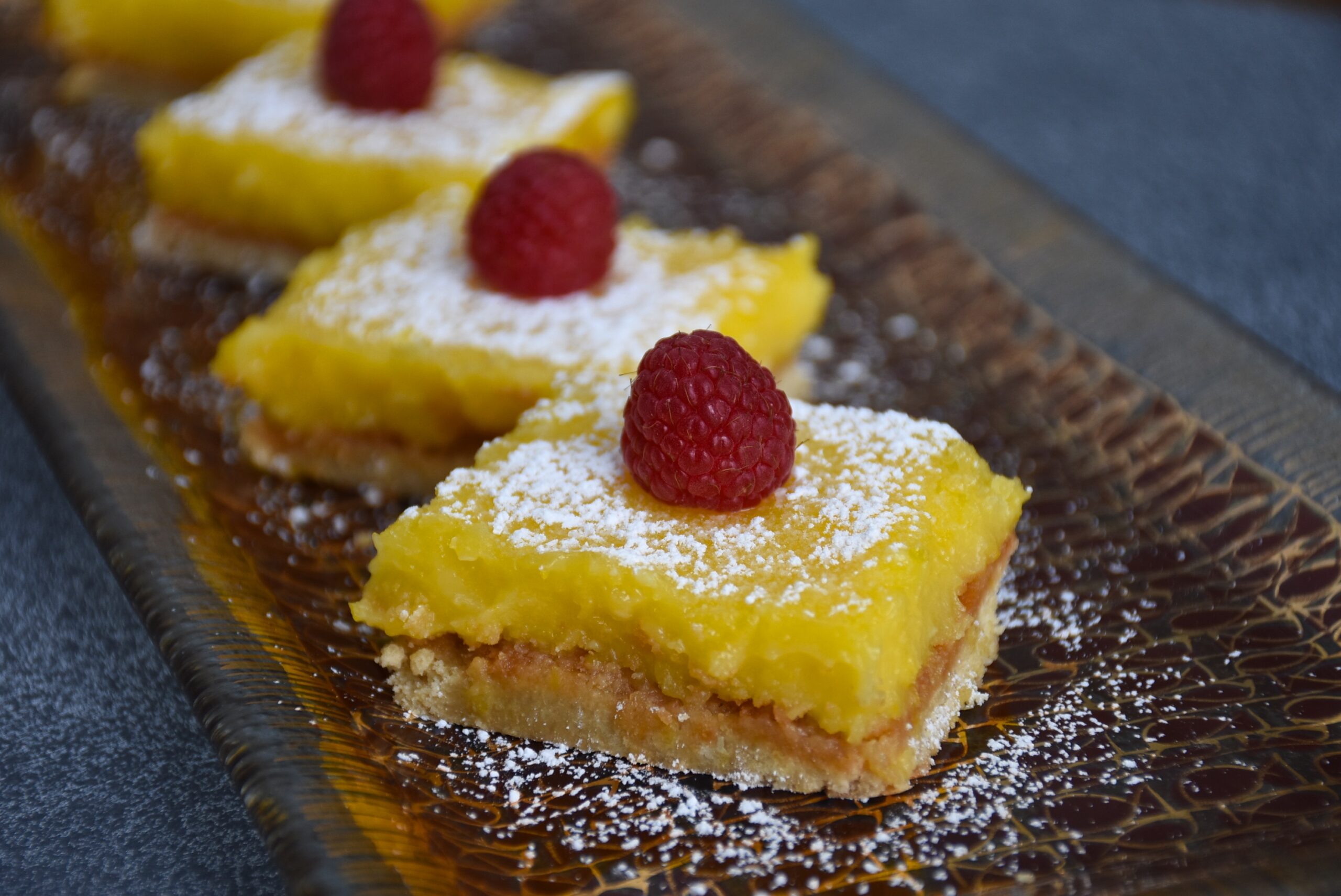 New Favorite All-Season Lemon Bars
Delightful contrast rules these bars—a firm rich crust against the soft luscious filling, sweetness and nuttiness alongside bright tartness. This Passover-friendly, gluten-free recipe features whole grain quinoa flour, which provides nice structure and mild nutty flavor to the crust. Note that straining the lemon mixture is optional—the small lumps aren't noticeable once you garnish the bars. Fresh raspberries make a lovely presentation and their flavor pairs beautifully with the lemony bars.
Ingredients
Crust
1

cup

quinoa flour

¼

cup

sugar

½

teaspoon

salt

½

teaspoon

vanilla

8

tablespoons

1 stick unsalted butter, melted

½

teaspoon

lemon zest
Filling
3/4

cup

sugar

1

tablespoon

potato starch

1

teaspoon

baking powder

¼

teaspoon

salt

3

large eggs plus 3 egg yolks, lightly beaten

2/3

cup

lemon juice (from about 4 large lemons)

2

tablespoons

unsalted butter, cut into 5 or 6 smaller pieces

2

teaspoons

lemon zest

Confectioners' sugar for dusting

Raspberries for garnish, optional
Instructions
Preheat oven to 350 degrees. Line an 8-by-8-inch glass baking dish with nonstick foil that overhangs the sides (this "sling" makes removing the finished bars cleaner and easier).

Make the crust by combining the flour, sugar, and salt. Combine the vanilla, ½ teaspoon zest, and melted butter, then stir into flour mixture to make a dense dough. Press evenly and firmly in bottom of prepared baking dish. Bake 16 to 20 minutes, until deep golden brown. Remove and reduce oven to 325 degrees.

Meanwhile, make the filling by whisking together the sugar, starch, baking powder, and salt in a medium saucepan. Whisk in the juice and eggs. Over medium heat, stir constantly until the mixture boils and thickens (a thick layer of it will cling to the spoon), 4 to 8 minutes. Once thickened, continue to cook, stirring vigorously, for about 30 more seconds, then remove from heat and stir in the zest and butter until combined. Strain if desired to remove lumps, then spread evenly over crust.

Bake for 8 to 12 minutes, until the lemon mixture is just set. Allow to cool to lukewarm before transferring to refrigerator to chill completely. Note that the lemon filling will remain very soft and lemon-curd like.

When ready to serve, slice into squares or rectangular bars. Dust with confectioners' sugar. For an optional garnish, top each bar with a fresh raspberry.

To freeze, separate individual bars uncovered on a tray and freeze solid, then wrap tightly and return to freezer. Thaw loosely covered in the refrigerator. Garnish with sugar and berry when ready to serve.