Jump to recipe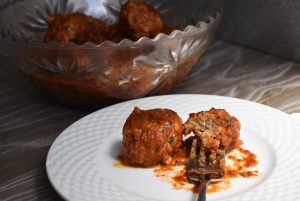 Growing up, oh how we loved my mom and dad's meatballs. And I kind of thought these were our own special food. Which they were, in the sense of connecting us to my dad's Italian heritage and my parents' specially tweaked recipe. But they also were not, as I would learn soon enough, in the sense that these homey, flavorful orbs are special foods to just about everyone—featuring prominently in culinary traditions around the world and even showing up in vegan versions.
As it turns out, Jews have a particularly legendary fondness for meatballs, according to cookbook author Claudia Roden. Although the concept of creating balls of ground or pounded meat originated with Arab communities centuries ago, Arab travelers and conquerors spread the technique far and wide. Jews, especially Sephardic Jews from Spain and the Middle East, eagerly embraced the idea. Meatballs might have been extra appealing to Jews who, historically often poor, found they could easily stretch the expensive meat by adding bread (which, as a bonus, made the meatballs more tender). Another plus? Meatballs could be made in advance to avoid the prohibition of cooking on Shabbat. Meatballs, in many flavors and iterations, became a tradition gracing the Sabbath and holiday tables of Jews. For Sephardic Jews at Passover, meatballs often stand in place of matzah balls, which come more from Eastern European traditions.
When I was creating my cookbook, I married the traditions in a unique way—my original meatball matzah balls. I serve them every year, oven-roasted until crispy. But there are so many ways to enjoy meatballs and so many flavors, and for Passover, I wanted to fine-tune another version that would be gluten-free. I knew my family's beef meatballs with tomato sauce could be made gluten-free but I was looking for something a little lighter for Passover.
For spring and for keeping company with my meatball matzah balls and brisket, I turned to turkey meatballs. And in creating this recipe, it seemed like a good time to nod to Sephardic traditions with some North African flavors of cumin and coriander and a roasted red pepper sauce reminiscent of Moroccan and Israeli cooked pepper salads. To keep the meatballs gluten-free but not sacrifice tenderness, I substituted mashed potato for bread crumbs (and that gives a bonus of fiber and potassium). The sauce gets a little heat and complexity from jalapeno and paprika, but you can use chili paste instead if you'd like (which I tested and also love); another option would be harissa.
Together, the sauce and meatballs work beautifully, and the dish tastes even better the next day. At once, it's a plus for Passover in both flavor and preparation and a celebration of intersecting traditions. And, always a special food to many.
Turkey Meatballs with Spicy-Sweet Pepper Sauce

Turkey meatballs are a little lighter-flavored than beef, and they pair nicely with this spicy-sweet pepper sauce. It gets fresh, bright flavor from the roasted peppers and a little heat from a jalapeño, and you can adjust the sweetness and spiciness to your liking. These are Passover-friendly and gluten-free but still plenty tender (and with a little fiber, too) thanks to mashed potato. You can roast the peppers and garlic for the sauce a day ahead and refrigerate.

Ingredients
Sauce
4 large red peppers, halved and seeded
1 medium jalapeno pepper, halved and seeded
2 cloves of garlic with paper skins
Extra-virgin olive oil
½ teaspoon kosher salt
½ teaspoon paprika
1 tablespoon white wine vinegar
½ tablespoon light brown sugar
½ tablespoon plus 1 teaspoon tomato paste
Ground cayenne pepper, optional and to taste
Meatballs
2 pounds ground turkey (1 pound breast meat, 1 pound dark meat)
½ tablespoon extra-virgin olive oil, plus more for frying
1 teaspoon low-sodium chicken broth plus about 1 cup set aside for deglazing the pan
1 cup finely chopped sweet onion
1 cup cooked mashed or riced potato
2 tablespoons (generous) finely chopped fresh parsley
2 teaspoons garlic powder
1 teaspoon (scant) salt, or to taste
Freshly ground black pepper to taste
¼ teaspoon ground cumin
¼ teaspoon ground coriander
Freshly ground black pepper
2 large eggs, lightly beaten
Instructions
To prepare the sauce, preheat broiler and line one or two baking sheets with foil. Place peppers cut side down and garlic cloves on prepared pans and coat with olive oil. Broil, removing the garlic cloves once softened (5 to 10 minutes), until pepper skins are blackened (15 to 20 minutes). Remove and tightly cover the peppers with foil and let rest until cool enough to handle, about 10 minutes. Remove and discard charred pepper skins and peel the garlic. Place peppers and garlic in a blender along with the other sauce ingredients and puree until smooth. Taste and adjust seasonings to your liking, adding a little ground cayenne if you'd like it spicier. Set aside.
To make the meatballs, combine all the ingredients except the 1 cup of chicken broth in a large bowl and gently combine. Transfer bowl to freezer for about 15 minutes to make mixture easier to roll. Heat a thin layer of olive oil in a large pan (such as a Dutch oven or frying pan) over medium-high heat.
Roll the turkey mixture into balls 1 to 1½ inches in diameter. Place as many as will fit in a single layer in the hot oil, and fry, turning to brown on at least two sides. Remove with a slotted spoon to a plate. Repeat with remaining turkey mixture.
To the empty pan, add the 1 cup of chicken broth and stir about 1 minute to deglaze the pan. Stir in the red pepper sauce until combined, then add the meatballs and any juices to the pan. Stir gently to coat, then cover pan and simmer for 20 to 25 minutes (meatballs should register at least 165 on an instant-read thermometer). Serve hot.
© 2023 Copyright Marcia A. Friedman - www.meatballsandmatzahballs.com