Jump to recipe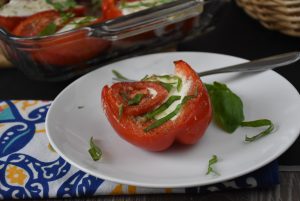 Oh, just stuff it! In terms of food, that's actually a good thing to say, since stuffed or filled foods tend to be especially delightful. The slightly hidden insides and the melding of flavors always offers a little surprise for the senses. In the case of my version of Italian stuffed peppers with eggplant (peperoni ripeni), the surprise comes not only in the baba ghanoush-like eggplant filling topped with tomato, but also in the story the colorful package represents of Italy's Jews' contributions to Italian cuisine. Please read more about that story in my article "Behind Italian Cuisine, a Jewish Influence" for Jewish Food Experience.
Then please enjoy the recipe, especially with summer's freshest produce but really anytime you can get your hands on decent peppers, eggplant, and tomatoes. Stuffed peppers are also traditional in some communities for Sukkot, and this version, evocative as it is of the travels of the Jews, would be especially fitting.
Peperoni Ripieni (Stuffed Peppers with Eggplant)

A beautiful package of Italian garden flavors, these peppers feature a smooth basil-spiked eggplant filling elegantly draped with melty, creamy cheese and a bite of tomato. Use the time when the eggplants are broiling to prep all the remaining ingredients and your baking dish. Inspired by a recipe by Joyce Goldstein in
Cucina Ebraica.
Ingredients
3 large eggplants (3 to 3½ pounds)
4 unpeeled garlic cloves
Extra-virgin olive oil
4 medium sweet red bell peppers, halved lengthwise with stems, seeds, and ribs removed
¼ fresh lemon
1/3 cup chopped fresh basil, plus extra for garnish
½ cup panko or fine bread crumbs
½ teaspoon kosher salt (or to taste)
Freshly ground black pepper
¼ cup grated Parmesan cheese
8 ounces fresh burrata or mozzarella cheese, sliced into 8 pieces
1 large Roma tomato, thinly sliced
Instructions
Preheat broiler. Rub the eggplants and garlic with olive oil and prick eggplants all over with a knife or fork. Place eggplants and garlic on a rimmed baking sheet and broil until garlic is browned and tender (remove if it is done before the eggplant) and eggplants are charred and shriveled, turning a few times, about 30 minutes. Let the eggplants cool about 15 minutes. Meanwhile, place peppers skin-side up on a baking sheet and coat lightly with olive oil. Broil about 5 to 9 minutes, until the skins just start to brown. Remove. Turn oven to 375 degrees and adjust rack to middle position.
Peel the garlic and eggplant skins and discard, placing flesh in a large bowl. If liquid accumulates in the bowl, drain most of it out before proceeding. Using an immersion blender (or mashing by hand), make a thick puree. Squeeze ¼ lemon over the mixture and stir in basil, panko or bread crumbs, salt, black pepper to taste, and 1 heaping tablespoon of the Parmesan cheese (save the rest for the topping). Taste and adjust seasonings as needed.
Coat a baking dish with olive oil. Arrange the peppers hollow side up in the dish. Spoon in the eggplant mixture. Top with a slice of Roma tomato slightly overlapping a piece of burrata or mozzarella. Spread the remaining Parmesan over the top and sprinkle lightly with black pepper.
Bake for 15 to 20 minutes, until the cheese is melted and the tomatoes tender. Serve warm, garnished with more fresh basil if desired.
© 2022 Copyright Marcia A. Friedman - www.meatballsandmatzahballs.com