Jump to recipe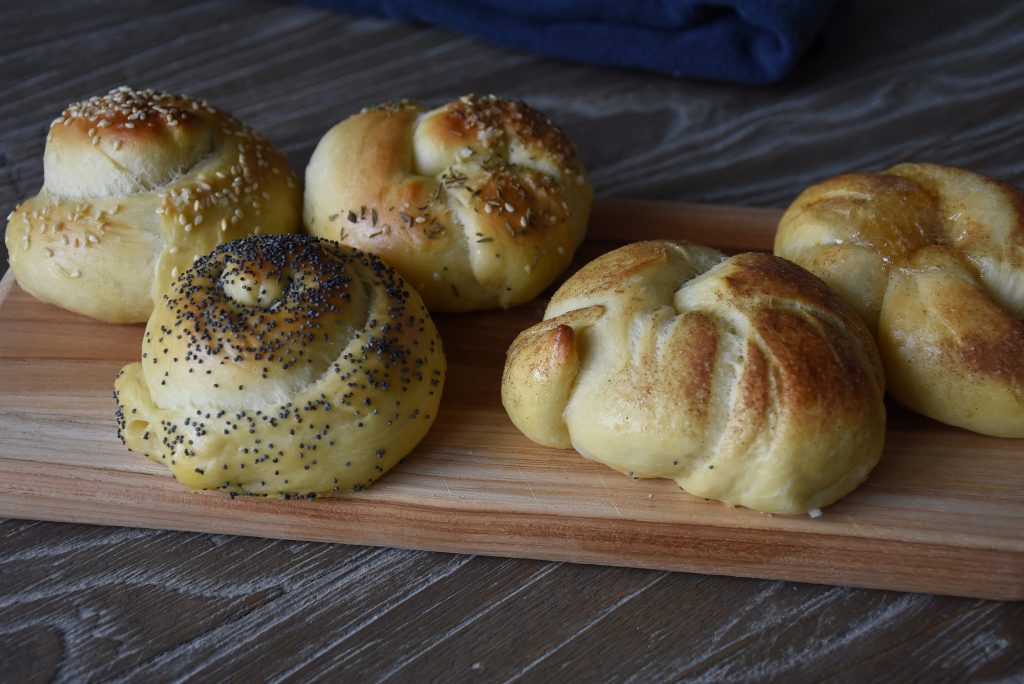 There's no denying that a beautiful golden loaf of braided or round challah is a highlight on the table, raising spirits in delicious anticipation. But these rolls—or mini challahs, as I like to think of them—have their own charms. They are enticing little packages that stay soft and tender and give each recipient that delightful opportunity to be the first to tear into a warm, delicate challah. They make lovely gifts. And, in our pandemic times. individual portions like these might help make any small social-distanced gatherings you might have a little safer.
Round challahs, of course, anchor the Rosh Hashanah table as symbols of the continuity of life, and when also sweet, hope for a sweet new year. Knotted or coiled round challah rolls fulfill that duty nicely. And because the dough itself is not sweetened or flavored but rather gets its flavor profile from the topping, you can create both sweet and savory versions within a single batch—my favorite way to make them, because I always want both kinds. This also gives everyone the chance to personalize. Let household members shape and top their rolls and later enjoy that special feeling of ownership at their finished work.
For sweet versions, especially for Rosh Hashanah, a generous topping of cinnamon-sugar is lovely on its own. But if you want more, a jelly with apple and cinnamon (such as Stonewall Kitchen's cinnamon apple jelly) nestled into an indent in the bread adds sweet, light apple flavor, especially as it oozes over the top of the roll when baking (apple butter might also work, but I haven't tried it). Fig jam is also decadently delicious but its intensity can overwhelm the nice flavor of the bread, so use it sparingly. If you love raisins, work some into the dough as you roll out the strands.
Savory versions, which also make excellent sandwiches with leftover holiday brisket, equally entice. My favorites include a combination of za'atar and flaky sea salt and also toasted sesame, but honestly, there wasn't a single one I didn't love.
For making these and most other yeasted doughs, I recommend making the dough the night before and letting it rise overnight in the refrigerator. Not only does this free you to continue the next day whenever you are ready, it develops better flavor in the bread. After the overnight rise, just set the dough out at room temperature for 30 to 45 minutes before proceeding with the recipe.
These little rolls make me happy, and I hope they bring joy to your kitchen, dinner, and holiday tables as well.
Sweet & Savory Challah Rolls

These beautiful rolls begin with a plain challah dough that is wonderfully pillowy, rich, and irresistible on its own. Once shaped, flavor as you like. For sweet versions, use cinnamon-sugar, and for extra sweetness and apple flavor, apple cinnamon jelly. Or make them savory with any of the suggested toppings (individually or combined). A great group project—let everyone shape and season to taste.

Notes
To make bird-shaped challahs (a tradition that likely originated with Ukrainian Jews centuries ago), shape as in step 7, but leave both ends loose. For the end that rests flat on the counter, use a knife to cut 3 or 4 slats to look like feathers. For the other loose end, gently shape a small pointed beak, and use halved raisins for the eyes.

Ingredients
2½ teaspoons active dry yeast (1 packet plus ¼ teaspoon)
¼ cup honey
2 teaspoons kosher salt
2 eggs, lightly beaten
1/3 cup olive oil, plus more for the bowl
3½ to 4 cups bread flour
Egg wash: 1 egg lightly beaten with 1 teaspoon of cold water and a pinch of salt
Sweet toppings: 1 tablespoon plus ½ teaspoon ground cinnamon for sprinkling, plus apple cinnamon jelly for optional filling
Savory toppings: Za'atar, flaky sea salt, poppy seeds, sesame seeds, or dried minced onions, or a combination
Instructions
In a large bowl, dissolve the yeast in ¾ cup of warm water (between 105°F and 110°F) for about 5 minutes. Stir in the honey, salt, eggs, and oil. Mix in 3 cups of the flour and then gradually add ½ cup more. Work in additional flour as needed to form a soft dough.
Transfer to a lightly floured surface and knead 10 to 12 minutes, until smooth and elastic, flouring your hands as needed to keep the dough from sticking.
Transfer the dough to an oiled bowl, turn over, and cover. Let rise in a warm place until doubled, 1½ to 2 hours.
Press down on the dough to deflate. Cover and let rest 15 minutes.
On a clean surface, use a dough scraper or large sharp knife to cut the dough into 12 pieces. Roll each into a 12- to 14-inch rope.
Shaping Option 1—Coiled Rounds: Coil the roll creating a pinwheel. Tuck the loose end firmly under.
Shaping Option 2—Knotted Rounds: Wrap the dough strand loosely around your fingers and tie a loose knot, leaving dough free on both ends. Wrap one loose end up and tuck into the middle of the knot, and wrap the other loose end under, pinching gently.
If adding apple jelly, use your fingers to firmly create an indent (1/2- to 3/4-inch wide) in the middle. Spoon in a mound of jelly.
Transfer shaped rolls to a parchment-lined baking sheet. Brush with the egg wash. Top sweet versions with cinnamon-sugar or savory versions with your choice of toppings. Cover loosely with oiled plastic wrap and let rise 15 to 30 minutes, until a finger pressed into the dough leaves an imprint.
Meanwhile, preheat the oven to 350°F.
Bake for 15 to 20 minutes, until golden brown (about 190°F to 195°F on an instant-read thermometer).
Cool on a wire rack. Serve hot or room temperature. Best served the same day. Wrap leftovers individually in wax paper in a sealed bag or container.
© 2023 Copyright Marcia A. Friedman - www.meatballsandmatzahballs.com