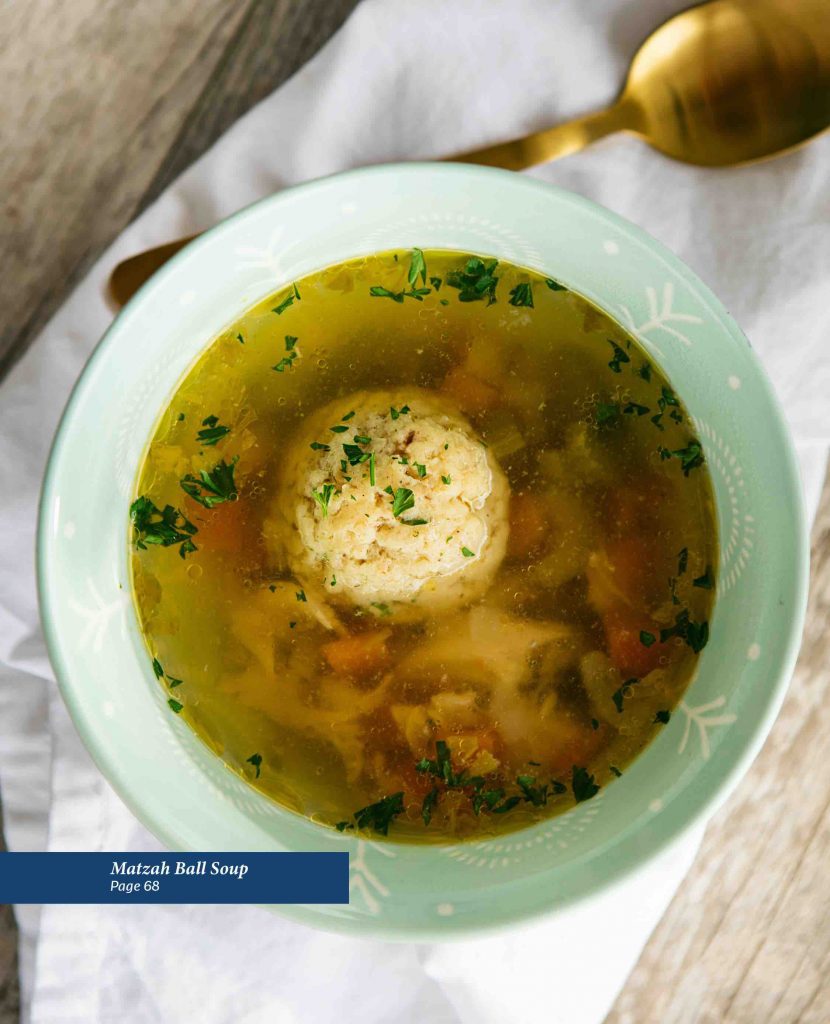 The belle of the balls might very well be the matzah ball. Humble as they look, they reign as one of the most iconic foods of Jewish Ashkenazi traditions. And for good reason. Immersed in hot nourishing chicken soup, the dumplings are comfortingly filling and substantial. Whenever I make the soup, my husband says it smells like his grandpa's house at Passover. That memory and connection alone seems like good enough reason to happily revisit this recipe often. 
Matzah balls also are dear to me because their icon status made them the ideal counterpoint to meatballs as I explored my Jewish and Italian heritages in my first book, Meatballs and Matzah Balls. And while one of my favorite renditions is my hallmark recipe for Meatball Matzah Balls, here I want to focus on and share the classic—because I believe the classic versions are always a good place to start exploring a beloved dish (that's the MO of my new book, The Essential Jewish Cookbook). 
Like other Ashkenazi specialties, matzah balls originated in Eastern Europe centuries ago. There, Jewish cooks seeking a Passover-friendly substitute for their beloved dumplings used matzah meal instead of flour—and an icon was born. They brought their recipes with them to the United States, where matzah ball soup eventually became a year-round staple of Jewish delis and a must for many Passover celebrations. 
And what's a Jewish food icon without some disagreements about it? For matzah balls, two biggies involve whether you should use schmaltz (chicken fat) and whether the balls should be firm or fluffy (or sinkers or floaters). The answers are personal preference, but I hope this recipe from The Essential Jewish Cookbook will satisfy even people who might not agree with the whole approach.
For the fat, (schmaltz fans may want to avert their eyes for a moment), I use olive oil. I prefer the fresher, slightly grassy flavor to the heavier, greasier flavor of schmaltz, and I think modern palates are trending that direction. That said, feel free to test it yourself. You can sometimes find frozen schmaltz in major supermarkets, especially around the holidays. 
For the consistency of the dumplings, this recipe aims for a precious middle ground—that is, balls that have some fluffiness but also some density, because I think some heft makes them much more satisfying to eat. I've tried several methods to create fluffiness, and I like the ease of simply using seltzer water (plus, seltzer has its own Jewish history and around the 1930s was sometimes referred to as "Jewish champagne").
Now, matzah balls tend to be mildly flavored. I like adding chives and I know people sometimes add parsley, which freshens the flavor without being overwhelming. But you can take this relatively blank slate and experiment with herbs and spices you enjoy. Finely chopped chile peppers wouldn't be out of the question if you like your food with a kick.
For ease, you can make the matzah balls a day ahead. Store in the refrigerator in a covered container with some broth or water, which will help them stay fluffier. When ready to serve, gently reheat them in simmering water before transferring them to the serving bowls with fresh hot soup.
Speaking of soup, if you are making homemade matzah balls, they really deserve and will taste best in homemade chicken soup (see recipes in Meatballs and Matzah Balls or The Essential Jewish Cookbook, or use your favorite recipe). I always make chicken stock weeks in advance and freeze it (and freeze the cooked shredded chicken for the soup separately). At serving time, I heat the broth, add some thinly sliced carrot and celery and the chicken, and cook for 5 to 10 minutes before pouring over the matzah balls and garnishing liberally with fresh dill or parsley.
And with that, you are on your way to matzah ball soup happiness in a bowl—nourishment for both body and soul.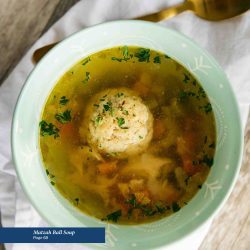 Matzah Ball Soup
The matzah ball is an icon of Jewish cooking, but it has humble beginnings—it emerged when Ashkenazi cooks used matzah meal instead of flour to make kosher-for-Passover dumplings (knaidlach). Today, matzah ball soup plays a starring role at many Passover feasts and year-round at Jewish delis as an ultimate comfort food. For the matzah balls, using schmaltz (chicken fat) is traditional but olive oil works beautifully—and is healthier and nicely flavorful—for this fluffy-but-still-firm recipe. Recipe from The Essential Jewish Cookbook.
Ingredients
1 1/3

cups

matzah meal

1/2

tablespoon

salt

1/4

teaspoon

ground black pepper

5

large eggs, beaten until uniformly colored

1/4

cup

extra-virgin olive oil

1/4

cup

chicken broth or water

1 1/2

tablespoons

finely chopped chives

1/4

cup

seltzer water

Classic Chicken Soup recipe from The Essential Jewish Cookbook, your favorite chicken soup recipe, or 2 quarts store-bought broth (see note below)

Chopped flat-leaf parsley or fresh dill for garnish, optional
Instructions
In a large bowl, combine the matzah meal, salt, and pepper. Add the eggs, olive oil, broth or water, and chives. Fold in seltzer water. Freeze the mixture for 30 minutes. 

With wet hands, shape the mixture into 1 1/4-inch balls and place on a plate or tray. Return to the freezer for 10 minutes.

Meanwhile, bring a large pot of salted water to boil over medium-high heat. 

Once boiling, drop the balls into the water. Cover and boil gently for 30 minutes until puffy and evenly colored. Using a slotted spoon, remove from the water until ready to serve.

Serve in individual bowls and add hot chicken soup. Garnish with parsley or dill, if using. 
Notes
Substitution Tip: The chives can be substituted with finely chopped dill or flat-leaf parsley, or 1/8 teaspoon ground nutmeg, ginger, or garlic powder. Recipe Note: I highly recommend using homemade chicken soup for this recipe. In a pinch, you can "doctor" 32 ounces of store-bought stock by simmering it about 30 minutes with 4 cups of water, 1 pound boneless chicken breasts, celery and carrot pieces, ½ a cut-up onion, and any herbs you have on hand. Taste and adjust seasonings, and shred the chicken for serving in the soup.