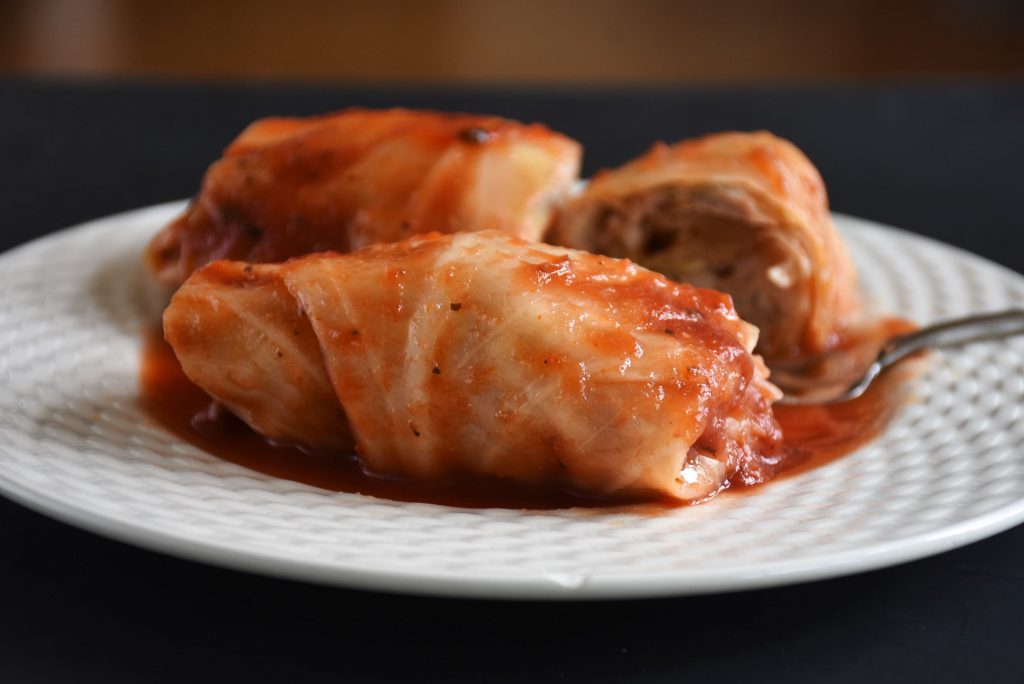 Stuffed cabbage earned its place as a beloved comfort food long, long ago—and this slightly updated version offers tender texture and more flavor without sacrificing the qualities that made this dish treasured among communities across a large part of the world.
Now, I know there are plenty of stuffed cabbage skeptics out there. Confession: It took some tweaks to the traditional Ashkenazi American version filled with ground beef for me to love this dish. Those updates include switching to dark ground turkey, which tends to stay moister and more tender, and adding fennel seeds. The seeds suggest Italian sausage flavor, which in turn pairs beautifully with the bright tomato sauce. For the sauce, I kept the traditional hint of sweetness in the sauce because it so nicely complements the cabbage's slight sourness just perfectly. Freezing the cabbage tenderizes the leaves and eases the rolling process without the need for a boiling step, a welcome bit of streamlining. And a big bonus is that the recipe is gluten-free.
I developed this recipe for The Essential Jewish Cookbook, and like many other of the book's recipes, it is designed to be a good base recipe to which you can apply your taste preferences. You know I love how crushed red pepper flakes boost the flavor so many things and I often add them to the filling here for a boost. Extra basil and some parsley or other herbs make nice additions to the sauce. But let me caution you not to go too crazy there—keep the sauce mild so it doesn't overwhelm the filling's flavor. 
By the way, when I call this dish beloved earlier, I meant it. The Encyclopedia of Jewish Food lists names for stuffed cabbage from more than 30 communities, in languages from Persian to Ladino to Greek—my favorite remains the Yiddish galloptchy. Interestingly, the Jewish-Italian version, cavoli ripieni, hews very closely to the Ashkenazi one that became popular in America, except the Italian version uses bread crumbs rather than rice.
Although stuffed cabbage adorns tables year-round, it is especially comforting in cooler weather and particularly symbolic for the fall harvest-themed holiday of Sukkot—when stuffed foods represent abundance. And because it is gluten-free, it also works for Passover for those who eat rice.
You don't need to wait for a holiday, though. No matter how you think of the cute bundles—I consider them meatballs in cabbage packages—they feel special in evoking the history and tradition of so many families around the world who have used them to stretch ingredients and make meals festive. May the wonderful aroma of this dish draw you into the kitchen and the flavor and opportunity to tailor it to your liking keep you there, happily so.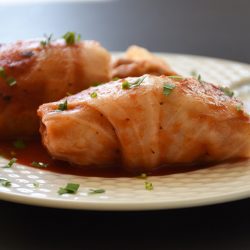 Turkey and Fennel Stuffed Cabbage
You've got to love a dish with the Yiddish name "galooptchy." And indeed, galooptchy—stuffed cabbage leaves in rich tomato sauce—are beloved in Ashkenazi cooking. This version gets tenderness from ground turkey (which holds moisture better than the usual ground beef) and extra flavor from garlic powder and fennel seeds. Freezing the cabbage overnight softens the leaves for easy wrapping. This recipe is gluten-free. Recipe from The Essential Jewish Cookbook.
Ingredients
1

large head green cabbage

2

(15-ounce) cans tomato sauce

1½

teaspoons

dried basil

2

tablespoons

light brown sugar

1½

teaspoons

kosher salt, divided

Freshly ground black pepper to taste

1

egg

1

pound

ground dark turkey

1

medium yellow onion, finely chopped

1½

teaspoons

garlic powder

1 to 1 1/2

teaspoons

fennel seeds

½

cup

uncooked long-grain white rice

1

tablespoon

extra-virgin olive oil

fresh snipped parsley or other green herbs for garnish (optional)
Instructions
Remove one outer layer of cabbage leaves and rinse and core the cabbage. Wrap and freeze overnight. About three hours before cooking, defrost the cabbage at room temperature. (Speed up the thawing process by running hot water over the cabbage.)

Preheat the oven to 375°F.

In a medium bowl, combine the tomato sauce, basil, sugar, ½ teaspoon of the kosher salt, and pepper to taste. Spread a thin layer of this sauce in a 9-by-13-inch baking dish.

In a large bowl, lightly beat the egg. Stir in the turkey, onion, remaining 1 teaspoon of kosher salt, additional pepper to taste, garlic powder, fennel seeds, rice, olive oil, and 1 tablespoon of the tomato sauce mixture.

Peel off 12 large cabbage leaves, and if desired, trim off the hard triangular rib from the base of the leaves to make rolling easier.

Place about 3 tablespoons of filling in each leaf. Fold the stem end over the filling, fold in the sides, and then roll up tightly like a burrito. Tightly pack the rolls, seam-side down, in the dish. Top with sauce. Cover and bake until the cabbage is tender and cuts easily, about 2 hours. Serve hot, garnished with snipped herbs if desired.
Notes
Make-Ahead Tip: The stuffed cabbage can be cooked 1 day ahead and covered and chilled. Reheat covered in a 350°F oven until hot, about 45 minutes.