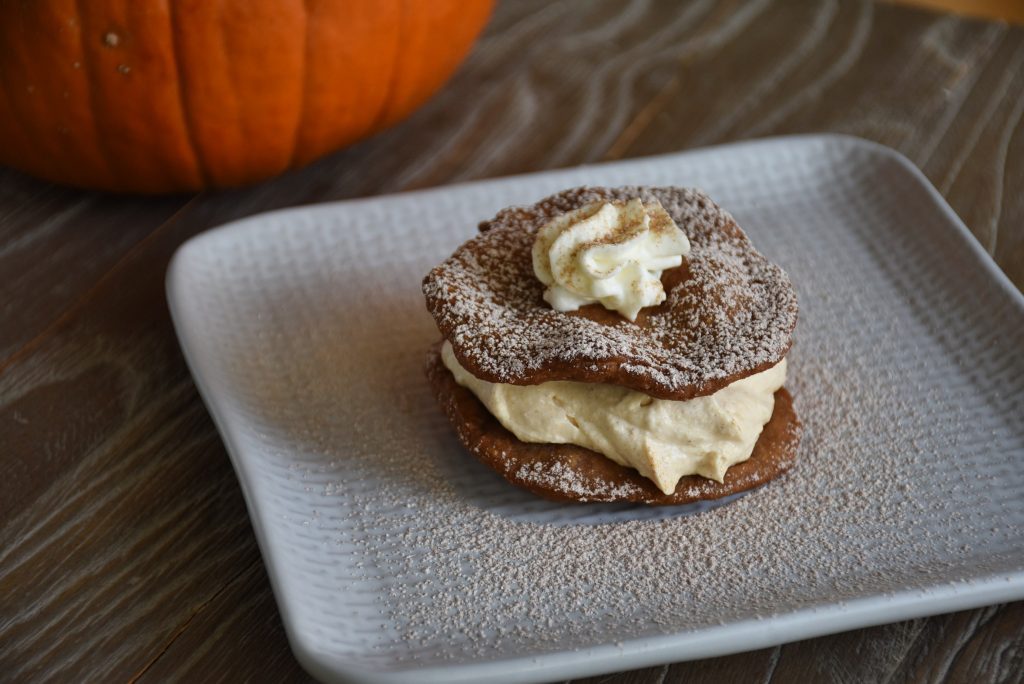 You might not normally think of cannoli for Thanksgiving and Hanukkah. But they are perfect, especially for this year's confluence of these two beloved holidays. For Hanukkah, this classic Sicilian dessert neatly captures both the frying and dairy traditions in one package. For Thanksgiving, the filling takes beautifully to a spike of warm holiday flavor with pumpkin and warm spices.
And while I was bending traditions, I took it a step further by deconstructing the cannoli. Instead of rolling dough around specialized cannoli tubes and later piping in the filling, you simply fry pastry rounds, between which you later dollop a generous helping of filling. It's easier and more forgiving, and also just beautiful.
Flavor also gets a boost from a surprise ingredient in the dough—bourbon. Traditional Sicilian cannoli use Marsala wine, which is wonderful. For this version, though, bourbon boosts the caramel notes in the pastry to accent the warm spices of the filling. Furthermore, bourbon has an interesting Jewish backstory (see my article on this here) making it especially lovely to incorporate into a Hanukkah dessert. The best part? It tastes amazing. 
The filling equally wows in this recipe, and if working with the pastry dough is not your thing—believe me, I completely understand that—still make the filling! You can use store-bought cannoli shells or even spread the filling between layers of cake. Canned pumpkin with a mix of spices develops great flavor, and the creaminess from the addition of mascarpone as well as draining your whole milk ricotta ensures a fresh-tasting and oh-so-smooth result.
Ideally plan to serve the pastry and ricotta filling the same day they are made. If your pastry disks need a little crisp-up, warm them in a 350-degree oven for a few minutes. Once your pastry and filling are made, assembling these cannoli takes just minutes and should be done right before serving to prevent sogginess.
Then sit down, and enjoy how this dessert brings together traditions to create a party on your plate.
Deconstructed Pumpkin-Bourbon Cannoli
With a pumpkin filling and bourbon-scented pastry, beloved Sicilian cannoli become a perfectly themed dessert for the season of Thanksgiving and Hanukkah. Rather than tube-shaped shells, my rustic deconstructed version uses rounds of fried pastry sandwiching a generous dollop of creamy, flavorful filling. The pastries will puff up in spots while frying, which helps create pleasingly flaky layers. Put the pastries and filling together right before serving to prevent sogginess. For a shortcut, use store-bought cannoli shells (there should be enough filling for about 10 standard-sized shells).
Ingredients
For the Filling
16

ounces

(1 container) whole-milk ricotta, such as BelGioioso Whole Milk Ricotta con Latte

¼

cup

mascarpone

2½

tablespoons

superfine sugar

2

teaspoons

vanilla extract

1/2

teaspoon

ground cinnamon

1/4

teaspoon

ground nutmeg

1/8

teaspoon

ground allspice

1/8

teaspoon

(scant) ground ginger

1/3

cup

canned pumpkin
For the Pastry Rounds
2

cups

all-purpose flour

2

tablespoons

sugar

1

teaspoon

baking soda

2

teaspoons

cornstarch

½

teaspoon

unsweetened cocoa powder

½

teaspoon

cinnamon

½

teaspoon

kosher salt

2

tablespoons

vegetable shortening

2

teaspoons

vanilla extract

1

tablespoon

white wine vinegar

¼

cup

bourbon

Vegetable oil

for frying
For the Topping
2

tablespoons

confectioners' sugar

2

teaspoons

ground cinnamon

Whipped cream garnish

optional
Instructions
To drain the ricotta, place it in a fine-mesh strainer lined with a large double-layer piece of cheesecloth. Place the strainer over a large bowl. Wrap the ricotta tightly in the cloth, squeezing to start extracting liquid. Place a heavy bowl on top and refrigerate for at least one hour. (You can start making the pastry dough while the ricotta drains if you like.)

Discard the liquid and transfer the ricotta to a large bowl. Add the mascarpone, sugar, and vanilla. Beat with an electric mixer on medium speed for about 2 minutes, until smooth and slightly fluffy. On low speed, mix in the cinnamon, nutmeg, allspice, ginger, and pumpkin. Refrigerate the mixture at least 30 minutes, or until ready to serve.

Meanwhile, make the pastries. Whisk together the flour, sugar, baking soda, cornstarch, cocoa powder, cinnamon, and salt in a large bowl. With the whisk, work in the shortening to create a crumbled texture. In a separate small bowl, combine the vanilla extract, vinegar, and bourbon, then stir the liquids into the flour mixture. Add cold water a teaspoon at a time as needed to create a cohesive dough. Knead about 2 minutes, until smooth.

Divide the dough in half. In between sheets of wax paper, roll each half into a circle about 1/8-inch-thick. Let stand covered at room temperature for about 20 minutes.

When ready to cook, start heating about 1½ inches of oil to 365°F in a heavy, deep-sided pan over medium heat.

Working with one piece of dough at a time, roll the dough to about 1/16-inch thick. Use a 3-inch cutter to cut circles, rerolling scraps. The dough will tend to contract, so right before frying, roll over the circles with the rolling pin to thin them (it's okay if they end up as ovals or odd shapes—that's part of the rustic charm). You should end up with 20 to 24 rounds.

Fry the rounds in small batches to avoid crowding the pan, turning a few times, until brown, 1 to 2 minutes. Transfer to a paper-towel-lined plate to drain and cool completely.

Make the sugar topping by combining the confectioners' sugar and cinnamon.

To serve, place one pastry round on a serving dish and top with a generous dollop (3 to 4 tablespoons) of pumpkin ricotta filling. Top with another pastry piece, and finish with a dab of whipped cream (if using) or more pumpkin filling. Generously dust the tops with the sugar-cinnamon mixture. Serve immediately.