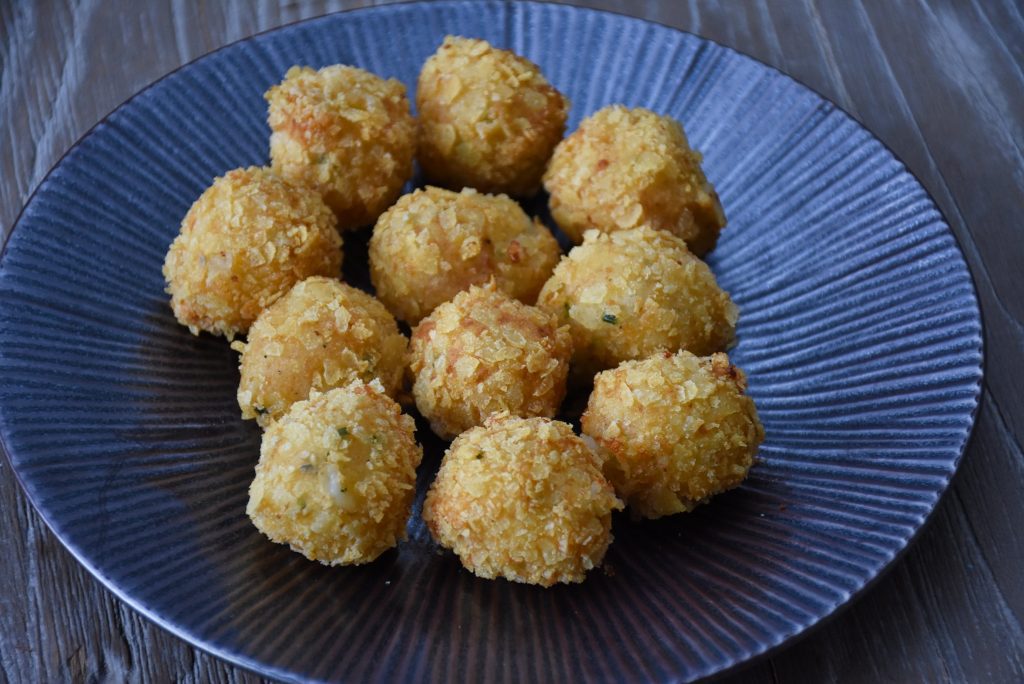 At once crispy and creamy, fried mashed potato balls take you right from Thanksgiving's leftover mashed potatoes to a Hanukkah fried delight. And actually, even if I don't have leftovers, I will make this recipe (don't worry, latkes, we will be making you, too) because it is uniquely fun and a texture and flavor sensation that also nods to potato ball and dumpling recipes in Jewish and Jewish-Italian culinary traditions.
Jewish Ukrainian and Russian repertoires feature fried potato balls made from both cooked and raw potato. Halke (from Galicia, a region in southern Poland) and shlishkes (from Hungary) are boiled potato dumplings reminiscent of Italian gnocchi, and fried versions are known as bilkas. Then we have Jewish-Italian potato croquettes (crocchette di patate) and various Sephardic versions, such as bimuelos de patatas from the Balkans—in which mashed potato is mixed with egg, Parmesan, and herbs, and fried, similar in spirit to latkes.
My interest in potato balls started out much more simply than whether they had a Jewish pedigree, however. I wanted to create a fried recipe that either used Thanksgiving leftovers or took advantage of ingredients likely on hand for the holiday given that Hanukkah starts the same weekend. I had experimented with mashed potato balls last year, and knew the time had come to refine that recipe.
Some traditional recipes use plain cooked potato that has been mashed (rather than a mashed potatoes side dish that usually includes broth or milk and perhaps butter, and therefore is moister), because a drier and stickier mixture works best. To repurpose leftover mashed potatoes, this recipe calls for them to be chilled for a least a day, which stiffens and dries them a bit. Potato starch and cheese also help bind them. I naturally gravitated to adding Parmigiano and herbs to drive the flavor, perhaps thanks to my Italian ancestry whispering in my ear. Rather than breadcrumbs, I decided to coat them in crushed potato chips for added potato flavor and a satisfyingly salty crunch that also keeps these little packages gluten-free.
The balls come out delightfully soft and tender on the inside. Your main challenge is to watch the frying diligently, turning the balls frequently with tongs or a slotted spoon, to make sure they stay intact until hot all the way through and just golden brown. If potato appears to be seeping out of a ball before it is done, lift it out of the oil for 5 to 10 seconds and then replace it. The total frying time is about 3 minutes per batch, so it all goes quick.
The reward is a fried nugget with a crunchy, flavorful, and unique potato chip crust and delicate interior with hints of chive and salty cheese that aces this year's short transition from Thanksgiving to Hanukkah. We love these plain, but you can serve them with a dipping sauce such as sour cream or ranch dressing if you like. One more thing to keep in mind: eating just one is not an option.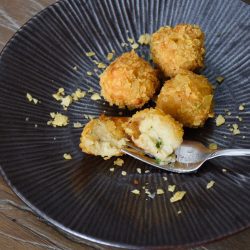 Fried Mashed Potato Balls
Turn cold leftover mashed potatoes into a post-Thanksgiving Hanukkah—or anytime—treat. These decadent fried potato balls take their cue from Jewish and Jewish-Italian recipes using mashed potato. My version, which is gluten-free, gets extra flavor and crunch from a crushed potato chip coating that surrounds a cheese- and herb-spiked potato filling. Keep the balls small so they cook through easily and hold their shape. Although spectacular plain, serve with sour cream, ranch dressing, or other dipping sauce if desired. You can also make them ahead—see note below.
Ingredients
3

cups

cold leftover mashed potatoes

(ideally chilled at least 24 hours)

2

tablespoons

potato starch

2

teaspoons

finely chopped fresh chives or about ¾ teaspoon dried chives

1/8

teaspoon

onion powder

1/8

teaspoon

ground red (cayenne) pepper

½

cup

finely shredded Parmesan cheese

Kosher salt to taste

Freshly ground black pepper to taste

1

egg lightly beaten

2

cups

finely crushed regular potato chips, about one 5-ounce bag

(such as Utz brand)

Vegetable oil for frying, about 1.5 quarts
Instructions
In a large bowl, use a fork to combine the mashed potatoes, starch, chives, onion powder, ground red pepper, cheese, and salt and black pepper to taste.

Shape into 1- to 1¼ -inch balls. Roll in beaten egg and then potato chip crumbs, then set aside on a baking sheet lined with wax paper. Transfer the pan to the freezer for about 45 minutes to firm up the balls.

About 10 minutes before ready to fry, heat 1½ to 2 inches of oil to 325°F in a large, deep-sided heavy pan over medium heat.

Fry in small batches of 6 to 8 to avoid crowding the pan and cooling the oil too much. Cook, turning frequently, 2 to 3 minutes, until golden brown and hot all the way through. (If potato starts to seep out before a ball is done, briefly lift it out of the oil with tongs and then place it back in.) Transfer to a paper-towel-lined plate to drain. Allow the oil in the pan to return to 325°F before frying the next batch.

Serve hot or warm, with sour cream or ranch dressing for dipping if desired.
Notes
To bake them instead of frying: Bake at 400°F (convection bake setting) on a foil-lined baking sheet for about 10 minutes.
For alternative coatings (not gluten-free): Substitute panko (crispy, but not quite as flavorful) or Italian-style bread crumbs (very flavorful, but not as crispy).
To make ahead: Cool the fried balls, then freeze in a sealed bag. To serve, bake at 350°F on a baking sheet until hot, about 20 minutes.