Almond Kifli are delightful crescent-shaped sweets from Ashkenazi Jewish traditions, particularly in Hungary and Austria. They might remind you of recipes like snow balls or Mexican wedding cookies with their wonderfully crumbly and light texture and inviting white coat of confectioners' sugar. This style of cookie has become popular across many traditions worldwide, and it's no wonder.
I learned about the recipe while doing a Zoom baking demo with Lisa Goldberg of Monday Morning Cooking Club from Australia last summer. Lisa made these biscuits, as she called them, from a recipe shared by Sharon Katz and published in Monday Morning Cooking Club: the Food, the Stories, the Sisterhood. I made them the next week and, well, a new cookie is now in my repertoire. Here is my version. The recipe makes a modest amount, about 20 cookies, but you can double it if you like.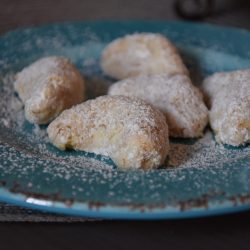 Almond Kifli
Delicate is the word for these cookies, both their delightfully crumbly texture and their modest but mouthwatering vanilla and almond flavor. These cookies likely originated in Austria and Hungary in various forms, and Ashkenazi Jews adopted them and brought recipes with them to the United States. Vanilla sugar subtly enhances the vanilla flavor and is a nice modern touch if you have it (it is available at specialty stores and some larger grocery stores, or you can make your own).
Inspired by a recipe by Sharon Katz featured in Monday Morning Cooking Club: the Food, the Stories, the Sisterhood.
Ingredients
½

cup

whole raw almonds, skin on

8

tablespoons (1 stick)

unsalted butter, room temperature

1

cup + 2 tablespoons

all-purpose flour

1/8

teaspoon

kosher salt

1

teaspoon

regular or vanilla sugar, plus another ¼ teaspoon for chopping the almonds

1

teaspoon

superfine (caster) sugar

1

teaspoon

vanilla extract

1/2

cup (approx.)

confectioners' sugar, for dusting
Instructions
Preheat the oven to 325°F and line a large baking sheet with parchment paper.

In a small food processor, pulse the almonds and ¼ teaspoon sugar until the nuts are very finely ground but not powder.

In a medium bowl, combine the almonds, butter, flour, salt, 1 teaspoon regular or vanilla sugar, the superfine sugar, and vanilla extract, and stir (or work with your hands) to form a thoroughly moistened, crumbly mixture.

Roll the dough into approximately 2-inch long, 3/4-inch wide rolls (about thumb-sized) and bend into crescent shapes. Place on the baking sheet and bake for 18 to 22 minutes, until just lightly browned.

When the cookies have cooled slightly, roll them in confectioners' sugar to coat well. For a more generous coating, re-roll them or dust the tops after they are completely cool.

Store in an airtight container.