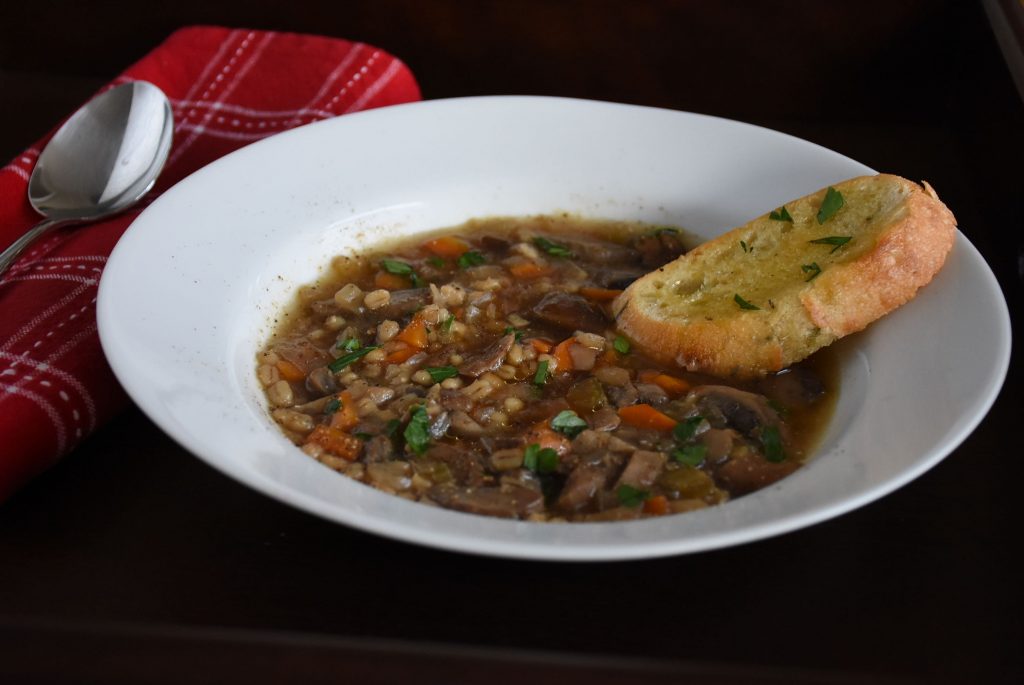 A comforting and earthy classic, this soup emerged hundreds of years ago as an essential for Eastern European Jews. Although porcini mushrooms seem like an exotic item today (and are pricey to boot), Jews in places like Poland, Lithuania, and Ukraine had ready access to this type of mushroom, which grew profusely in the forests around them. And for people who often couldn't afford meat, the rich, savory taste sensation of mushrooms that we today refer to as "umami" became one they turned to often. Mushroom barley soup (also known as krupnik) was a staple for many, and Ashkenazi Jews brought their taste for it to the United States, where it became a feature on deli menus and continued to be savored at home.
There's a reason the humble dish maintains a beloved place in the repertoire. Packed with nutritional vegetables as well as the delicious fungi (themselves reservoirs of potassium, B vitamins, iron, antioxidant compounds, fiber, and even a little protein), the soup nourishes as well as delights the palate, especially when you take the opportunity to tweak it to your tastes. Some versions were made with meat or meat bones, but with the meaty flavor of the mushrooms and the hearty chew of the barley (itself an important staple going back to biblical times), meat really isn't needed.
For my recipe from The Essential Jewish Cookbook, I accent the flavor with the addition of Worcestershire sauce (but note that it has anchovies in it; for a vegan version, use soy sauce). The porcini mushrooms and their soaking liquid are key elements. I also like using a mix of flavorful fresh mushrooms, including shiitake. The soup tastes wonderful the day it's made as well as reheated the next day.
Now, it isn't a show-stopper in the looks department, but a little shower of fresh chopped parsley (or other fresh herb of choice) goes a long way to dressing it up. And plunk in a slice of garlic toast or croutons, and it will be hard to resist. Grind black pepper over top right before serving for just the right kick. But going back to what I said earlier, the soup also takes well to other tweaks for flavor and substance. Here are a few options:
• Add 1/2 cup or more of dry red wine, which not only deepens the earthy flavor but also gives the broth a richer brown color.
• Add additional finely chopped root vegetables, such as parsnips, turnips, and potatoes, which are called for in some versions of this soup.
• Garnish servings with roasted mushrooms, which often have a slight bacon flavor that goes splendidly with the soup. (To roast: Toss some extra sliced mushrooms with olive oil, a little balsamic vinegar, salt, and pepper, and roast in a 400°F oven until well browned and almost crisp.)
• Garnish servings with shredded Parmigiano-Reggiano, an Italian touch that boosts savoriness.
• Use a flavorful vegetable stock (or chicken stock for a meat version) for the liquid.
• For a thicker soup, start with 7 cups of liquid, and add more toward the end of cooking if it's thicker than desired.
• Sprinkle with smoked salt near the end of cooking or at serving time.
Wherever you take the recipe and it takes you, it's grounding to remember that what started as a work of ingenuity and thrift in making local ingredients delicious became something delighting us across centuries and geography. Soup's on!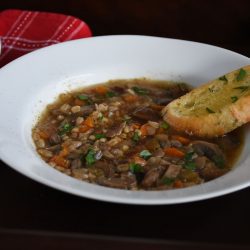 Mushroom-Barley Soup
Hearty mushroom barley soup (also known as krupnik) was a staple in Poland, Lithuania, and Ukraine before its journey with Ashkenazi Jews to becoming an American Jewish deli and home cooking mainstay. Some versions include meat, but this one lets mushrooms do the work with a little help from the modern addition of Worcestershire sauce (or soy sauce). Recipe from The Essential Jewish Cookbook.
Ingredients
1

ounce

dried porcini mushrooms

1

cup

boiling water

Extra-virgin olive oil

1

large onion, chopped

2

ribs celery, finely chopped

2

medium carrots, finely chopped

Kosher salt

Freshly ground black pepper

1

pound

mixed fresh mushrooms, chopped into roughly ½-inch pieces, preferably a mix of shiitake and cremini/baby bella

4

garlic cloves, minced

8

cups

water or stock

1

tablespoon

Worcestershire or soy sauce

1/2

cup

pearl barley
Instructions
In a small bowl, cover the dried porcini mushrooms in the boiling water. Let stand 10 minutes. Strain through a coffee filter, reserving the liquid. Rinse and chop the rehydrated mushrooms.

Heat a layer of oil in a large soup pot over medium heat. Add the onion, celery, and carrot. Season lightly with salt and pepper to taste. Cook until softened, stirring frequently, about 8 minutes.

Add in the fresh and rehydrated mushrooms, season with salt and pepper, and cook until mushrooms soften, about 5 minutes. Stir in the garlic and cook, stirring constantly, 1 minute.

Add the 8 cups of water or stock, the reserved mushroom liquid, Worcestershire or soy sauce, and barley. Bring to a boil over medium-high heat, then reduce to low and simmer, partially covered, 50 to 60 minutes until the barley is tender, stirring occasionally.

Season to taste and serve hot.
Notes
For kosher observance with a meat meal, note that Worcestershire sauce contains anchovies.