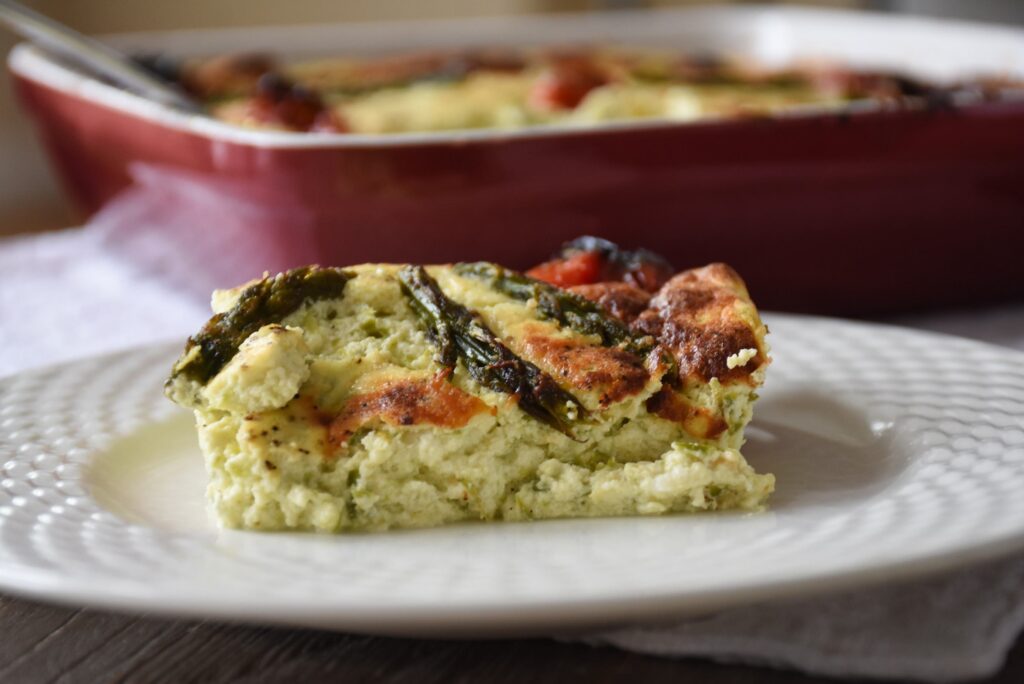 The Italians were onto something with sformato, a creamy egg and vegetable dish that is elegant and yet homey, plus irresistible in flavor and texture.
Most traditionally, sformato (pronounced sfohr-MAH-toh, coming from the Latin word for "form") is a vegetable flan prepared in large ring mold or individual molds. But this dish doesn't have to be molded, as you can see. And the texture can be—and I think benefits greatly from being—fluffier and creamier than a flan.
Sformato found its way into the cuisine of Italy's Jews, and it's no surprise. Not just because it's a delicious and adaptable vegetarian dish, but also because eggs figure prominently in Jewish Italian and Sephardic culinary traditions. Eggs were often an affordable protein and a pareve (neutral) food that those keeping kosher could eat with either meat or dairy meals, making them an important staple.
Eggs star in frittatas, or in Sephardic traditions, egg and vegetable fritadas (baked versions are also called quajados). You'll find eggs making appearances even in surprising places, like steamed whole within Sephardic stews (hamin). And they play essential roles in beloved desserts, too, such as sponge cakes and meringues.
The sformato fits right in, and Jewish Italian cooks adapted recipes as they saw fit, sometimes baking the sformato in a dish rather than a mold, which I prefer. It's easier and the open top gives you a canvas to decorate with more roasted vegetables, which not only look pretty but give an extra punch of vegetable flavor.
Some more traditional sformato recipes feature a béchamel, but I was particularly drawn to versions that use ricotta instead. Along with a little sour cream, it gives nice creaminess and tang, as well as contributes to the dish's delicate texture. The recipe puffs up a bit during cooking, but you don't have to worry about it collapsing like a soufflé might.
Asparagus, especially at its seasonal best, adds gentle flavor by being mixed into the filling as well as placed on top. And those roasted tomatoes, a treat in and of themselves, add an inviting pop of color to the top and little bursts of caramelized tomato flavor.
This new recipe—both gluten-free and Passover-friendly—might just be the best egg dish that I haven't been making, and I love it so much it will now become a regular. Hope you will find the same.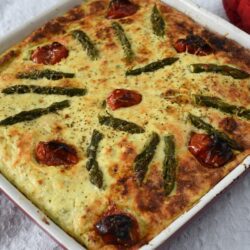 Roasted Asparagus and Tomato Sformato
Consider this elegant yet homey Italian egg dish a cross between a souffle, flan, and frittata. Here, asparagus and tomatoes add contrasting flavor and make the top beautifully inviting. Many versions use a bechamel and are baked in a mold, but I find the ricotta versions more accessible and baking it in a dish means less fuss, plus it's pretty to showcase some of the vegetables on top. But the best part is the delicate, creamy, and fluffy texture with gentle asparagus and tomato flavor. A winning side, main, or brunch dish that is gluten-free and Passover-friendly. Best served warm.
Ingredients
1

bunch thin asparagus spears,cut into 2-inch pieces

About ½ pint of grape tomatoes, 10 to 12 tomatoes

Extra-virgin olive oil

Kosher salt

Freshly ground black pepper

Crushed red pepper flakes, optional

1½

cups

grated Parmigiano-Reggiano cheese, divided among filling and topping as well as coating for the baking dish

5

large eggs, room temperature, separated

2

cups

whole milk ricotta (such as Bel Gioioso), drained of excess liquid, set out at room temperature about 20 minutes before using

½

cup

sour cream, set out at room temperature about 20 minutes before using

1

teaspoon

potato starch
Instructions
Preheat the oven to 425°F. Line a large baking sheet with aluminum foil. Keeping them separate on the baking sheet, toss the asparagus and tomatoes in olive oil. Season with salt and pepper.

Roast for 10 to 15 minutes, until asparagus is tender and lightly brown. Remove the asparagus, and set aside. Sprinkle the tomatoes with a pinch of crushed red pepper flakes if using, and continue roasting them until collapsed and lightly browned, about 15 more minutes. Remove and set aside, also reserving any flavorful oil from the tomatoes.

Set aside 12 to 14 asparagus tips for topping. Transfer the remaining asparagus to a blender or small food processor and puree until mostly smooth.

Coat a 9-by-9-inch baking dish with olive oil, then dust it with 2 tablespoons of the Parmigiano-Reggiano and set aside.

In a large bowl, whisk the egg yolks about 30 seconds, then stir in the ricotta, sour cream, 1 cup of the Parmigiano, asparagus puree, and salt and pepper to taste.

In a separate large bowl, use a mixer to beat the egg whites and 1 teaspoon of potato starch until stiff.

Gently fold the egg whites into the ricotta mixture until just a few white streaks remain. Transfer to the prepared baking dish, smoothing the top. Top with reserved asparagus tips and tomatoes, drizzling a few drops of any oil from the tomatoes onto the top, and sprinkle with more freshly ground black pepper and remaining Parmigiano.

Bake until top is golden brown and the custard has set, 20 to 30 minutes (about 180 to 185°F). Remove and let rest about 15 minutes before serving warm.