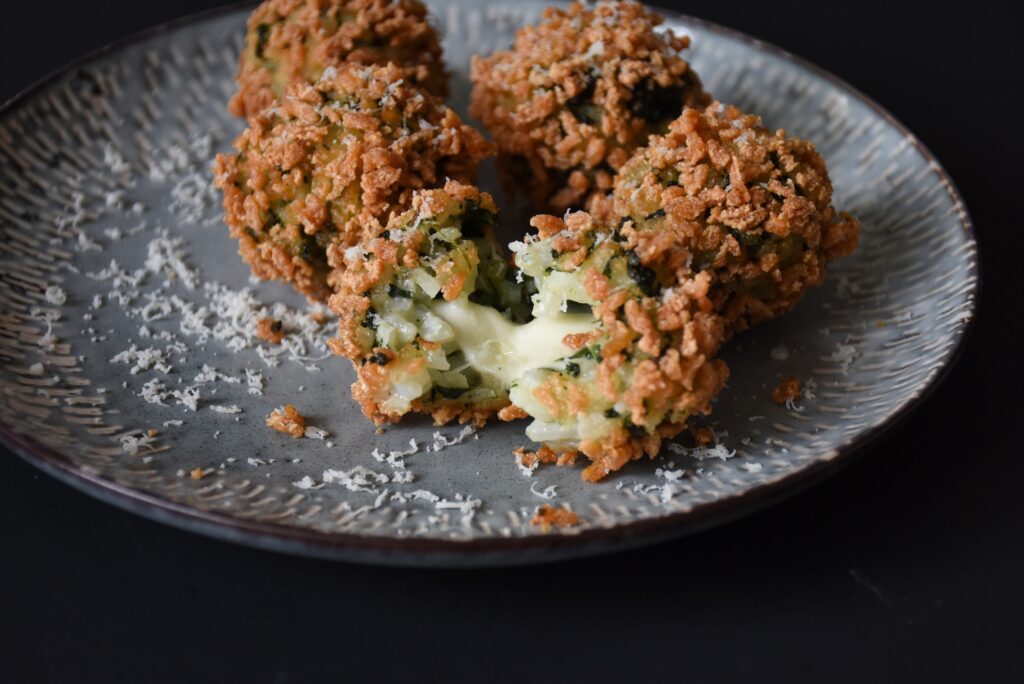 Rice laced with spinach and cheese and fried—spinach arancini bring home a delightful taste of Sicily. That's where I first tried this version of deep fried risotto balls a couple of years ago when we visited to explore some of my Sicilian roots. The treat—shaped as big as oranges, ovals, or pears in the case of the spinach version—could be found all over the island. The arancini were large enough to be a small meal but also small enough to be a snack. Which one could share, in theory.
The spinach version, our favorite, must have been everyone else's favorite, too, because it was always the first to sell out. We'd brainstorm with our Sicilian guide (herself an arancini aficionado) about where we might find them, and then of course, where to find the best ones. Arancini (or arancina depending where you are on the island) can be filled with meat, vegetables, and cheese, and one traditional version includes a ragu filling and also peas. Delights such as these could certainly not be contained in one region, and versions in Rome and other northern areas are called suppli or suppli al telefono—"telephone wires," for the effect of opening a ball and stretching out strings of melty cheese.
A little Jewish backstory: Sicilian Jews were especially early adopters of the rice introduced by Arab conquerors and later by Sephardic exiles from Spain. Together these southern Italian Jews developed rice dishes and risottos that they later carried north with them, and it's even surmised that the famously saffron-infused Risotto alla Milanese was inspired by Jewish versions.
Frying leftovers was also a Jewish-Italian as well as Italian specialty, so it's no surprise that fried risotto cakes and suppli recipes can be found in recipe collections of Italy's Jews. Spinach was another ingredient prized by Sicilian Jews (who prepared it with raisins and pine nuts, another Arab influence). And that's just another reason to be delighted with deep-fried spinach risotto balls.
For my recipe, I roast the spinach in the oven because I think it gives it deep spinach flavor, a big plus when combining it with the rice. A little piece of mozzarella is all you need, and if you can find mozzarella pearls, they are the perfect size. The other wonderful thing about this recipe is that not only is it a slam-dunk for Hanukkah, it works for Passover, too, (risottos were enjoyed by Italy's Jews during Passover) thanks to the availability of kosher-for-Passover panko. Or you can use gluten-free panko if following that diet).
But this dish isn't just for holidays. In Italy, spinach arancini can be bought on many a street and eaten everyday (if you get to the cafes early enough), and that sounds pretty good to me.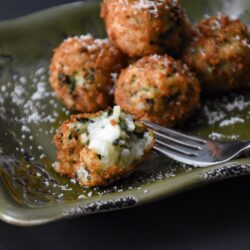 Spinach Arancini
Creamy rice laced with bright green spinach, stuffed with a cheese center, and coated and fried—spinach arancini might just be Sicilian culinary heaven. For ease of handling and home frying, this recipe keeps the balls smaller than the typical pear size and shape you find in Sicilian cafes. Substitute kosher-for-Passover or gluten-free panko per your needs. The arancini should fry long enough for the cheese center to melt—if they are browning too quickly, lower the heat slightly. Be sure to use arborio or carnaroli rice, which will be sticky enough to hold together without eggs or other binders.
Equipment
A deep-fry or candy thermometer to monitor oil temperature during frying
Ingredients
Extra-virgin olive oil

10

ounces

fresh baby spinach

Kosher salt

1

tablespoon

unsalted butter

½

cup

finely chopped onion

2

cups

Arborio short-grained rice

Freshly ground black pepper

1/8

teaspoon

ground red cayenne pepper

4

cups

water or stock

½

cup

freshly grated Parmigiano-Reggiano

¼

cup

shredded sharp cheddar cheese

About half an 8-ounce container of mozzarella pearls (such as Bel Gioioso), or fresh mozzarella cut into approximately ½-inch pieces

1½

cups

panko

use gluten-free or kosher for Passover panko as needed

Vegetable oil

about 2 quarts or enough to cover balls
Instructions
Preheat the oven to 400°F. Line one large or two smaller baking sheets with foil. Toss spinach with olive oil to coat and spread out on the baking sheet(s). Season lightly with salt.

Roast spinach about 10 minutes, until completely wilted and a few pieces are browning. Remove and let cool slightly. Squeeze out any extra liquid and chop.

Warm 1 tablespoon olive oil and the butter in a medium saucepan over medium-high heat. Add the onion and rice and cook, stirring frequently, for 1 to 3 minutes, until edges of rice turn slightly translucent. Stir in 1½ teaspoons kosher salt, black pepper to taste, ground red pepper, and 4 cups of water. Bring to a boil, reduce heat to low, cover, and simmer without stirring for about 15 minutes, until rice is al dente and most liquid is absorbed (the mixture will be creamy).

Remove from heat and stir in the Parmigiano and cheddar cheeses, and then the chopped spinach. Taste for seasoning. Set aside until cool enough to handle comfortably, about 45 minutes.

To make the balls, moisten hands with water. Form about 2 tablespoons of cooked rice into a thick disk, then press one mozzarella piece into the center. Shape so the rice completely encloses the cheese (adding more rice if needed) and squeeze to make a compact ball. Roll in panko and repeat with remaining rice.

Heat vegetable oil in a heavy-bottomed, deep-sided pan (such as a Dutch oven) to 350°F to 355°F. Working in batches of 5 balls at a time so as not to crowd the pan, gently lower the balls into the oil and fry, turning once or twice, until deep golden brown, 3 to 4 minutes. (If browning too quickly, lower heat slightly). Drain on paper towels. Repeat with remaining balls.
Notes
Arancini can be made ahead and frozen. To reheat, place on a wire rack over a baking sheet and heat 30-40 minutes in a 350°F oven until hot all the way through.