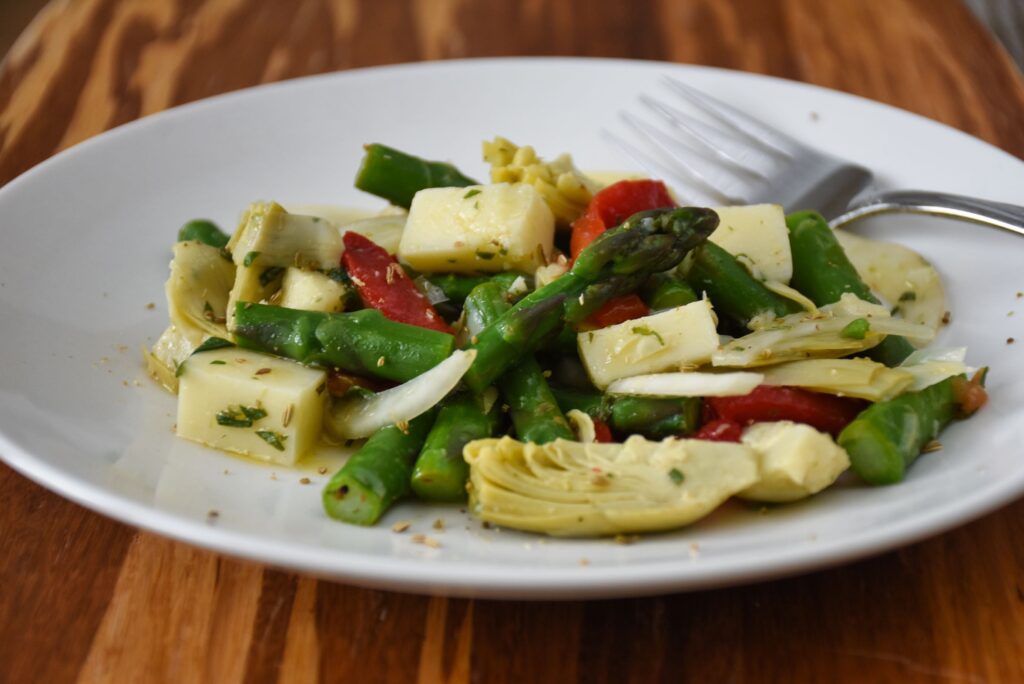 Asparagus, artichokes, and fennel become unlikely but absolutely delicious partners in this Jewish-Italian inspired salad. The dressing of bright lemon and herby slightly pungent oregano—a classic Sicilian pairing—unites the spring and early summer vegetable flavors in beautifully tangy way.
This salad spares not one second in delighting the taste buds with flavors and textures that contrast and complement one another in all the right ways. And for the basic premise of the dish, we have a Jewish-Italian recipe to thank.
Italy's Jews knew how to make the most of seasonal and locally available vegetables and fruits, so it's no surprise to find a wonderful recipe combining the spring crops of asparagus, artichokes, and fennel in Edda Servi Machlin's book, The Classic Cuisine of the Italian Jews. The artichokes caught my eye first, because those plump green orbs are an irresistibly delicious icon of the Jewish-Italian experience. The fennel, which brings a mellow, slightly sweet crunch, was also warmly embraced by Italian Jews in their cooking, and combining both along with asparagus intrigued me. 
The original salad called for small artichokes, trimmed and added to the salad raw. In Italy, it's easier to get smaller artichokes, which are a bit milder. For ease, I used canned artichoke hearts instead, which add a welcome mild brininess and eliminate the need to hunt for and clean and trim artichokes that might end up making the salad bitter.
Speaking of bitter—radicchio! The original recipe featured it and those gorgeous swaths of dark red against its white leaves made it seem like a winning addition. However, I understand what is commercially available in the United States tends to be more bitter than Italian radicchio, and testing confirmed its bitterness overwhelmed this salad. Plus radicchio can be challenging to find at times. 
A better option for color and a pop of sweeter flavor turned out to be roasted red pepper strips. Thematically, they fit in nicely because they are another vegetable Italy's Jews early on adopted when it was introduced to Italy. And while I would never discourage you from roasting your own peppers, which is always superior, jarred roasted red peppers worked incredibly well in this recipe. 
Although the original didn't call for it and the salad doesn't need it, part-skim mozzarella added some heft, springy chew, and mild creamy flavor to the dish. However, if you need a nondairy version, the salad works beautifully without the cheese.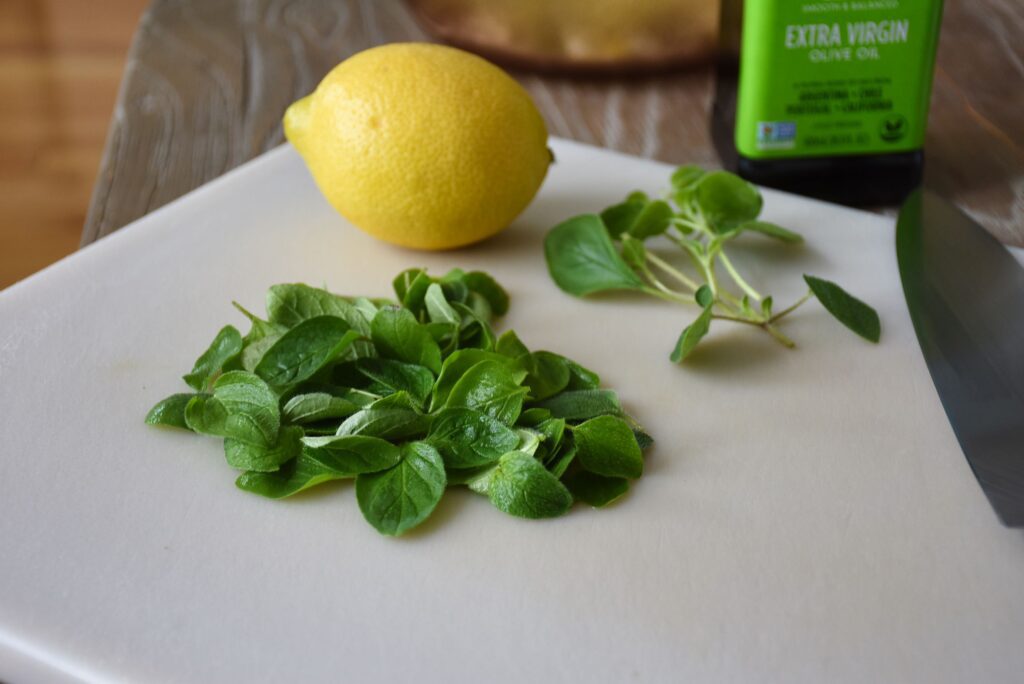 As for the dressing, I departed from the original balsamic and used a Sicilian-inspired lemon-oregano dressing here, which perfectly unites and accents the flavors of the ingredients. Herby fresh oregano gets a little extra punch from a smidge of dried oregano, and together they are a flavor dream team.
If you like fennel flavor, try the garnish of crushed fennel seeds. You can simply mince them with your chef's knife, or use a mortar and pestle—just don't crush them to powder, since a little texture is lovely. A very light sprinkle over the salad at serving time takes it right out of the park, but taste a little first to make sure you agree. Finally, this salad benefits from resting at room temperature for about 30 to 45 minutes after being tossed, which allows the flavors to meld.
It all comes together for a dish equally at home at a Passover Seder, a summer cookout, or a lunch table. And chilled leftovers, even when a little tired looking, will still tempt you for snacking right out of the fridge. In my book, that's a stellar salad.
Asparagus, Artichoke, Fennel, and Mozzarella Salad with Lemon-Oregano Dressing
The beautifully complementary flavors and textures of the asparagus, artichokes, and fennel create an extraordinary side or even main dish salad. Inspired by a Jewish-Italian recipe, this one gains mouthwatering nuance from the additions of mozzarella, roasted red pepper, and lemon dressing with well-rounded herbal flavor from both fresh and dried oregano. Fennel seeds minced into fine bits fabulously accent the vegetables; taste some on a small portion first to make sure you like the effect. Start making the dressing and prepping your ingredients while the water for the asparagus comes to a boil. For a vegan dish, omit the mozzarella.
Ingredients
Salad
1

bunch asparagus, preferably thin spears, washed and tough woody ends removed

1

small fennel bulb, stalks and bottom tough layer removed, thinly sliced into approximate 2-inch strands (about 1 cup) (see note)

1

14-ounce

can quartered artichoke hearts in water, drained

½

cup

jarred roasted red peppers, drained and cut into approximate 2-inch slivers

8

ounces

part-skim mozzarella, cut into approximate ½-inch cubes, optional

1

teaspoon

fennel seeds, minced or crushed, optional
Lemon-Oregano Dressing
2

tablespoons

fresh lemon juice, from about 1½ large lemons

6

tablespoons

extra-virgin olive oil

1/8

teaspoon

kosher salt, plus more to taste

Freshly ground black pepper to taste

1

tablespoon

minced fresh oregano (from about ¼ cup leaves)

1/8

teaspoon

dried oregano
Instructions
Place a large pot of salted water over high heat.

Meanwhile, finish prepping the other ingredients. Also make the dressing: Whisk together the lemon juice, olive oil, salt, pepper, fresh oregano, and dried oregano in a small bowl. Taste and add more salt, pepper, or lemon juice as needed. Set aside.

When the water is boiling, add the asparagus and blanch 1 to 2 minutes, until bright green and just crisp tender. Remove the asparagus with tongs and plunge into a dish of ice water to stop the cooking. Drain and cut into 2-inch pieces.

In a large bowl, toss the asparagus with the fennel, artichoke hearts, roasted red pepper, and mozzarella. Add just enough dressing to thoroughly coat, and toss until well combined. Let salad rest at room temperature 30 to 45 minutes.

Toss again, adding more dressing as needed. Serve on individual plates and sprinkle servings with a very light dusting of fennel seeds if using.
Notes
To slice the fennel after removing the stalks and tough bottom layer, cut the bulb in half from the stalk end to the root end. Turn the flat, cut sides down and slice into thin pieces, setting aside any tough or green parts along with the stalks for another use, such as soup stocks. You can also use the fennel fronds for a garnish if you like.