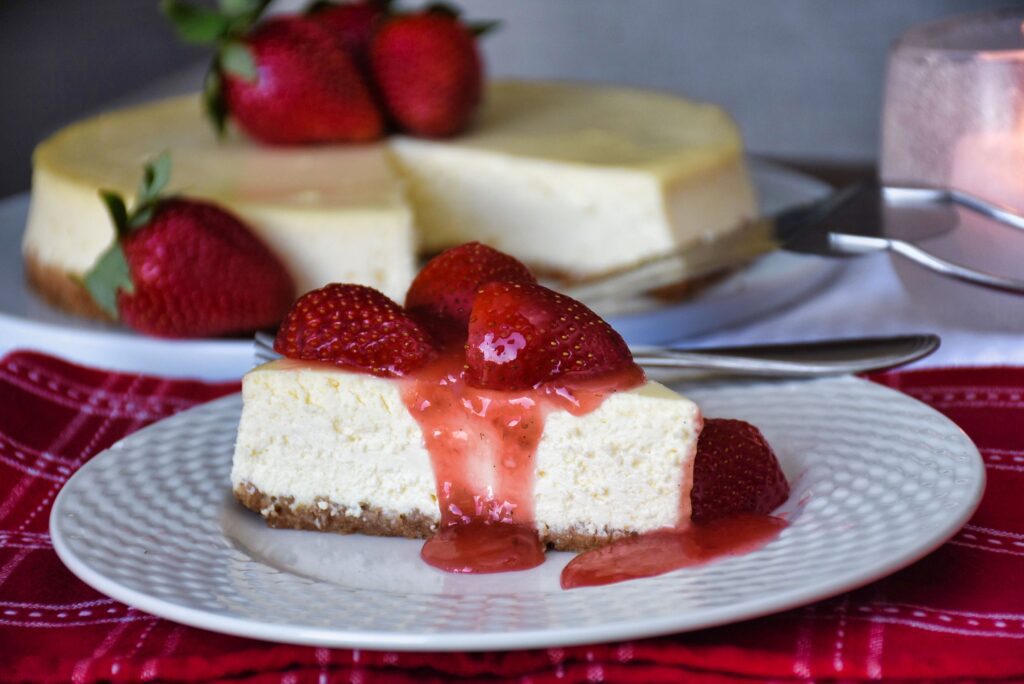 A creamy cheesecake, especially topped with beautiful fruit, almost always delights everyone. Did you know that it became an essential Jewish classic decades ago? In the 1930s, Jewish bakers substituted a relatively new product—cream cheese—along with sour cream for the more-typical-at-the-time cottage cheese in their baked custards, and the New York-style cheesecake was born. The cool, luscious, creamy cake became a sensation, so much so that of course today we even have a restaurant chain—The Cheesecake Factory—specializing in it.
Although cheesecakes might appear daunting to make, they aren't. The ingredients list is blissfully short—mainly cream cheese, sour cream, eggs, and vanilla. Plus there is usually a graham cracker or cookie crust like you would use for a pie. The challenge comes in keeping the cake smooth and creamy, and for that, a few things help:
• room temperature eggs and cream cheese, plus sour cream that has been sitting on the counter for about 30 minutes.
• a good springform pan for easy release of the baked cake.
• baking at a lower temperature on the lower rack of your oven—if the cheesecake is browning, you can slow that by placing a piece of aluminum foil very loosely on the rack above it, though this will likely lengthen baking time.
• for extra creamy cakes, wrap the pan in a double layer of heavy duty aluminum foil and place in a larger baking pan, then fill with boiling water until it reaches halfway up the sides of the springform—this water bath will keep the filling nice and smooth.
Cheesecakes are also very versatile. Make them gluten-free by using GF cookies for the crust, or simply omit the crust, a good option for Passover. Top them to your liking. Fresh fruit is pretty, but crushed chocolate candy, crumbled cookies, chocolate or caramel sauce, and fruit compotes also taste delicious atop a cheesecake. Another bonus is that cheesecakes are best made 24 hours ahead. 
Below is my cheesecake recipe from The Essential Jewish Cookbook with the addition of my longtime recipe for a simple but wonderful strawberry glaze.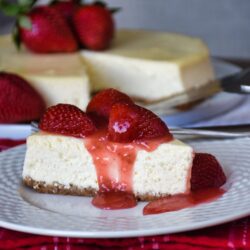 When cream cheese was invented in New York in 1872, Jewish bakers used it on more than just bagels. It made flakier pastry dough and became a substitute (with sour cream) for cottage cheese previously used in cheesecake. Thus, New York–style cheesecake was born. Cheesecake wows crowds year-round, but is especially welcome for dairy-centric holidays like Hanukkah and Shavuot. This super-creamy version pairs beautifully with fruit. The crust and filling recipes are from The Essential Jewish Cookbook.
Ingredients
For the Crust
4

tablespoons

(1/2 stick) melted butter, divided

1½

cups

crushed graham crackers, from about 10 full crackers

1

tablespoon

light brown sugar

1/8

teaspoon

ground cinnamon

½

teaspoon

vanilla extract
For the Filling
2

8-ounce packages cream cheese, room temperature

⅔

cup

sugar

1

tablespoon

cornstarch

3

eggs, room temperature

2

teaspoons

vanilla extract

¼

teaspoon

kosher salt

3

cups

sour cream

1 to 2

pounds

strawberries, sliced or quartered (optional)
For the Optional Strawberry Glaze
⅔

cup

sugar

1½

tablespoons

cornstarch

⅛

teaspoon

salt

1

cup

sliced strawberries, crushed

¼

cup

water
Instructions
To Make the Crust
Adjust the rack to the lower third of the oven and preheat to 325°F. (Do not use convection bake setting). Coat the sides and bottom of a 9-inch springform pan with 1/2 tablespoon of the melted butter. Line the bottom with parchment paper cut to size and brush with ½ tablespoon of butter.

In a medium bowl, combine the graham crackers, brown sugar, cinnamon, vanilla, and remaining 3 tablespoons of butter. Press evenly into bottom of the springform pan.
To Make the Filling
In a large bowl with an electric mixer, beat the cream cheese and sugar on low speed just until smooth. Blend in the cornstarch. Add the eggs, one at a time, beating at low speed until just incorporated, then fold in the vanilla extract, salt, and sour cream.

Pour the mixture into the crust and smooth the top. Tap the pan a few times on the counter to release any air bubbles. Place the pan on a sheet pan.

Bake 40 to 50 minutes, until the edges are set, but the center 3 inches still wiggle. (An instant-read thermometer should read 155°F when inserted in the center.)

Cool completely on a wire rack, then refrigerate, covered, at least 6 hours and up to 2 days. Remove the springform and serve chilled, garnished with strawberries and glaze (if using).
To Make the Glaze
Combine the sugar, cornstarch, and salt in a small saucepan. Stir in the berries and water. Cook over medium-low heat, stirring constantly until thickened and somewhat clarified. Reduce heat to low and continue to cook, stirring constantly, 2 more minutes. Strain if desired.
Notes
This recipe gets great results without baking the cake in a water bath (placing the pan, well wrapped in aluminum foil, inside a larger pan filled about ½ way with hot water). But if you want an especially creamy cake with less browning, you might want to try a water bath (used for the cake pictured here). Just remember any time you deviate from a written recipe, the baking time might change.