Jump to recipe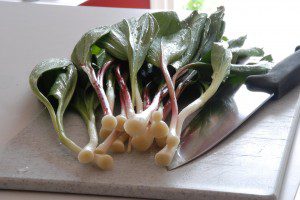 No matter what cuisine you favor, if you love eating local, seasonal food grown with minimal impact on the earth, ramps are for you. The short season for these wild-growing cousins of leeks is right now, and it might be hard to see what all the fuss is about until you try them yourself. More garlicky and robust than leeks, they lend a unique flavor to anything in which you might enjoy onions and garlic. And I think we savor the flavor all the more knowing that the opportunity to enjoy it is limited to just a few weeks a year. My first instinct is to use ramps in risotto, and I think they would be fantastic in scrambled eggs or frittatas—or matzah balls or latkes, for that matter.
They are so prized in West Virginia where I just bought some that the people at the farmer's market stand won't tell you exactly where the ramps grow, other than "around here" in an area only accessible by canoe. So if you live east of the Mississippi and north of South Carolina, look for ramps in your farmer's markets—and it's okay to be delighted when you find them. The farmer will just smile knowingly at you.
Ramp Risotto

There are many ways to enjoy ramps (wild leeks) in their brief season, but I think risotto provides an ideal canvas for their garlicky, earthy, oniony beauty. Although you can cook the edible and flavorful leaves along with the bulbs and stems, I prefer to roast the greens—which deepens their flavor and makes them deliciously tender—while my risotto cooks. Before serving, you can stir the leaves into the risotto but I think they work best as a topping on individual servings. Want to get a little decadent? Use a little less Parmesan in the risotto and add a smattering of shredded smoked Gouda just before you top with the roasted greens. It will melt into a smoky cheesy layer.

Notes
* You may substitute chicken broth for the vegetable broth if not keeping kosher.

Ingredients
4 cups (32 ounces) vegetable broth *
1 large bunch (about 12 individual) ramps
Extra-virgin olive oil
Kosher salt and freshly ground black pepper
1 1/2 cups Arborio (short-grained) rice
1/2 cup (generous) light-bodied white wine, like pinot grigio or sauvignon blanc
1/2 cup freshly grated Parmesan cheese, plus an additional tablespoon or so for garnish
1/3 cup shredded smoked Gouda cheese (optional)
Instructions
Heat broth to steaming but not boiling in a medium-sized pan over medium heat. Preheat oven to 350 degrees and line a rimmed baking sheet with foil and set aside.
Wash ramps thoroughly, remove and discard the roots, and chop the bulbs and stems (you should have ¾ to 1 cup chopped ramps). Reserve the leaves.
Heat a thin layer of olive oil in a medium saucepan over medium heat. Add the chopped ramps, season lightly with kosher salt and black pepper, and cook stirring constantly 2 to 3 minutes, until just softened. Add rice (and additional oil if mixture seems dry) and stir to coat. Continue stirring for 1 to 2 minutes until the rice begins to turn translucent on the edges. Add wine, stirring until liquid is almost absorbed.
Stir in a couple of ladlefuls of broth, keeping the mixture at a simmer and stirring every few minutes or so, until the liquid is almost all absorbed, then repeat.
While the risotto is cooking, tamp the ramp leaves dry with a towel and coarsely chop them. Toss them with olive oil and spread them evenly on the prepared baking sheet. Transfer to the oven and roast for about 15 minutes, stirring the leaves about every 5 minutes, until limp and one or two pieces are starting to dry out (don't cook after that or the leaves might start to burn). Remove from oven and set aside.
The risotto is done when you've used all the broth or the rice is tender with resistance just in the middle—whichever comes first—all told about 20 minutes.
Remove risotto from heat, and stir in the Parmesan cheese. Spoon into individual bowls and top with a mound of the roasted ramp leaves and a sprinkle of Parmesan. If you are using the Gouda, scatter it lightly across the risotto before topping with the leaves.
© 2023 Copyright Marcia A. Friedman - www.meatballsandmatzahballs.com