Jump to recipe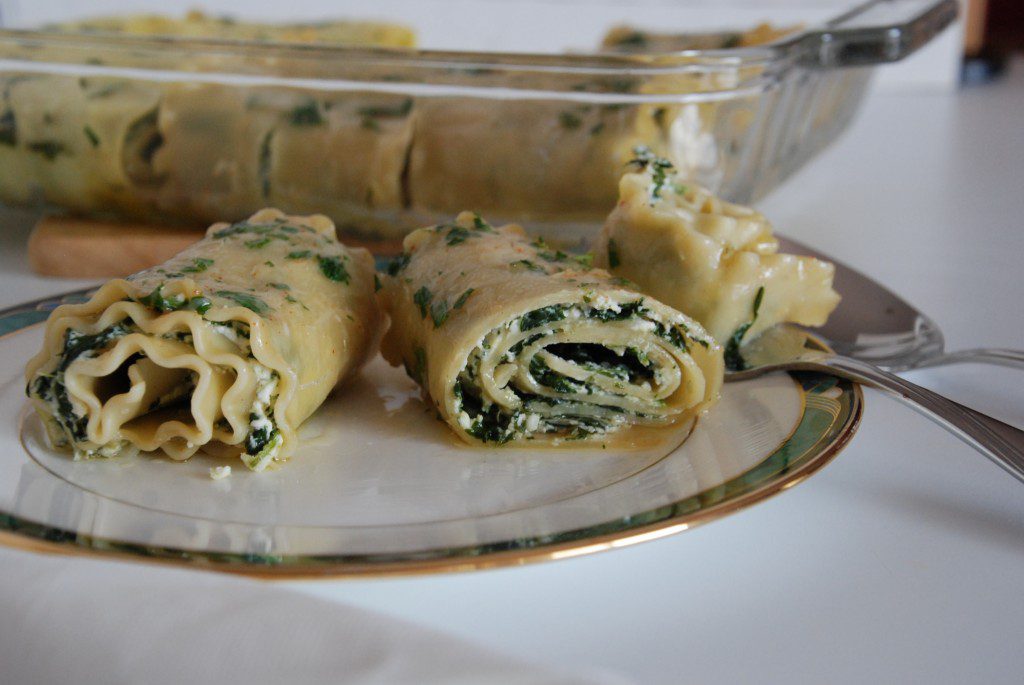 Although they are scrumptious, hamantashen aren't the only thing to enjoy for the holiday of Purim, beginning sundown on March 4. After all, you need a little something to counterbalance all that sugar, right?
According to culinary historian Gil Marks, one traditional Jewish-Italian dish for the holiday is the Venetian Spinach Pasta Roll. This is a sheet of thin pasta dough filled with cooked, chopped spinach, then rolled into a log, wrapped snugly in cloth or plastic, and poached. After that, you can slice it into 1-inch rounds and bake.
This dish resembles many other traditional Purim foods in that it features a filling (think hamantashen, kreplach, buricche, meat turnovers—all Purim delicacies from around the world). Those slightly hidden fillings might represent the secrets and surprises in the Purim story, in which Esther foils a plot by the King's adviser to kill all the Jews in ancient Persia.
The spinach rolled inside pasta intrigued me, but I wanted to see whether I could make a good rendition faster and with fewer steps. That way, it wouldn't just be a recipe for a special occasion.
I opted for the variation with spinach, ricotta, and Parmesan filling (rotoli di pasta con spinaci e formaggi). Then I borrowed some ideas and techniques from another classic Jewish-Italian recipe for pasta rolls that resemble cannelloni, in which small sheets of pasta spread with cheese are rolled up jellyroll style and baked with butter. To simplify matters, for the pasta, I used lasagna noodles, and for the filling, frozen spinach and one container of good-quality ricotta.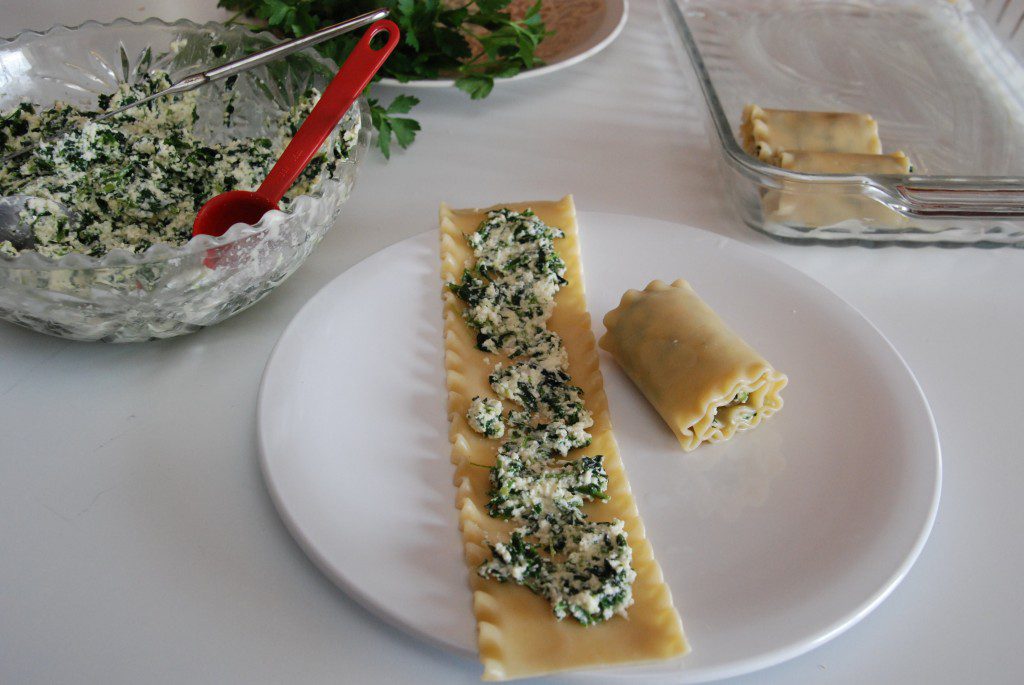 The flavor of the dish rounds out with garlic and some freshly grated nutmeg. Now you might be wondering about a sauce. These don't get smothered in a heavy tomato sauce—and for good reason. Without an overwhelming blanket of acidity and tartness, the spinach, garlic, cheese, and butter get a chance to work their charms. And that they do. I love this recipe and I find these rolls irresistible hot out of the oven—a light robe of butter and cheese gives way to chewy pasta, which then reveals the luscious spinach filling.
Besides being so pleasurable to eat, the dish is pretty and festive for a holiday, but easy enough to do anytime. If you have leftovers, the little rolls become quite firm in the fridge and can be a great grab and go lunch the next day. And hot or cold, they make a consistently fabulous pre-hamantashen course.
Spinach and Ricotta Pasta Rolls

A traditional Jewish-Italian Purim recipe for pasta rolled with spinach and sometimes cheese gave inspiration for these updated rolls. A creamy spinach-ricotta-Parmesan filling spiked with garlic and nutmeg gets rolled up in lasagna noodles to become cute little packages enrobed with butter and baked. Just warning you now, you won't be able to eat just one. This recipe relies on good flavor, so it's worth seeking out good-quality ricotta (among more widely distributed brands, I prefer Bel Gioioso), Parmigiano-Reggiano cheese, and fresh nutmeg that you grate right before using. I think a touch of cayenne pepper in the butter sauce gives a little depth and nice color, but you can omit it if you prefer.

Ingredients
For the pasta rolls
1/2 tablespoon unsalted butter
1 box (1 pound) dry lasagna noodles
1 10-ounce package frozen chopped spinach, thawed and liquid pressed out (a fine mesh strainer works well)
1 container (15 or 16 ounces) whole milk ricotta, any excess liquid drained
3/4 cup finely shredded Parmesan
1 large egg, lightly beaten
2 cloves garlic, crushed
1/2 teaspoon freshly grated nutmeg
1/2 teaspoon kosher salt
1/8 to 1/4 teaspoon freshly ground black pepper, or to taste
For the topping
4 tablespoons unsalted butter
1/4 teaspoon (scant) kosher salt
2 to 3 shakes (about 1/16 teaspoon) ground red (cayenne) pepper (optional)
1 tablespoon finely chopped fresh Italian parsley
1/4 cup finely shredded Parmesan
Instructions
Preheat the oven to 350 degrees and butter the bottom of a 9- by 13-inch glass baking dish. Cook the lasagna noodles according to the package directions. If not using them immediately, lay them out on a piece of parchment paper or nonstick foil so they don't stick together.
While the pasta cooks, combine the spinach, ricotta, Parmesan, egg, garlic, nutmeg, salt, and pepper in a medium bowl.
Spread about 2 tablespoons of the spinach mixture over each noodle. Starting with a short side, roll up jellyroll style and place the rolls seam side down without touching in the prepared baking dish. You should be able to fit about 16 rolls in your dish (you might have a few noodles leftover).
Make the topping by melting the butter and then stirring in the salt, ground red pepper, and parsley. Spoon this mixture over the tops of the pasta rolls. Sprinkle with ¼ cup Parmesan. Cover the dish tightly with aluminum foil and bake 35 minutes, until piping hot all the way through (the centers should read 160 degrees on an instant-read thermometer). Let rest a few minutes before serving.
© 2023 Copyright Marcia A. Friedman - www.meatballsandmatzahballs.com