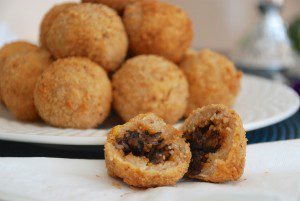 Matzah balls are one of the most iconic foods of modern American Jewish cuisine—and that's of course how they became part of the title of my cookbook, Meatballs and Matzah Balls. So believe me when I say that I don't mess with them lightly. But although I love them in their classic form in a bowl of chicken broth, their relatively simple flavor has enticed me to create other iterations. Cookbook readers know I have a signature recipe of meatball-stuffed matzah balls. But after finding recipes for Italian savory deep-fried stuffed dumplings and discovering in Joan Nathan's  Jewish Cooking in America that deep-frying seems to have been a common way of cooking dumplings (including matzah balls) in the nineteenth century, I started thinking that filled, crunchy, deep-fried matzah balls seemed too good not to try to engineer. And so the creative work began.
I'm delighted with the result—my newest original recipe, Mushroom-Stuffed Matzah Ball Fritters, which you can find on the Jewish Food Experience Web site as part of JFE's Passover Recipe Round-Up.
Before you jump over, though, here's a sneak peek at some of the steps:
Saute mushrooms, garlic, and parsley (and add a little tomato paste) for the savory filling.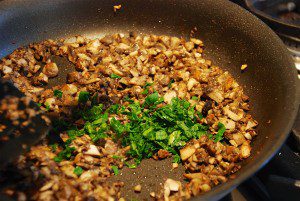 Make a thick matzah dough and enclose the filling.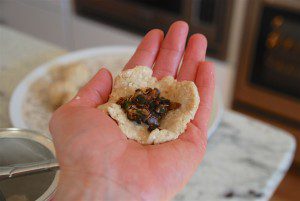 Roll into a tight ball, roll in beaten egg, and then coat in matzah meal (this ensures they stay together during frying and emerge with a crunchy coating).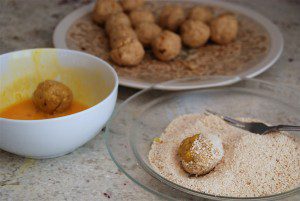 Fry in hot oil.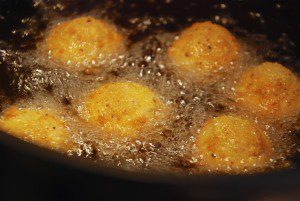 Serve and enjoy (the fun part!).