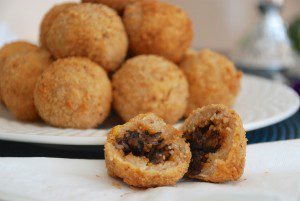 Matzah balls are one of the most iconic foods of modern American Jewish cuisine—and that's of course how they became part of the title of my cookbook, Meatballs and Matzah Balls. So believe me when I say that I don't mess with them lightly. But although I love them in their classic form in a bowl of chicken broth, their relatively simple flavor has enticed me to create other iterations. Cookbook readers know I have a signature recipe of meatball-stuffed matzah balls. But after finding recipes for Italian savory deep-fried stuffed dumplings and discovering in Joan Nathan's Jewish Cooking in America that deep-frying seems to have been a common way of cooking dumplings (including matzah balls) in the nineteenth century, I started thinking that filled, crunchy, deep-fried matzah balls seemed too good not to try to engineer. And so the creative work began.
I'm delighted with the result—my Mushroom-Stuffed Matzah Ball Fritters.
Before you jump over, though, here's a sneak peek at some of the steps:
Saute mushrooms, garlic, and parsley (and add a little tomato paste) for the savory filling.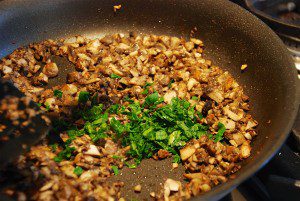 Make a thick matzah dough and enclose the filling.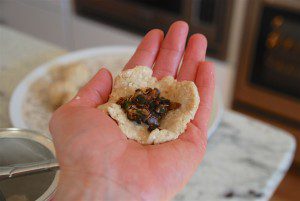 Roll into a tight ball, roll in beaten egg, and then coat in matzah meal (this ensures they stay together during frying and emerge with a crunchy coating).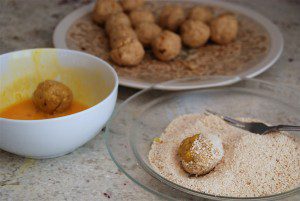 Fry in hot oil.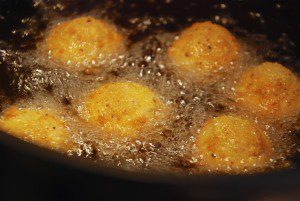 Serve and enjoy (the fun part!).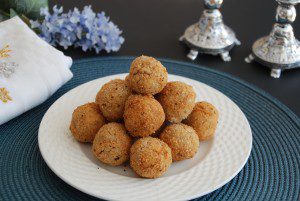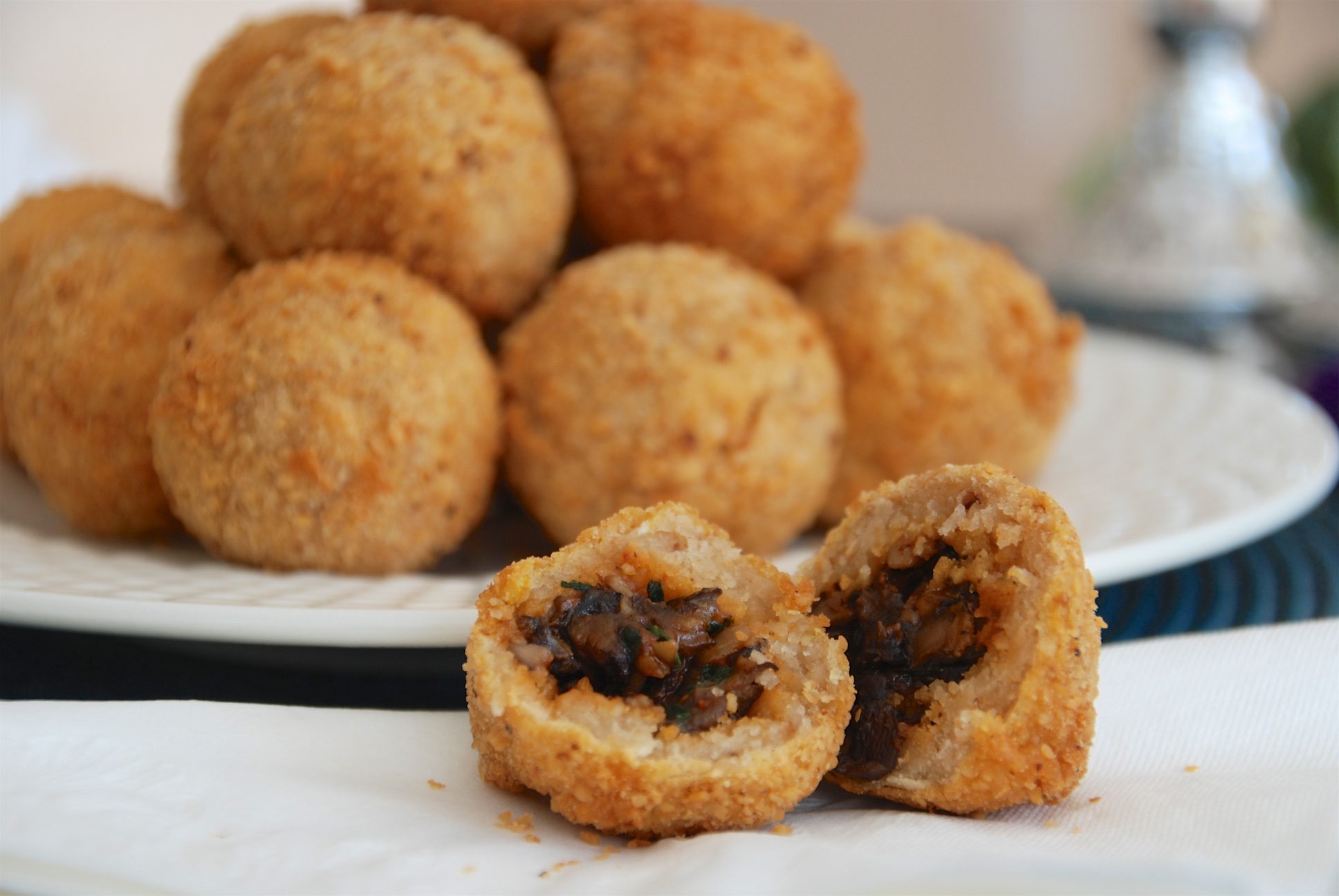 Mushroom-Stuffed Matzah Ball Fritters
In the spirit of fried filled Italian dumplings, here are deep-fried and mushroom-stuffed matzah balls, which work beautifully as an appetizer or side dish. These are firmer and delightfully crisper than their soup-borne cousin—and literally full of flavor thanks to the classic Italian mixture of mushrooms, garlic, and parsley, with tomato paste for additional depth. Made without meat, these can be served with any meal. For a dairy option, you can add some Parmesan or other cheese to the filling for extra flavor and creaminess—but these matzah fritters are good either way. If you are cooking with kids, they might enjoy helping you fill and roll the balls, and you can let them forage the kitchen for something they would like to try inside the matzah dough.
Ingredients
Filling
8

ounces

cremini or baby portabella mushrooms, coarsely chopped (about 2½ cups)

2 to 3

large cloves of garlic, minced

Extra-virgin olive oil

Kosher salt to taste

Freshly ground black pepper to taste

1

tablespoon

tomato paste, preferably no-salt added

2

tablespoons

finely chopped fresh Italian parsley

1 ½

tablespoons

finely shredded Parmesan cheese, optional
Dough
½

cup

plus 2 tablespoons matzah cake meal

½

cup

plus 2 tablespoons matzah meal, plus another ½ cup for coating

¼

cup

potato starch

1

teaspoon

kosher salt

1/8

teaspoon

black pepper or more to taste

½

teaspoon

kosher for Passover baking powder

2

tablespoons

extra-virgin olive oil

¾

cup

lukewarm water plus more as needed

1

large egg, lightly beaten

About 1 quart of your preferred vegetable oil for frying
Instructions
For the Filling
Heat a medium skillet over medium heat. Add a layer of olive oil (about 1 tablespoon) and when hot, add the garlic, stirring constantly until it turns fragrant and pale golden, 30-60 seconds. Quickly stir in the mushrooms and turn the heat up a notch. Sprinkle with salt and pepper to taste.

Cook stirring frequently, until the mushrooms shed their juices and excess moisture evaporates, about 5 minutes. Stir in the tomato paste and parsley (and cheese, if using) until well combined and remove from heat. Taste and add additional salt and pepper as needed. Set aside.
For the Fritters
In a medium bowl, stir together the matzah cake meal, matzah meal, potato starch, salt, pepper, and baking powder. In a separate bowl, lightly whisk the oil and water. Gradually stir the matzah mixture into the oil mixture to form a workable dough that you can gather in a ball. It it's too crumbly, knead in more water ½ tablespoon at a time (and if it's too wet, add a little more matzah cake meal).

To form the balls, take about 1 tablespoon of dough and flatten it in your hand to an approximate 3-inch circle (it doesn't have to be perfect!). Spoon in about 1 teaspoon of mushroom filling and gently enclose it, pinching the dough to seal any cracks and rolling it into a ball. Set finished ball aside on a plate. Repeat with remaining dough and filling.

In a Dutch oven or other large deep-sided pan for frying, begin heating 1 to 1 ½ inches of oil to about 360 degrees.

Meanwhile, place the beaten egg in a small bowl and ½ cup regular matzah meal (not cake meal) in another bowl. Roll each ball in the beaten egg and then the matzah meal to coat. When the oil is heated, gently drop in as many balls as will fit without crowding the pan. Fry, turning frequently, about 4 minutes until golden brown and hot all the way through. Remove to a paper towel–lined plate. Finish with remaining balls.

Let the matzah fritters rest for at least 5 minutes before serving.

If you need to hold them longer before serving, place them on a wire rack over a baking sheet in a 200-degree oven.
Notes
The cooked fritters can also be frozen and reheated in a 350-degree oven. Place frozen fritters on a wire rack over a baking sheet, and bake about 20 minutes.
The filling makes just enough to fill the balls; if you don't like cutting it that close, throw in a few extra mushrooms. Also, different brands of matzah meal and matzah cake meal vary in their consistency; adjust the amount of water added to the dough as needed.