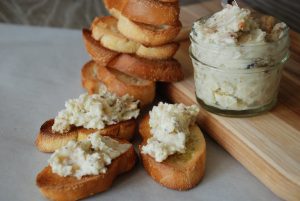 Good-quality cheese hardly needs much adornment or tinkering at all, and that's always welcome on the menu. I think that's why in leafing through Joyce Goldstein's Cucina Ebraica (a wonderful collection of recipes from Italy's Jews), her recipe for crostini with cheeses and hazelnuts kept stopping me. A little piece of toast, some gorgonzola and mascarpone cheese, some hazelnuts, and, well, that's about it. It sounded delicious and crowd-pleasing, simple yet special.
When I decided to make it, I had a few adjustments in mind. One, I'll confess, was driven by a bit of stubbornness. One of the kitchen tasks I find annoying is skinning hazelnuts (even though it is not hard to do). I wanted simple, so I tried this recipe with pistachios, but their flavor was overwhelmed by the cheese. The same happened for walnuts and pecans. Indeed, the hazelnut (nocciola), which is cultivated in Italy, had just the right rich, sweet, buttery roasted flavor and firm crunch for the cheese. Toasting and skinning a small handful of hazelnuts was indeed worth the extra few minutes.
The original recipe also called for equal parts mascarpone and gorgonzola. However, because gorgonzola is so strongly flavored, I wanted to moderate that some. I used twice as much mascarpone, and I like how the robust flavors of the gorgonzola come through but in a softer way. A bonus of this is that it creates enough cheese topping to go with an entire typically sized baguette sliced into ½-inch pieces.
A couple of other minor departures—spreading my best olive oil on the toasts before adding the cheese subtly enhanced the flavor as did just a few flakes of coarse salt over top of the gorgonzola mixture.
I love the contrasting creamy-crunchy textures in each bite, and how the ingredients contribute incredible rich flavors of Italy that work together beautifully. I have a whole tray of lusciously creamy crostini, all with just a little effort.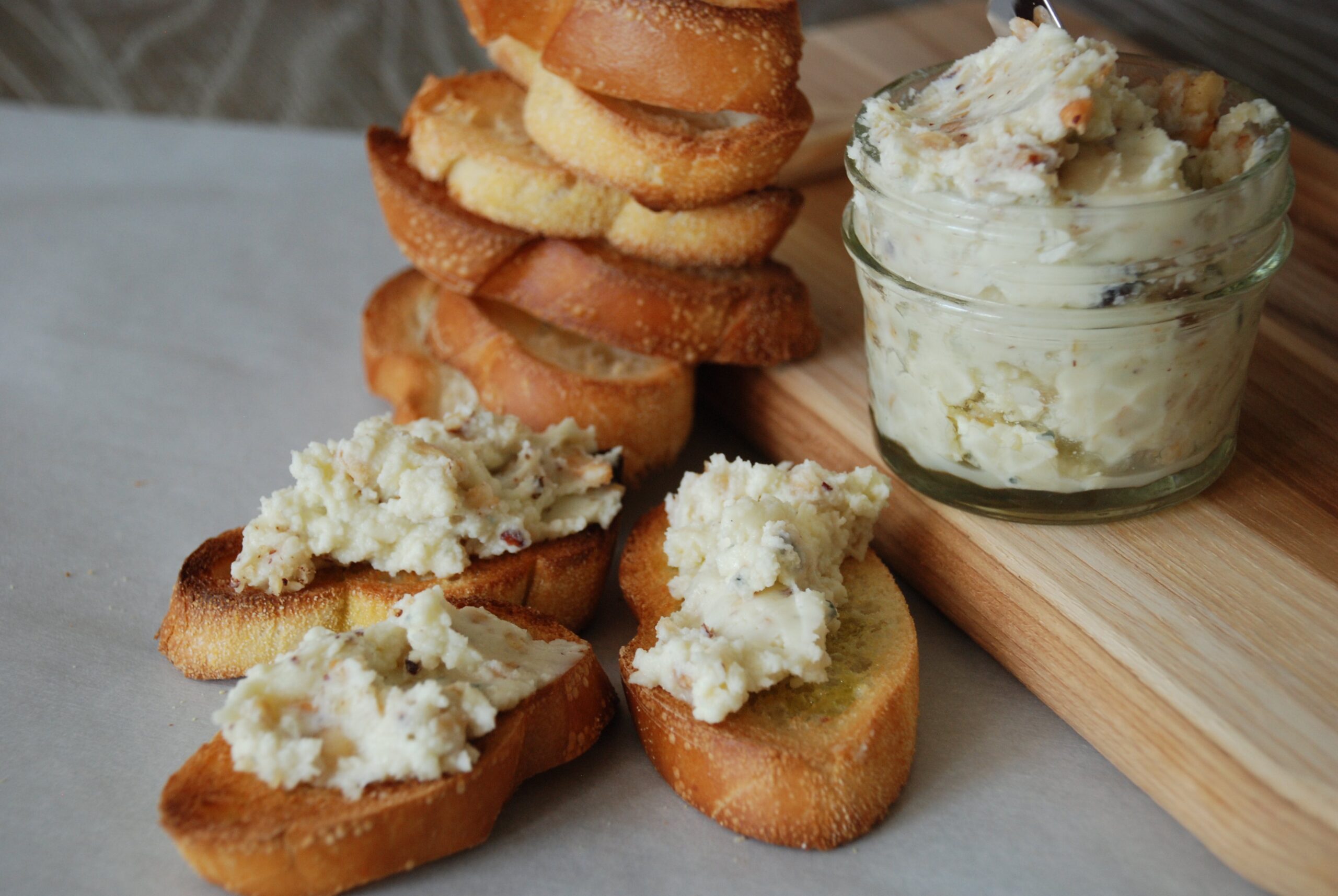 Gorgonzola-Hazelnut Crostini
Crostini are a lovely and simple Italian appetizer in which small toasted bread slices are topped and transformed into something pretty special. That certainly happens here when you simply combine some sweet and flavorful Italian cheeses and toasted hazelnuts and spread this mixture on freshly toasted baguette slices. This recipe is adapted from one in Joyce Goldstein's Jewish-Italian recipe collection, Cucina Ebraica. The recipe yields enough topping for about 1 baguette's worth of toast slices.
Ingredients
1/3

cup

hazelnuts

1 8-

ounce

container mascarpone

½

cup

¼ pound soft gorgonzola, preferably gorgonzola dolce

1

baguette, sliced into 1/2-inch-thick pieces

Extra-virgin olive oil

Coarse kosher or sea salt for sprinkling
Instructions
Preheat oven to 350 degrees. Spread the hazelnuts on a baking sheet and toast them in the oven, jostling the pan every few minutes, until they are lightly browned and giving off a nutty aroma, about 8 to 10 minutes. Remove and transfer the nuts to a clean kitchen towel. Enclose them in the towel and rub as hard as you can to loosen the skins (though it's okay if some hazelnut skins remain on). Discard the skins. When the nuts have cooled slightly, coarsely chop them and set aside.

Preheat the broiler.

In a medium bowl, use a heavy spoon to mix together the mascarpone and gorgonzola until just combined (do not overmix). Gently stir in the chopped hazelnuts.

Arrange the bread slices on a baking sheet and broil a few minutes on each side until golden brown. Remove from oven. Brush slices lightly with olive oil and spread about 1 tablespoon of gorgonzola mixture on each slice. Sprinkle each with just a few flakes of coarse salt. Serve immediately.