Jump to recipe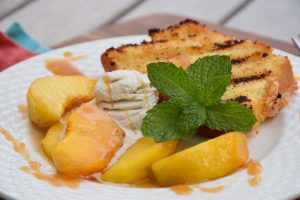 Come August, peaches are ready for their close up. The market bins overflow with the colorful, fragrant fruit, and I find it hard to resist their call. Just this week, I took home peaches almost as large as softballs and every bite was sweet and juicy. Although I love making sangria out of them, they are almost too good for that right now.
Perhaps that's why I had repeat visions of a simply beautiful dessert by Chef Karen Valentine at Christopher Place Resort near the Smoky Mountains a few weeks ago. Out came a plate with buttered grilled pound cake and a small mound of sliced peaches macerated with peach schnapps and brown sugar. Both were snuggling up to a baby-sized scoop of vanilla ice cream, which looked small but turned out to be just the right amount of cool creaminess without overwhelming the other mild buttery flavors. She pulled it all together with a drizzle of balsamic reduction.
It in its simple, flavorful beauty, it paid tribute to the classic Italian approach to desserts, which is often fruit only or fruit forward, featuring seasonal fruit sometimes soaked in syrup or liqueur. Although cake and ice cream wouldn't be typical after a big multi-course meal, they offer complementary flavor and nicely contrasting textures.
Peaches might seem like an Italian fruit, but the tree is originally from China. The sweet orbs made their way to Persia (which is how they got their name, Persian Apple) and were then imported by the Romans. Later they made their way to the new world. And I am grateful for that.
Right now, they are ubiquitous and amazing, so I set out to recreate Chef Valentine's dessert. The beauty of it is that you can simplify it and pull it together in no time with store-bought cake if you like. If you need a gluten-free dessert, you can macerate the peach mixture in wine or cognac, and it is wonderful on its own or with ice cream or gelato without the cake.
Although it seems like we are drowning in peaches at the moment, they will be gone before we know it (I already see the apples creeping into their space at the market—not that I mind, I'm just not ready). Enjoy their spectacular flavor early and often. Here, plus in that sangria, too.
Spiked Peaches with Grilled Pound Cake

Ripe peaches at their summer's best can almost be dessert on their own. But if you spike them just a bit with schnapps and serve them with lightly grilled and buttered pound cake and a little ice cream, they become superstars. This recipe is inspired by one by Chef Karen Valentine at Christopher Place Resort. Hers included a drizzle of balsamic reduction, which is an outstanding touch, but you can keep it simple with caramel sauce instead.

Ingredients
1 loaf pound cake (see recipe or use store-bought), sliced into ¾-inch pieces
4 to 5 large ripe yellow peaches, peeled and sliced (about 4 to 5 cups)
1 to 2 teaspoons peach schnapps
1 to 2 teaspoons light brown sugar
3 tablespoons unsalted butter, melted
vanilla ice cream or gelato
¼ cup caramel sauce for garnish (optional)
Instructions
Preheat a grill, toaster oven, or broiler.
Toss the sliced peaches with schnapps and brown sugar to taste and let sit at room temperature.
Lightly toast the cake slices. Remove from heat and lightly brush the tops with melted butter.
Arrange slices on serving plates. Stir the peach mixture well and then add about ½ cup peaches and juice and a small scoop of ice cream to each plate. Drizzle with caramel sauce if using.
Serve immediately.
© 2023 Copyright Marcia A. Friedman - www.meatballsandmatzahballs.com