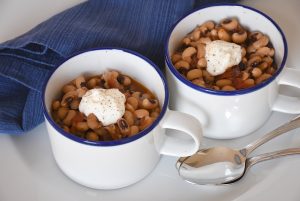 One dish I hadn't thought of as a Rosh Hashanah dish? Black-eyed peas. But it turns out that a stew of these creamy legumes with the signature black dot has a long history as a symbol of abundance for Rosh Hashanah, especially in Egypt and Turkey.
Long before America was even colonized, Jews in Egypt and Turkey traditionally served the legumes for the Jewish new year. The peas also grew well in eastern Africa and became an important crop there. Although scholars differ on exactly how black-eyed peas became a January 1 tradition in the United States, one study suggests that the practice likely first comingled in the Caribbean, where African slaves may have adapted the new year idea from Sephardic Jews making the dish for Rosh Hashanah.
For a dish for my modern Rosh Hashanah table, I developed a vegetarian version that features the tomatoes, onion, and garlic prominent in Egyptian and Turkish recipes. To capture that smoky meaty flavor of the stews of the American south—without the ham hocks, of course—I added smoked salt and canned chipotle chile with some of its smoky adobe sauce. The resulting stew is so richly satisfying and flavorful it could be a vegetarian main dish, especially served over rice or even polenta (a nod to the practice of Caribbean Jews, who served it over cornmeal mush). It of course could also take its place as part of seder.
But perhaps I'm most drawn to using it—to mark a holiday about new beginnings—as an appetizer, served in small mugs. That way, I can bring a new, flavorful, history-steeped wish for good luck to the holiday celebration right out of the gate.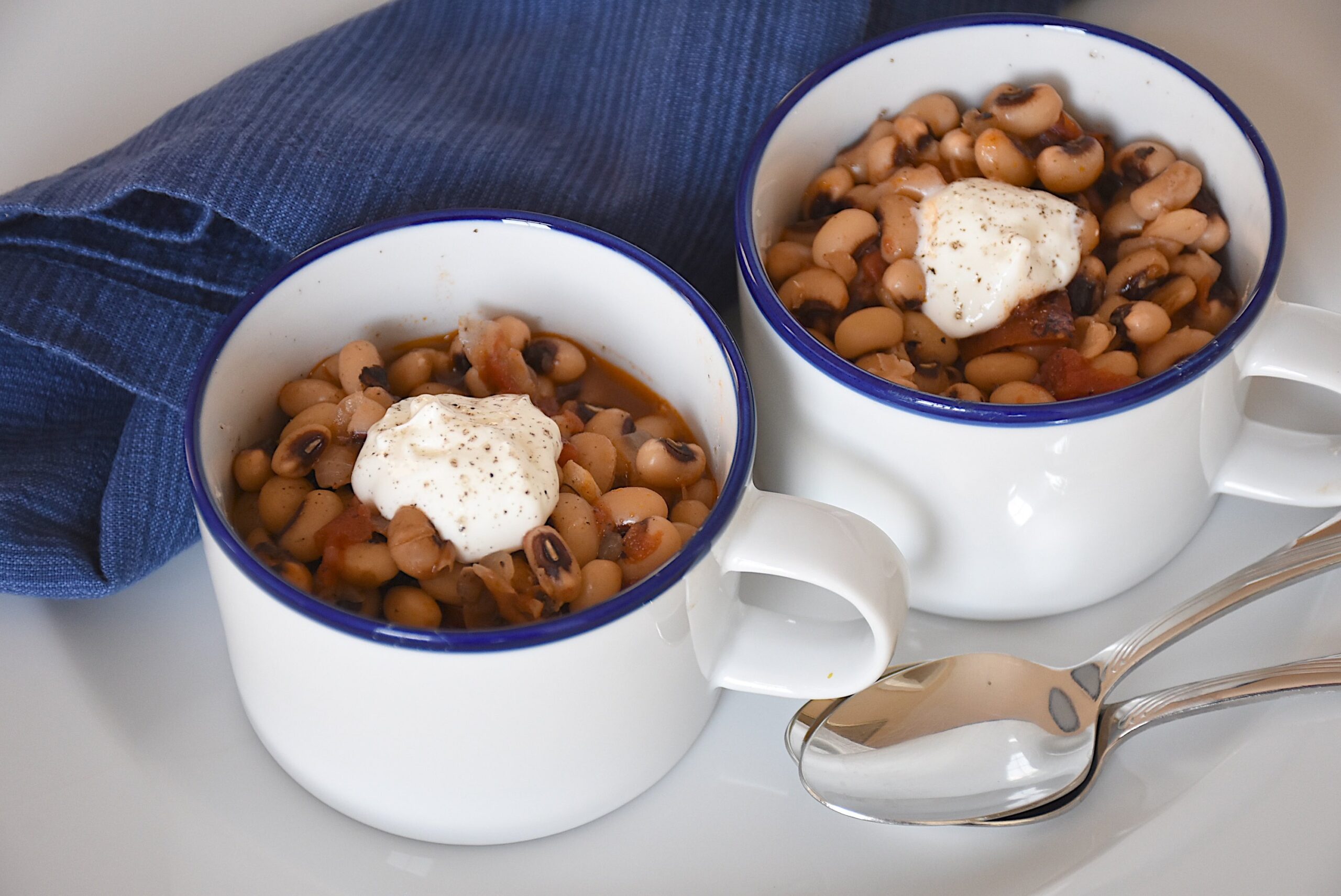 Spicy-Smoky Black-Eyed Peas
Traditional flavors of tomatoes, onions, and garlic meet nontraditional smoked salt and chipotle pepper for a spectacular smoky and spicy vegetarian version of black-eyed peas—a symbolic Rosh Hashanah food in some Sephardic Jewish communities. A dollop of labne (optional) nicely unites the flavors and nods to the stew's Middle Eastern roots. Serve as a side dish, or for a main course, serve over rice or polenta.
Ingredients
Extra-virgin olive oil

1

large yellow onion, chopped

Smoked coarse salt

Freshly ground black pepper

4

garlic cloves, finely chopped

1

tablespoon

red wine vinegar

1 14.5-

ounce

can no-salt added diced tomatoes with juices, preferably fire-roasted

1

large chipotle chile pepper in adobe sauce, minced, with ½ tablespoon of adobo sauce

1

pound

dried black-eyed peas, soaked in cold water overnight and drained and rinsed (see note)

1

bunch scallions, thinly sliced for garnish (optional)

Labne or sour cream (optional)
Instructions
In a large Dutch oven, heat a layer of olive oil over medium heat. Add the onion and season lightly with smoked salt and black pepper and cook, stirring frequently, until softened and deep golden brown, 5 to 8 minutes. Add the garlic, and cook stirring constantly until fragrant, about 1 minute. Add the vinegar, tomatoes, chipotle chile, ½ tablespoon of reserved adobo sauce, black-eyed peas, 1 1/4 teaspoons smoked salt, and black pepper to taste. Add water to cover by ½ inch.

Bring to a boil and then reduce to a gentle simmer. Cover and cook for about 2 hours until beans are tender, adding water if needed to slightly cover the beans. Remove from heat and taste and adjust seasonings.

Garnish servings with a sprinkle of sea salt, and if desired, with scallions and/or a spoonful of labne or sour cream.
Notes
Before soaking the black-eyed peas, remove and discard any discolored, shriveled, or broken beans plus any pebbles or other matter. (To soak, put black-eyed peas in a large pot and cover with about 4 inches of cold water. Soak overnight, then drain the water and rinse.)