Jump to recipe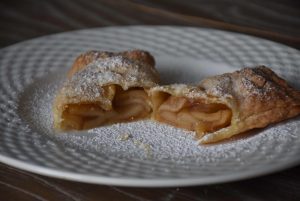 Buricche are the Jewish-Italian version of pastry turnovers, known in Sephardic and Israeli cuisine as bourekas. Although most traditionally the fillings are savory, these days anything goes (pizza, anyone?) and my apple version shows off fall's abundant fruit and warm spices. Stuffed foods like these (symbolizing plenty) also happen to be prized for the harvest holiday of Sukkot (and Italian Jews also enjoy them at Purim), though you hardly need to wait for a holiday to savor them. These are also a decadent non-dairy option for dessert.
A few quick tips before you dive in to the recipe:
• Pepperidge Farm Puff Pastry Sheets (in the freezer case) are kosher pareve (nondairy), and each sheet unfolds to a 9-inch square.
• Work with the puff pastry sheet as soon as it's thawed enough to unfold without cracking. If too stiff to roll, wait a couple of minutes and try again. If it gets too warm it will tear easily and frustrate you immensely.
• Be sure to cook the apples until fork tender. The pastries only bake 15 minutes, so not much additional cooking takes place for the apples.
• Pinch the turnover edges firmly and crimp them to prevent filling from seeping out during baking.
• Make holes on top with a fork or knife to allow steam to escape during baking.
• If you find it hard to roll out to 5-inch squares, aim for 4 inches and use a little less filling.
Apple Spice Buricche (Turnovers)

Everyone is delighted by these, whether you call them buricche, bourekas, or turnovers. Store-bought puff pastry makes them easy to assemble, and they bake in just 15 minutes. This batch easily doubles, and you can make them ahead and freeze them just before baking. If you'd like a more deeply golden crust, brush the pastries with egg wash right before baking.

Ingredients
2½ tablespoons sugar
1 tablespoon light brown sugar
Pinch of kosher salt
¼ teaspoon ground cinnamon
1/8 teaspoon nutmeg
Pinch of ground allspice
1 tablespoon plus 1 teaspoon cornstarch
2 large apples (such as Honeycrisp), peeled, cored, and thinly sliced (about 2½ to 3 cups)
1 sheet frozen puff pastry
Cooking spray or egg wash (1 egg beaten with 1 teaspoon cold water)
Confectioners' sugar for garnish (optional)
Instructions
In a medium saucepan, stir together the sugar, brown sugar, salt, cinnamon, nutmeg, allspice, and 1 tablespoon plus 1 teaspoon cornstarch. Add the apples.
Bring the apples to a simmer over medium-low heat, stirring frequently, until the apples soften and the liquid thickens, about 15 minutes. Remove from heat and let cool.
Thaw puff pastry according to the package directions.
Preheat the oven to 400°F, and line a baking sheet with parchment paper.
On a lightly floured surface, roll the pastry to a 9-by-9-inch square. Cut into 9 squares and roll each to about 5 inches.
Place 2 tablespoons of the apple mixture just off center of each square.
Dampen the outer pastry edge with water and fold the dough over the filling to make a rectangle. Pinch edges firmly and crimp them with a fork.
Transfer to prepared baking sheet. Gently pierce the tops with a fork to allow steam to escape, and lightly spray with cooking spray (or brush with egg wash).
Bake for 15 minutes, until puffy and golden. Let cool slightly and dust with confectioners' sugar (if using) before serving.
© 2023 Copyright Marcia A. Friedman - www.meatballsandmatzahballs.com