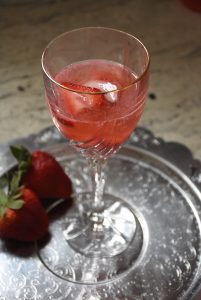 With a name inspired by the song "Strawberry Fields Forever," this drink might seem to be a Beatles homage. It is, but mostly it isn't. More than anything, it's a tribute to people and things I love in an exquisitely flavored and festive new cocktail.
The name's take on the Fab Four's song comes courtesy of my Beatles-loving sweetheart, who after taste-testing it, chimed in to help me dub my creation. And the name reminds me of our visit to Liverpool, where we went full-Beatles with an extensive tour of sights that included, yes, Strawberry Field, where John Lennon played as a kid.
I, too often being a literalist, was ready to name the drink simply after its dominant flavors. But the song riff works much better both in that this recipe is a keeper and because, like the song, which blended elements of childhood memories and diverse influences (such as the Indian harp), it grew out of special connections and diverse culinary influences for me.
The road to this libation started with my idea to craft something special for toasting my mom for Mother's Day. Strawberries, those festive jewels of spring, naturally came to mind because my mom loves them and their sweet flavor elevates just about anything you make with them. They also evoke happy memories for me of going strawberry picking as a kid with my mom and brother, and probably eating more berries than I ever put in my basket, as one does when picking plump, juicy strawberries straight off the vine.
For the alcoholic part of the cocktail, my thoughts turned Italian. Some of my favorite festival cocktails include the Bellini or Venetian Spritz, so I reached for the Prosecco, the subtly sweet and very accessible Italian sparkling white wine. And for sweetness, depth, and tang, I love Limoncello, which will always remind me of visiting Italy's Amalfi Coast and Sicily and admiring my Sicilian grandmother's beloved backyard lemon tree.
The drink then just needed a little something—and someone—else. Just last year I discovered how wonderful rose water (made from rose petals steeped in water) was for cooking while exploring Mediterranean and Middle Eastern Jewish dessert recipes for The Essential Jewish Cookbook. It's wonderfully aromatic, and I was blown away by how it enhanced the flavor of Malabi, a Middle Eastern milk pudding recipe I included in the cookbook. Besides being exotically mesmerizing, rose happened to be my other grandmother's favorite scent.
That splash of rose water in my cocktail makes it a complete tribute to my family matriarchs, and the scent makes it swoon-worthy even before the first sip. My strawberry rose drink will certainly be a forever one.
Cheers, l'chaim, and salute!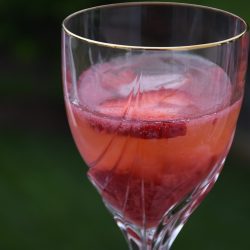 Strawberry Rose Forever
Strawberries and Prosecco become an exquisite, aromatic, and festive cocktail with the addition of Limoncello and rose water. It assembles easily and you can muddle the strawberries and sugar a few hours ahead and chill until serving time. 
Ingredients
1

cup

sliced strawberries plus a few extra slices for optional garnish

1

tablespoon

sugar

1

750ml bottle

Prosecco

1 1/4

teaspoons

Limoncello

1 1/4

teaspoons

rose water
Instructions
In a wide bowl, muddle the strawberries with the sugar until the berries are well crushed (a potato masher works well). Cover and refrigerate until ready to use.

To make each drink, add 1 or 2 ice cubes to a wine glass. Add 1½ to 2 tablespoons strawberry mixture, about 4 ounces Prosecco, and a splash (about ¼ teaspoon) each of Limoncello and rose water. Gently stir and garnish with a strawberry slice if desired.
Notes
Find rosewater in the Middle Eastern section of large grocery stores or online.